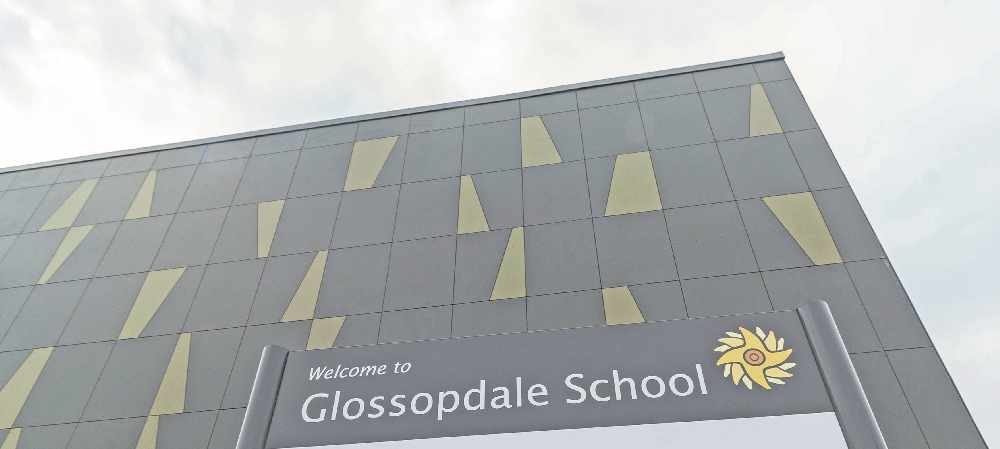 A Derbyshire secondary school which has only been in its new £23 million premises for a year could be set to become a privately-run academy within the year.
A damning Ofsted rating last year, followed by dire historic financial issues – which had been present before it moved to its brand new site – have led to the proposal.
Glossopdale School, off Newshaw Lane in Hadfield, in the High Peak, opened its doors for 1,064 pupils last September after two years of construction on the new premises.
The school had operated across three sites (two in Glossop and one in Hadfield) since 1989 – originally starting life as Glossop Grammar School in the 1920s.
Derbyshire County Council, which led the project to build a new school, at a cost of £23 million, says that operating across three sites generated soaring maintenance costs.
These costs have left the school with a crippling deficit of £746,000, which is set to peak at £827,000 next year.
If Glossopdale does convert to an academy, it would leave its deficit behind with the county council – leaving taxpayers to pick up the tab.
The county council revealed the potential move to become an academy in a report ahead of a young people's cabinet member meeting next week.
It says: "Following its recent inspection Glossopdale will potentially be required to convert to academy status, probably by the end of the current financial year.
"If this happens then any accumulated deficit at the point of conversion would remain with the authority."
The county council says that if the conversion is carried out, which is frequently the case for schools deemed to be "failing" by the education watchdog, it would fund the deficit from its reserves – a pot of cash for emergencies.
Pupil numbers at Glossopdale are set to rise to 1,155 from this October.
It is thought that as the school takes on more pupils, the issues regarding its deficit will decrease – with funding awarded to schools based on pupil numbers.
A Derbyshire County Council spokesperson said: "Glossopdale will still be a Derbyshire school and will remain a fantastic resource for children with outstanding facilities open to the public – they will still benefit regardless of whether it is run by an academy trust or maintained by the local authority.
"However it is run, the school and the investment in it will still be helping the council to achieve its Council Plan ambition to provide Derbyshire children with the best start in life, which we are confident is achievable with first class facilities like these and strong educational leadership. We will continue to work positively with the leadership of the school, be it maintained or part of a high quality multi-academy trust.
"It is important to clarify that the school is only new in the sense that it's in a new building. The deficit has not been accumulated over the last 12 months but over several years while it was operating in inadequate premises over three sites which generated high maintenance costs.
"As the report shows, the projected deficit will peak in 2020-21 then fall as the impact of increased pupil numbers on the budget takes effect.
"Also, if in the next national settlement, schools receive an increase in funding over and above inflation from April 2020, this would help reduce the accumulated deficit more quickly.
"Meanwhile, we are working with the school to reduce the deficit as much as possible before any conversion takes effect. Any deficit would be met from council reserves."
Controversy was stoked last year and this year after a burgeoning number of applications were submitted for places at Glossopdale from parents in the area.
Dozens of pupils from feeder schools traditionally linked to Glossopdale School have failed to get a place at the school.
It is thought that 39 children failed to get Glossopdale as their first choice of secondary, many of whom live in Glossop.
However, the newly-merged site is in Hadfield and with places offered based primarily on geography, this bumped Glossop children off the list.
The council responded by increasing last year's intake by 20 to 240.
In October, the school was rated inadequate by Ofsted, the lowest possible rating.
It found that: "Leadership and management is inadequate because leaders have been too slow to stop the decline in the progress of disadvantaged pupils and pupils with Special Educational Needs and Disabilities.
"Exclusion rates are too high. More disadvantaged pupils and pupils with SEND are excluded than other pupils.
"Leaders have not brought about the necessary improvements in mathematics. Pupils continue to underachieve in this subject, meaning that too many pupils are not prepared sufficiently for the next stage in their education or training."
The council responded by parachuting in former Glossopdale teacher, Debbie McGloin, as "executive head teacher," after she "transformed" nearby New Mills School from inadequate to good in three years.