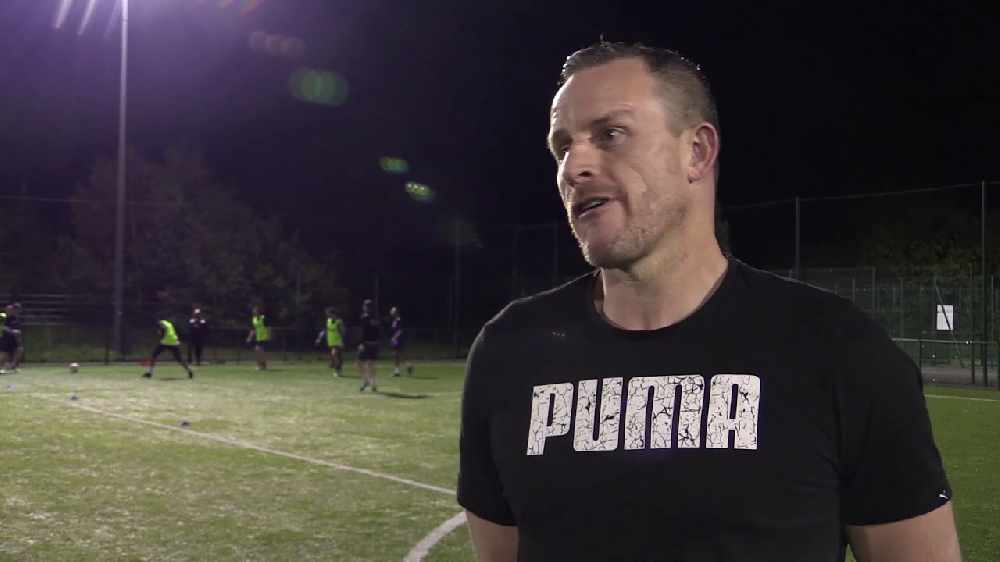 Glossop North End joint-manager Peter Band has vowed to do his best to bring the good times back to Surrey Street.
Band (pictured) and co-boss Lloyd Morrison joined the Hillmen last season and successfully guided them to safety.
The duo, who previously managed at Mossley, have since rebuilt the squad in their own image and are now excited for the forthcoming challenge in the Betvictor South East Division.
Reflecting on last season, Band said it was a valuable experience but one he hopes won't be repeated. "Everytime we built a team we lost players to other clubs. Having said that, me and Lloyd always knew we would keep them up - we said that from the start - and now that we've had a decent pre-season with our own team, we have no excuses for the season ahead. This is our team, and there's not one player left from last season."
The club returned to pre-season training earlier this month and Band has been impressed with the work ethic of his players.
In fact, such has been the standard on offer, Band has described the group as 'his best in management'. He added: "We've had 31 players attend training on a regular basis, and if eight have left then another eight have joined, so we're in a good position at the moment.
"Some lads just want to be playing and we're happy to give them that platform to do so. We'll probably travel in cars this year, but it's just the same for the teams coming to us. Thankfully there aren't many Tuesday night games either, so it's just a case of getting on with it. We're in this league now and we're excited to get going and see what we can do."
In comparison to other clubs, Glossop have been quiet on the player front so far. However, Band said fans can expect to see a flurry of signings in the next week or so. "There's still plenty of competition for places in the squad and there's a good work ethic amongst the players. It's probably the best squad myself and Lloyd have had in terms of willingness to claim a place at this point of the season.
Looking ahead to the new season, Band is already expecting a few clubs to be challenging for the title. He said: "Leek Town, Kidsgrove Athletic and Newcastle Town were in our league last season, and Leek were unlucky not to get promoted, so I expect to see them back up there.
"It will be harder to go and watch games this season with the increase in travelling, but thankfully, with myself living in Macclesfield, I can watch games at Leek or Newcastle. In previous seasons, it seems that whoever has the most money has gone up. We'll be giving our all to make sure that we can compete at the right end of the table. We want to bring stability to the club and return smiles to the supporters' faces."
Like most non-league clubs, finances are limited at Glossop, and so a good FA Cup run has been prioritised. Band said: "Hopefully we can go on a good FA Cup run to bring some much-needed money to the club. We'll also be paying special attention to the FA Trophy as well.
"We're also aiming to get off to a great start in the league, as last year, if i remember correctly, they won one of their opening 11. That's how it panned out for the rest of the season, so we really need to start well and build some confidence, and then hopefully results will follow.
"I want to create a team which is based around a mix of youth and experience, as well as players who have a point to prove. Although pre-season results don't show it, we're getting better each week and have been impressed by what we've seen.
"If players aren't up to the standard of what we expect, then we'll have to be blunt and honest and let them go. If they're not right
for us, then we will give their numbers to other managers to give them a chance elsewhere."