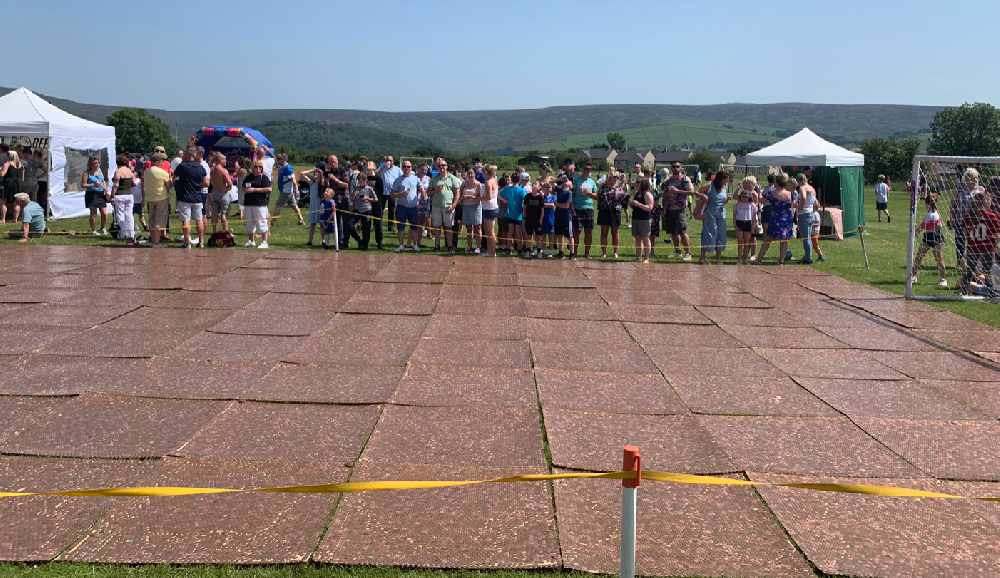 Glossop North End AFC Juniors and Ladies laid more than 400,000 pennies at Cemetery Road on Saturday  at the proposed site for its new Football and Community Hub.
The bronze pitch covered in penny pieces surrounded by young players enjoying the sunshine, playing football, parents and families enjoying the weather and the beautiful scenery will last long in the memories of all who attended.
Helen Thornhill lead the #Pennyforapitch fund raising efforts last year but had to postpone the laying due to inclement weather. This year the club was blessed with the hottest day of the year.
One hundred and sixty penny boards, many donated by local businesses and club members with £25 worth of pennies amounting to 400,000 coins laid, was an epic achievement raising valuable funds for the proposed new facility.
The planning application, which will be available to view shortly, includes a new 3G facility, an 11-a-side and nine v nine renovated pitches, new entrance and club house with four changing rooms, officials changing and a community room to host 120 guests.
It will be a facility available not just for football, but the wider community and the club is inviting any local groups wishing to get involved to contact Dave Rowlinson and other members of the committee.
The project has been scoped at £1.6m but with support from the Football Foundation, High Peak Borough Council and other grant opportunities available, the fundraising task although significant, becomes more achievable.
The club says: "We are looking for anyone interested in supporting this project to get in touch and let us know how they can help.
"The Football and Community Hub will provide an accessible facility for local sport, fitness and wellbeing which all of Glossopdale can benefit from which MP, Ruth George was able to find out more about when she visited the fun day.
"Most importantly, teams from under seven to the u16 ladies were presented with their end of season awards, recognising their hard work and commitment to the club over the 2018-19 season and had a great time at the bouncy castle and playing football on the pitches."
You can contact chairman Dave Rowlinson at [email protected] or vice-chair Natalie Mills at [email protected] to find out how to support the club.
By David Jones