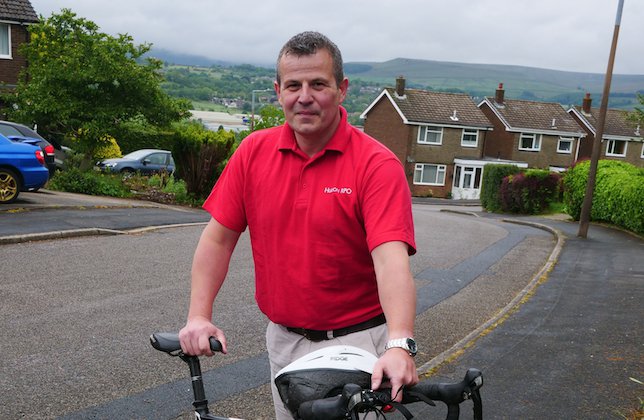 Jared Massey will be cycling, swimming and climbing the third highest mountain in the UK in tribute to Andy King, who sadly passed away.
A Simmondley man is taking on hill and fen, open water and a two-day cycle in a huge charity challenge set up in memory of his best friend.
Jared, 43, has already raised more than £1,000 for Cancer Research UK in the name of Andy King, who sadly passed away recently.
He is now hoping to raise double that amount by undertaking a gruelling weekend of swimming, biking and hiking.
Alongside a number of work colleagues, Jared will set off on the morning of Friday, June 14 in Edinburgh, cycling until they reach the Lake District the following day. The team will then take a freezing 500m swim in one of the lakes before uniting with Andy's friends and family at Glenridding, then hiking 10 miles up Helvellyn Mountain.
He also plans to crack open a bottle of champagne at the summit in tribute to Andy.
Jared said: "The walk really is where the memory comes in because all his friends and family are going to come up for that bit, either to take part in it or be there when we finish so we can all have a drink somewhere together.
"I've known Andy since I was nine or ten through Dinting Cricket Club and we grew up together. As we got older we did a lot of socialising, things like fine dining and walking - he was an amazing man, highly thought of by many and lots of people's best friend – not just mine.
"He got ill quickly and passed away, which was a huge shock for everyone. He's missed."
Jared's workplace Hudson RPO will also be sponsoring the event by providing accommodation and support vehicles.
If you'd like to find out more about Jared's charity challenge visit https://www.hudsonrpo.com/hr-events/cancer-research-uk-fundraising/