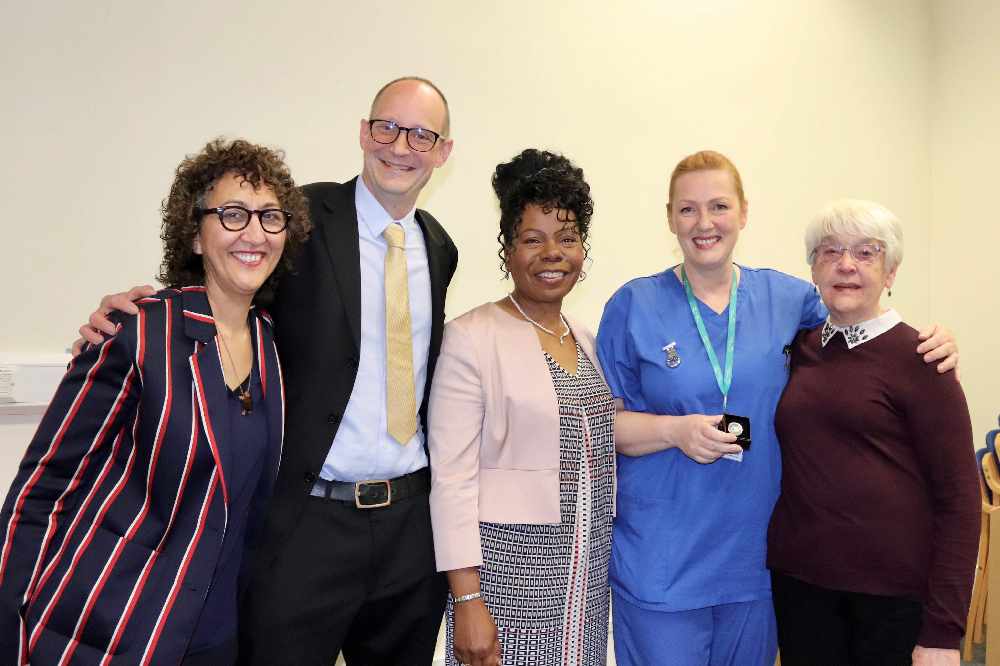 Nicolette Peel has been awarded a rare and prestigious accolade for her outstanding contribution and work.
The Gold Chief Midwifery Officer Award has only been given to three people in the UK, now including 47-year-old Nicolette, who received the honour last month at Tameside Hospital by Jacqui Dunkley-Bent – the most senior midwife in England.
Nicolette said she was completely surprised by the award, despite all her colleagues, friends and family being in the know:
"I had come to the lecture theatre with my labour ward manager, Carolyn Beswick, and other workmates, thinking I'd be hearing Jacqui Dunkley-Bent speak.
"We went to sit at the front, 'because all the midwives have to sit at the front' according to my boss. So I was completely unaware of all my friends & family sitting at the back - I must have walked past my Mum and husband without even noticing them!
"Imagine my surprise when I came to stand at the front and began noticing all the people I knew in the audience!"
Nicolette was then presented for the award, credited for her work as a compassionate, sensitive midwife who goes "above and beyond and is valued both by her colleagues and the women she serves."
Her passion for midwifery shows in an impressive record, including the creation of an iLearn package for the Royal College of Midwives, speaking at numerous prestigious conferences here and abroad and her role in helping start charity Mummy's Star.
The charity helps women diagnosed with cancer during pregnancy or postnatally, where she Chaired the initiative for four years.
Nicolette added that she is still shocked at the news of her award, saying that it is a job that she adores: "It is surprising to me that people in the midwifery world notice me when I am just getting on with my job and trying to ensure great care for all pregnant women.
"That is really just what all of us are trying to do as midwives! My wonderful colleagues work every bit as hard as I do."