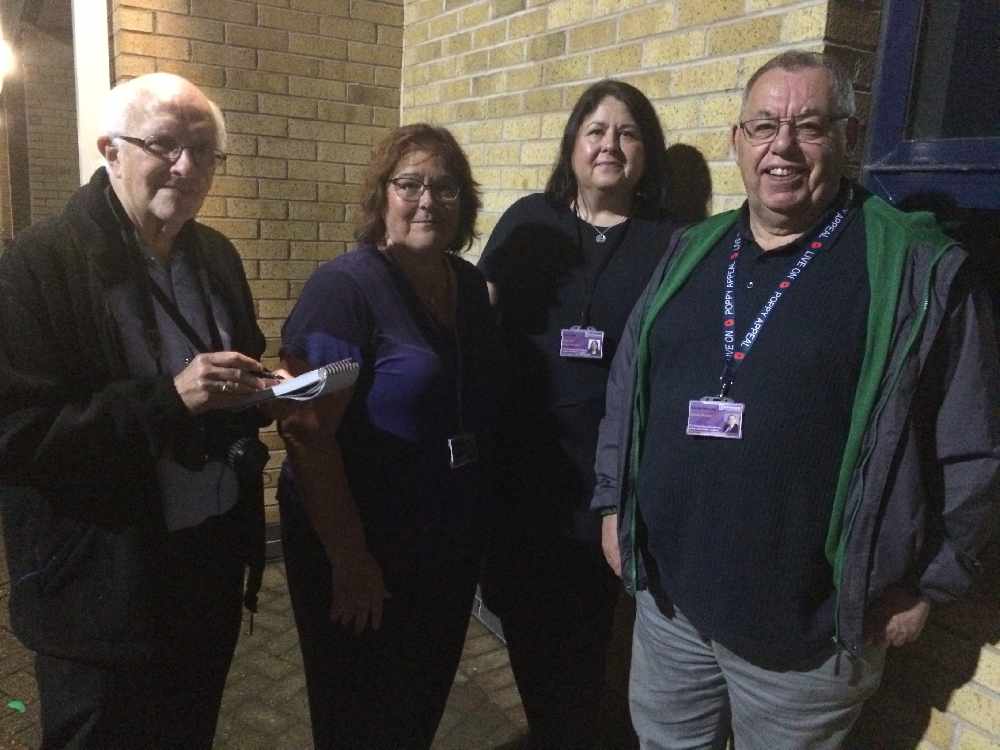 Glossop Chronicle Editor David Jones with Cheryl Pike and Cllr. Jean Wharmby and Cllr. George Wharmby
The dedication of everyone playing their part in the Toddbrook Reservoir emergency has been praised by key Derbyshire County Council members.
It came from Cheryl Pike, who is adult care service manager for High Peak and husband and wife team councillors Jean and George Wharmby.
Cheryl said: "I heard about the incident first on social media, as soon as I saw that I contacted the office and within a very short time we had mobilised resources and we're here within the hour.
"I think what it has demonstrated is the resilience of the High Peak.
"As a Glossop community we are used to the bad weather and so on, but it has just shown that community spirit.
"We've had people coming in offering beds in their own homes, people wanting to volunteer just out of humanity which has really lifted people's spirits.
"The thing that we've been really proud of is that we've had vulnerable people come here (Chapel High School), those that need supported help in getting dressed, eating and so on – they've come and we've been able to respond to their needs, make alternative arrangements, make sure people have 24-hours medication service supply.
"Everyone has been provided with emergency packs, hygiene packs, pyjamas and those who are vulnerable, who has a risk to their health or wellbeing, has been left and have all been accommodated for tonight which is an achievement given the size and timescale we had."
Jean, DCC's Cabinet member for Adult Care, agreed, saying: "The emergency services, the police, Red Cross, St John's, they've all done a fantastic job.
"Everybody has worked as a team and I've only named a few.
"People have been in really good spirits in what is a really awkward situation. They have also been donating, coming in with bedding, towels, clothes, water – it's just unbelievable.
"A coachload of people have been taken to hotels in Buxton, the facilities are there for those that need it
"We've had taxi drivers come and say, "is there anyone I can help take somewhere" and it has been a real show of community spirit.
"The police who are in the vicinity of Whaley Bridge are keeping an eye on the properties. It's really going well as everyone is working together.
George added: "There are also been local nursing homes. There's been volunteers from Buxton and one lady in particular has been ferrying people backwards and forwards.
"The emergency team have been relaying information over time – they gave us a briefing to everyone on the coach before we went to the Palace Hotel,"
Jean said: "We just want to say thank you to everyone who has been involved."
Added Cheryl:"The incident team have been amazing, the local people – everyone has pulled together."
Cllr. Jim Perkins who represents Chapel East on High Peak Borough Council also thanked emergency services and members of the community who had rallied round.
Cllr. Perkins, who was at Chapel High School from 2pm to 10pm on Thursday, got stuck in to the evacuation effort following the flood warnings from Toddbrook Reservoir in Whaley Bridge.
Taxi operators and coach companies had taken those evacuated to temporary accommodation which included two hotels in Buxton, care homes and family and friends.
There had also been donations of food, bottled water and blankets dropped off at the school.
Speaking on Friday morning a Derbyshire County Council spokesman said no decision had been taken on when those evacuated would be allowed to return to their homes or when the roads to Whaley Bridge would be re-opened.
She said the situation was still serious and was 'on-going'.
The MET Office weather forecast for the weekend is described as 'favourable'.