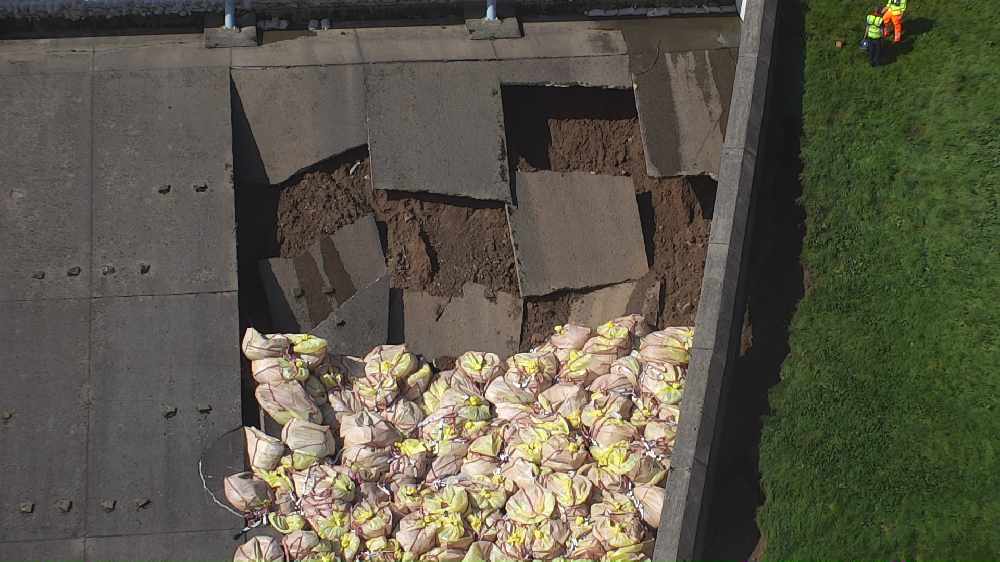 Drone image of the damaged dam at Toddbrook Reservoir where hundreds of tonnes of aggregate have been lifted into place by helicopter.
People evacuated from their homes in Whaley Bridge have been permitted to return today to collect medication plus stranded pets, as efforts to empty Toddbrook Reservoir to avoid flooding continue.
Assistant Chief Constable Kem Mehmet said: "I would like to remind people that this still remains a critical incident. The structural integrity of the dam wall is still at a critical level and there is still a substantial threat to life.
"We ask people only to return to their properties if absolutely necessary."
"Some residents have had concern for the security of their properties. We would like to reassure residents and business owners that a staffed cordon around Whaley Bridge remains in place where officers are monitoring who goes in and out of the town.
"Our task force officers are in the area and will be carrying out patrols in the town at periods throughout the day. We also have a drone in the area which will assist with crime prevention."
Deputy Chief Fire Officer Gavin Tomlinson added: ""Our aim remains the same. All agencies are working to prevent any more water entering the reservoir and working around the clock to reduce the water level in the reservoir in a controlled manner – the more we reduce the water level, the more we reduce the risk of something happening.
"All agencies are also working as hard as they can to ensure the dam wall retains its structural integrity.
"We will continue to work closely with the Whaley Bridge community and are committed to keeping them as well informed of the progress of the incident as possible."
Evacuated residents can call the helpline number 01629 533190. This number is open between 9am and 10pm and there is an answerphone facility outside of these hours.
There is also an e-mail address for anyone wishing to donate items or services, this is [email protected]
Police say further information about the situation will be given as soon as it is available. Meanwhile local residents are asked to follow the Derbyshire Constabulary Facebook (@derbyshireconstabulary) and Twitter (@DerbysPolice) pages and website: https://www.derbyshire.police.uk/