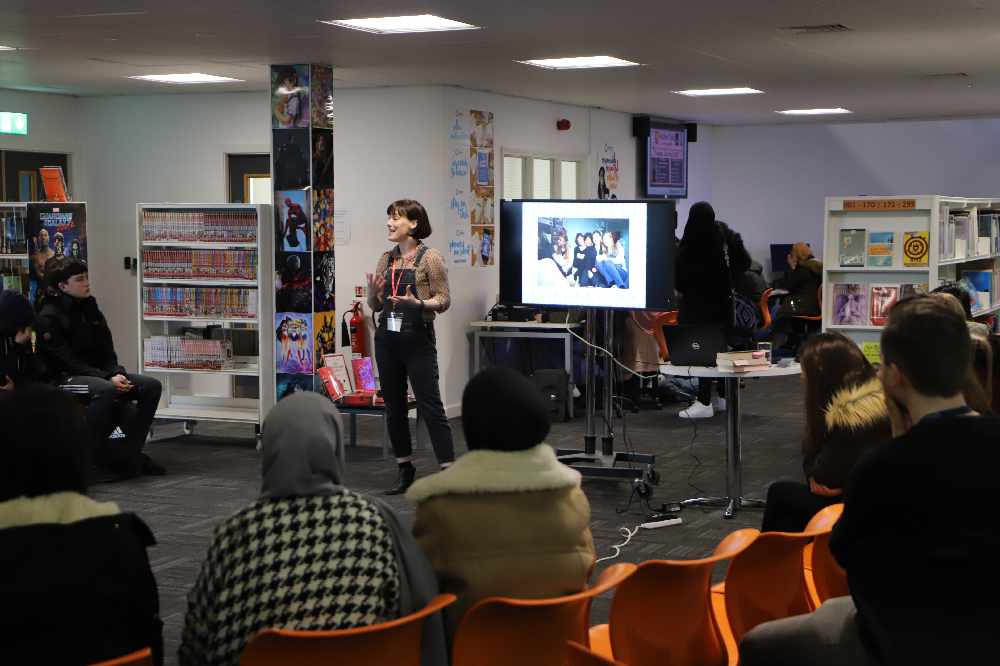 Author Lisa Williamson speaking with students at Oldham Sixth Form.
Oldham Sixth Form College welcomed award-winning author, Lisa Williamson, who came in to talk to students about her journey into writing.
Lisa is best known for her young adult novels, 'The Art of Being Normal,' 'All About Mia' and her newest release, 'Paper Avalanche.'
She gave students insight into following a career in writing, discussed her own writing influences and read passages from her work. She encouraged pupils to follow their dreams and never give up and the session ended with a Q and A.
Year 12 student, Alisha, said: "Lisa's talk was really insightful and I found her very relatable. She talked a lot about what it was like being a teenager. When we asked her questions at the end, you could tell she really cared about what you had to say and took time to answer you. She's obviously really enthusiastic about getting young people writing."
Lisa also delivered three workshops over the day to the college's aspiring authors. The workshops covered a wide range of topics including how to find inspiration and begin writing and a segment on using props to create a short story.
Year 12 student, Megan, said: "Lisa's workshop was really good fun! It's so great to get the opportunity to do creative writing and Lisa gave really good comments and feedback. She was open and non-judgemental about our writing and was genuinely interested."
Lisa, who regularly visits schools and colleges, said: "I was really impressed by the standard of creative writing and the level of student engagement throughout the day. I loved the vibrant atmosphere at OSFC and thoroughly enjoyed the day."
For more information on Lisa Williamson visit www.lisawilliamsonauthor.com