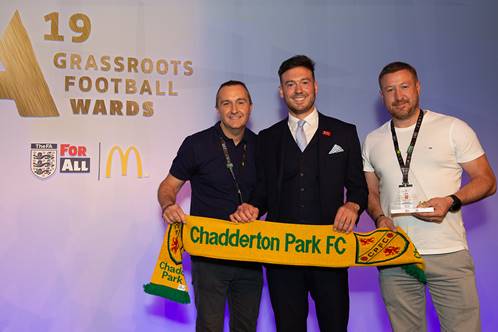 On Sunday 4th August, local football club, Chadderton Park Sports Club attended the 2019 FA & McDonald's Grassroots Football Awards national ceremony, held at the home of football, Wembley Stadium connected by EE, to collect their award after being named winner of the prestigious Grassroots Club of the Year award.
The FA & McDonald's Grassroots Football Awards recognise and celebrate the tireless volunteers who dedicate so much time to the grassroots game. The awards are now in their tenth year and Chadderton Park Sports Club join a long list of inspirational grassroots football heroes who marched down Wembley way to collect their coveted their awards.
Chadderton Park doesn't just pride themselves on inclusivity, the club makes inclusivity define their entire ethos. They hold no trials, welcome players who have been told they aren't good enough elsewhere and believe fun must come before the desire to win. That explains why they have now grown to over 90 different teams, covering children, seniors, disability squads and cerebral palsy initiatives.
Chadderton Park is more than just a football club - it is the heart of its community. With regular charity drives, links to local schools and inherently positive playing environment, it is an incredibly worthy winner of 2019 Grassroots Club of the Year.
Chadderton Park Sports Club accepted their award from football legend Jack Rutter ahead of the FA Community Shield, supported by McDonald's, which saw Premier League and Emirates FA Cup champions Manchester City defeat Champions League winners Liverpool. During the half time break, Terry Jennings and Craig Simpson from the league joined World Cup hat-trick hero Sir Geoff Hurst on the pitch in front of 77,000 fans.
"I have been involved with the Grassroots Awards since the beginning and the stories of the winners never fail to impress me. Chadderton Park Sports Club should be extremely proud of their work and grassroots football in Oldham is a much better place with Chadderton Park Sports Club as a part of it," said McDonald's ambassador Sir Geoff Hurst. ""The English game is in a very good place at the moment with the Three Lions boasting a number of young and talented players, while the Lionesses have enjoyed a superb World Cup in France. Our national teams simply wouldn't be in this place without the hard work of our grassroots volunteers – every player has to start somewhere. It was a pleasure to meet Chadderton Park Sports Club and I hope they continue their extraordinary commitment to football for many years to come."
Local McDonald's franchisee Gerald Thompson, who is an avid supporter of grassroots football in Manchester, said: "It's an honour to recognise Chadderton Park Sports Club and the amazing work they do in the community. The work they do in providing local people with an inclusive and safe place to play football, regardless of age and ability, is incredibly important. I've been supporting grassroots football in Oldham for many years, and their story really highlights the difference clubs like them can make in the local community."
Having worked with The FA over the past 17 years, McDonald's is the longest-standing supporter of grassroots football in the UK. Throughout this partnership, McDonald's continues to champion the tireless volunteers who dedicate countless hours to provide enjoyable football to children and young adults regardless of age, gender or disability.
In addition to championing volunteers, McDonald's has committed to providing over 5 million hours of fun football to 5-11 year olds and giving 500,000 children the chance to play football for the first time by 2022 through Fun Football Centres and other initiatives across the UK.
For further information on how to get involved in McDonald's Fun Football initiative visit www.mcdonalds.co.uk/funfootball
To find out more about all of The 2019 FA and McDonald's Grassroots Football Award winners, visit http://www.thefa.com/get-involved/grassroots-football-awards/winners