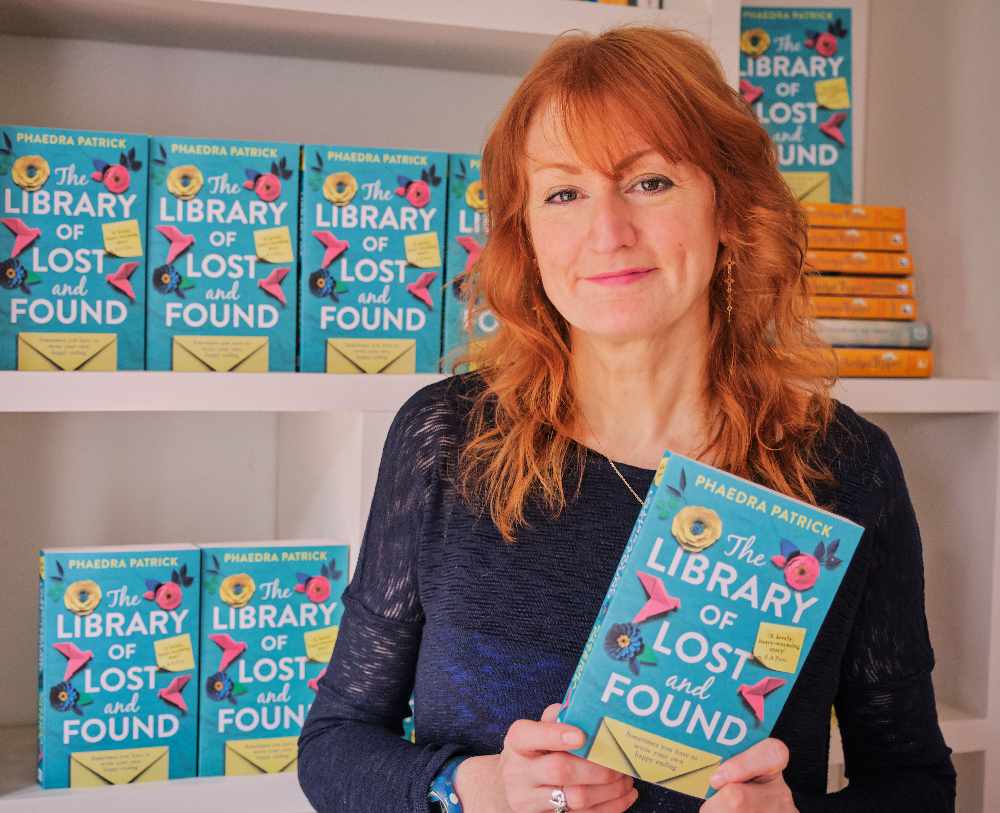 Bestselling author Phaedra Patrick held the launch for her newest book at Uppermill Library to a packed-out audience.
Phaedra, who lives in Saddleworth, was celebrating the release of her third novel 'The Library of Lost and Found'. The book is set around North Yorkshire and is about librarian, Martha Storm, who receives a delivery of a mysterious book of fairy stories.
Phaedra says: "Martha can't say no to people and takes on too many tasks, she is a real yes person. The book has been left for her at the library where she works and when she sees the dedication, she realises it is dated three years after her grandmother died. It sparks this adventure for her to find out where the book came from, who wrote it and what happened to her grandmother."
Phaedra's first two books, The Curious Charms of Arthur Pepper and Wishes Under the Willow Tree, have been optioned as films in America.
She said: "There has been nothing made, but they have reserved the film rights on them. I can't say which studios, but one is a major Hollywood studio and the second is a major TV and movie studio. These things take ages, the first one they have had for a year and there is nothing set in stone but it is interesting to be part of that process and see how it moves. I'm trying to not to think about it really but it would be amazing if it happened.
"When I write it is like I watch a film in my head and then get it down on paper. If it did happen I would love to rent out the Odeon in Oldham for all my friends and family and go along with some popcorn to watch it."
Phaedra has always been interested in writing, but originally studied art at college before moving on to the University of Wrexham to specifically study stained glass windows and for six years became a glass designer.
She explains: "It was fascinating, but you make these decisions when you're young and I had no idea what I was doing. I ended up going back to college to do my Chartered Institute of Marketing qualification and moved into marketing and communications."
Phaedra found she loved the variety in the field and worked for 12 years as part of the Co-op membership team organising events and conferences and writing articles for websites and magazines.
"I was writing in that job which was great," she said, "but I had always wanted to write books, it was always novels for me and over those years I wrote eight novels and they were all rejected. I just kept going.
"I didn't know much about the publishing world to being with, it was just before the internet so the only way you could find out was actually going standing in WH Smith looking for books on it or going to the library. I was a bit obsessed with getting books and reading who the agents and publishers were in the acknowledgements, it was like a really weird hobby so I just built up this knowledge."
Phaedra spent about a year on each novel and got an agent after the sixth book. She was represented for two years, but didn't get a publishing deal in that time.
Phaedra continued: "I went back to the drawing board. It took a few years, I entered some short story competitions and did ok in them and then came back to it and wrote what I wanted to write."
When she was offered redundancy from the Co-op, Phaedra already had a publishing deal so she decided to take the plunge and write full-time.
Her first published novel was The Curious Charms of Arthur Pepper which was released in 2016. The book was a massive success across the globe becoming a USA Today bestseller and was translated into 22 languages. It was also awarded the Prix des Lectrices Milady in France in 2017.
She said: "It felt so odd because obviously you feel the same, you are in the same house, doing the same job, you still have the same friends and family, but somehow your book is out there in the world with people in other countries reading it. It was a nice feeling."
Phaedra's novels were particularly popular in America and she got to do three book tours there.
"It was amazing," said Phaedra, "I'd never been to America and the first time we did eight states in eight days starting in Miami and ending up in New York. It was an incredible experience and I thought even if my whole career fails, at least I got to do this. I also got to go to France for an awards ceremony."
Phaedra does quite a lot of library events in the North and most recently handed out poetry awards for Saddleworth School.
She said: "To be honest I am quite an introvert, it can be quite at odds because you sit writing nice and quietly, but then on the other side you have to go out and read and sell yourself.
"Coming from Oldham, you don't always have that network of other people who have done it, so I always think if I can make it easier for other people than it was for me then that is a nice thing to do."
Part of that included creating an A to Z of writing tips on her website to help aspiring writers.
She said: "Some people may want to make a career out of writing and that is great, but people can also write because they enjoy it. Anyone who writes is a writer."
Phaedra is currently finishing her fourth novel which will be released in 2020 and that will end the four-book deal she currently has with Harper Collins. She plans to take the summer off and spend it with her son while letting new ideas flow.
Her fourth novel will follow a man who lost his wife three years before and is now a single dad to a 9-year-old girl.
Phaedra said: "He is really down on all things romance and it is his job to cut the padlocks that lovers leave off the bridges. One day he sees a lady on the bridge that catches his eye, he is about to tell her off for fastening a padlock when she falls into the river and he saves her. She disappears, he is trying to find her again and then he finds out that she has been missing for over a year so he teams up with her family to try and find her again. It is about him unlocking his heart by getting involved with this family and also this quest to find out who this woman is and what happened."
Phaedra says a lot of her characters tend to be introverts and usually at a point in their lives where they need a big change. They are stuck in a rut and don't know it and then something happens to them that changes their life and sets them off on a journey of discovery.
She added: "I always say there are enough psychological thriller books about serial killers out there without me contributing. I like to write warm-hearted stories that people feel good about.
"I think that is why the book did well in America because there is a growing appetite for uplifting, commercial stories with characters people can relate to and that makes them feel good after reading."
Phaedra writes in her shed in the garden, somewhere peaceful as she prefers to write in silence with no distractions. She treats it like a regular job working six to seven hours a day.
Talking about her process, Phaedra said: "I usually think of ideas first rather than characters and then I usually kick around about ten ideas. I'll chat to my agent about them and then we narrow it down, it's usually the publishers how pick one and then I take about ten months to write it although each book is different. I am working on my fourth one as this third ones comes out. It is really weird, one comes out as you are finishing the next one, so you have moved on in your head and have to come back to it or some people are reading the first one as I am finishing the fourth one."
The Library of Lost and Found along with Phaedra's two other novels are available now. Signed copies are available at Waterstones Oldham and the ebook is currently 99p in the Amazon Kindle Summer Sale.
For more information visit www.phaedra-patrick.com