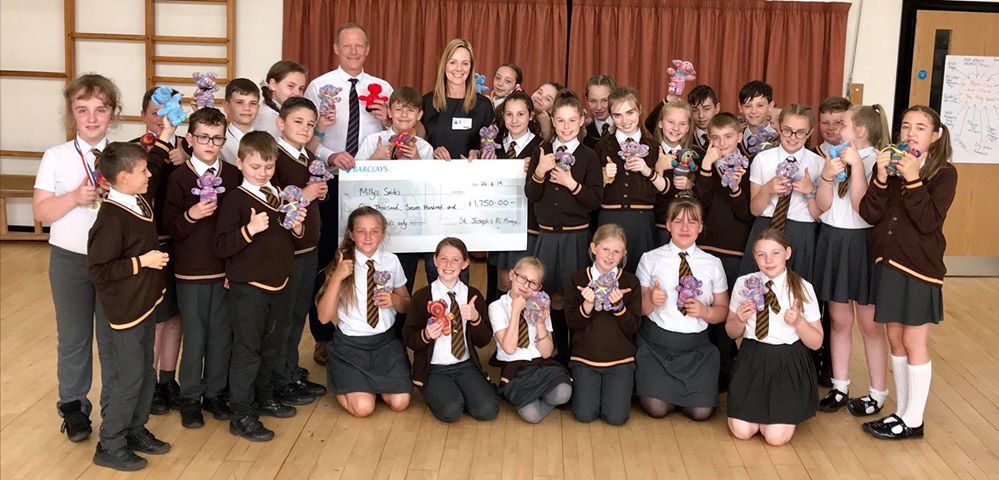 Steve Hill and his class donating funds to Milly's Smiles.
​​​​​​​Adventuring deputy head Steve Hill MBE has been honoured with not one but two awards for Inspirational Teacher of the Year.
The news came after he handed over a cheque for £1750 to one of his chosen charities for the year; Milly's Smiles. The charity provides support to families whose children have cancer giving each newly diagnosed family a welcome pack as they are admitted to Ward 84 at the Royal Manchester Children's Hospital.
Steve, 47, is well-known throughout the borough for the daring challenges he takes on to raise money for charity.
He is Deputy Head and Year 6 teacher at St Joseph's RC primary school in Shaw and every year takes on a variety of feats with the support of his class.
Steve said: "Classes come in in September and because it has become a bit of a tradition, they are already excited to ask me what is next. They help me come up with ideas and they are very involved with choosing which charities we will support. Pupils who have a charity close to their heart create a presentation for the class and then the class votes for the charities that year. They really take ownership of it."
Pupils also organise fundraising events in school such as coffee mornings, bake sales and carol singing.
Steve always includes Dr Kershaw's Hospice, but in the past has also raised money for Francis House, British Heart Foundation, Cancer Research and Christies. Over the last ten years he has raised around £95,000.
This year's charities are Milly's Smiles, the Royal Manchester Children's Hospital, Chernobyl Children's Lifeline and Dr Kershaw's.
Steve said: "A young girl for the school had cancer when she was in Year three and Milly's really helped and supported her and her family so the whole class was happy to raise money for them."
Steve has climbed Mount Kilimanjaro in Tanzania, Mont Blanc in the Alps and Mount Elbrus in Russia as well as taking part in treks in Borneo and the Sahara. He has run a marathon at the North Pole, ran an ultra-marathon through the Arctic Wilderness and even ran six marathons in five days through the Amazon Jungle where he was completely self-supported and living in a hammock. He has also climbed Mount Toubkal in Morocco and ran the Uganda Marathon. His first-ever marathon came after he climbed to Mount Everest Base Camp where he then took part in the Tenzing Hillary Mount Everest Marathon.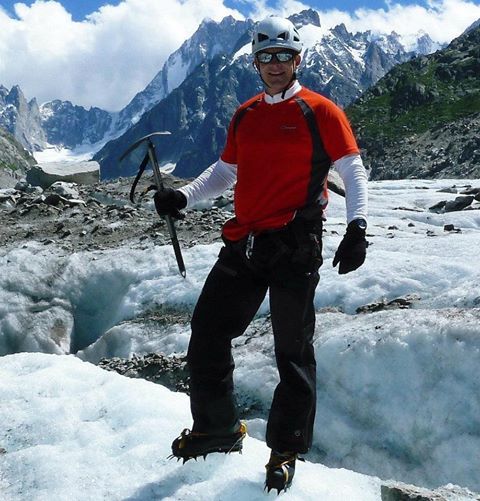 Steve said: "It is my dream to climb Everest and I hope to get there one day. I love a challenge and if I can inspire the kids along the way even better. I hope I am showing my pupils what is possible with hard work and determination and not to give up when things get tough. I hope I am setting an example for them, inspiring them and opening the world up to them a little bit, planting the seeds of adventure because anything is possible.
"It is great to see them interacting with charities and thinking about giving back and making a difference."
As well as his students, Steve is very thankful to 'Team Hill' a group of individuals outside of the school who help him to fundraise by organising events like afternoon teas, race nights and even 'An Evening with Steve Hill' where he speaks to people about his experiences.
This year, so far, Steve has raised almost £5000 with £1750 of that now given to Milly's Smiles. He is currently looking for his next challenge.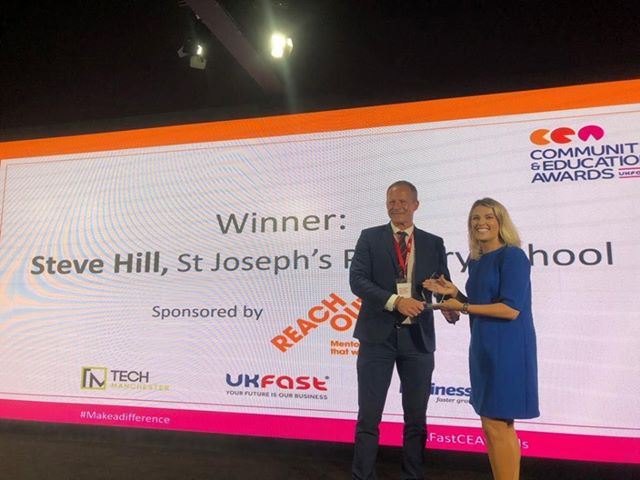 Before then, Steve is taking some time to celebrate, after receiving two awards for Inspirational Teacher of the Year. Steve has been awarded the accolade at the MEN School Awards and the UK Fast Community and Education Awards.
He said: "It has been a nice and also humbling couple of weeks. I feel honoured to have been awarded Inspirational Teacher of the Year awards."