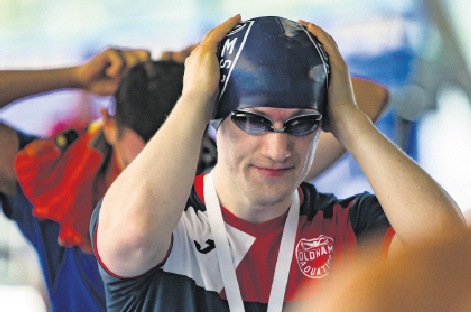 Oldham Aquatics coach Matthew Lees won two medals against some of the Continent's best older-aged athletes at the 2019 European Masters Games.
The multi-sport event takes place every four years and was held in Turin – host to the 2006 Winter Olympics – between July 26 and August 4 with the fourth edition boasting 30 different sports.
Athletes ranging from 25 to 100 were able to compete in three different sports and Lees raced in the swimming and the longer distance athletics events in the Male 30-35 year category.
Lees made a great start at the Olympic-sized Palazzo del Nuoto by setting a new long course (50m pool) personal best in his first event, the 800m Freestyle, to bag bronze.
His time of 10:57.08 beat the previous mark, set in June's Yorkshire Masters, by almost three seconds.
Two days later he went one better by winning silver in the 50 Breaststroke in a time of 36.45, just 0.12 seconds off his personal best from 2015.
This came the day after narrowly missing out on the podium in the 50 and 100 Butterfly after finishing fourth in both. His 50 Fly time of 30.16 came within a second of his personal best set four years ago and half a second faster than last time he raced it at Yorkshire Masters.
Lees' final pool event was the 100m Freestyle where he finished sixth out of 13 in a time of 1:03.75.
After success in the pool he had the challenge of the 10km and half marathon races held at La Venaria Reale - one of the world's largest palaces which is also on the UNESCO World Heritage list.
The 10km saw Lees finishing fourth out of seven athletes in a time of 47 minutes and 43 seconds – just over a minute behind the bronze medallist from Italy.
On Games' final day the half marathon took place, with temperatures once again hitting 30 degrees, Lees completed the event in one hour 54 minutes and two seconds.
Lees proudly wore both medals at the closing ceremony which saw the International Masters Games Flag passed to Innsbruck who will host next year's Winter World Masters Games.