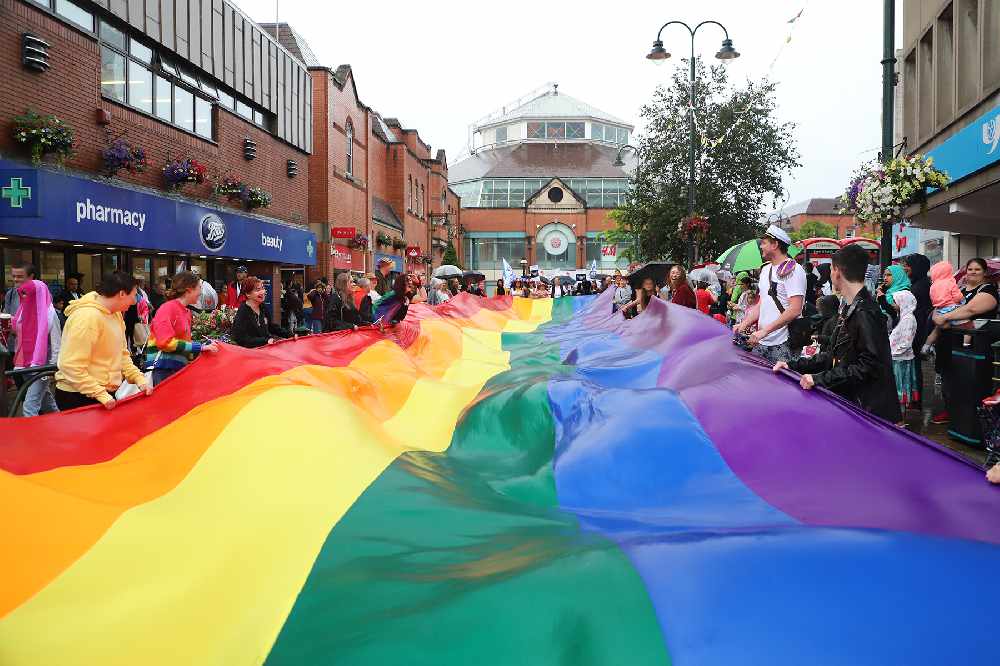 Photo by Nigel Wood.
​​​​​​​Oldham's 15th Pride event brought in its biggest crowds yet as everyone joined together to celebrate.
Chairman of the Oldham Rainbow Association, George Campbell, said: "The rain dampened us, but not our spirits. Despite the weather, it turned out to be a brilliant day. We had some dry spells, but the skies did open right before the parade started. However, it turned out to be the biggest parade we have had and the biggest turnout we have had in a long time."
The parade was led by the Town Crier for Shaw and Crompton and featured the Golborne Brass Band, Oldham Pipe Band, floats from The George Tavern and Bar Pop Manchester, an open top car with the hosts of the event, the fire, police and ambulance services, Nandos and other community groups. A huge rainbow flag was walked along with the parade and at the front were Damien and Matt Oldham who carried a large placard in memory of their dad, Tony, a strong Pride supporter who sadly passed away earlier this year.
There was a family fun event held in Parliament Square that included roundabouts and face painters as well as a licensed area and stalls from charities and local community groups. People also enjoyed some top-notch entertainment from a Sam Smith tribute, Bosom Buddies, Sammy Brookes, Kevin Cruise, Viva La Diva, KY Kelly and the Bar Pop Show Team.
At one point, the community came together to help, forming a long conga line from Parliament Square to George Square and mucking in to help the team get set up in the rain.
The evening event was held outside The George Tavern and featured a stage with live entertainment, licensed bar as well as use of the tavern.
This year's principal sponsors were Howard Ground Services, Bar Pop and Hi Spirits with other sponsors including Admiral Taverns, The George Tavern, Middleton Archer, Sparkles, Centre Stage, Mecca Bingo and Greater Manchester Fire and Rescue Service. Support also came from Oldham Council, the National Lottery Community Fund and LGBT+ Futures Grants.
The group are always looking out for new sponsors and supporters to help them keep the event free for all.
People were invited to sign the Allies Wall to show their support for LGBT rights and equality for all. This turned out to be particularly popular and the Oldham Pride team will be taking it along to any other events they do.
There were rainbow flags displayed in lots of local shops and throughout the Spindles as well as on top of the Oldham Parish Church, all showing their support.
George added: "The acts went down really well and we got some lovely feedback from the community groups and charities there on the day. The community spirit was brilliant. I just want to thank everyone involved and everyone who turned out on the day."
For more information on Oldham Pride you can follow them on Facebook.