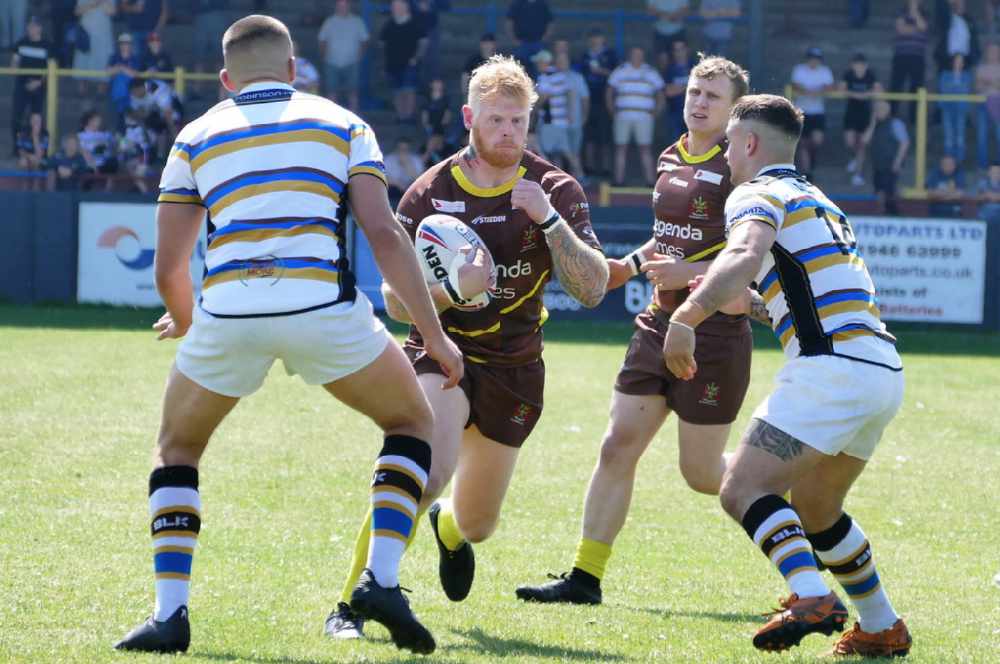 Betfred League One Whitehaven 16-10 Oldham
Oldham's avowed intent to finish top of Betfred League 1 and thus win automatic promotion to the Championship took a severe setback at the Recreation Ground on Sunday.
Having twice previously knocked over the top-of-the-table Cumbrians this season and having beaten them six times in a row stretching back four years, Scott Naylor's men had reason to travel north with plenty of optimism.
Victory would have taken them top with a one-point lead and six games to play but despite leading for long periods they couldn't hold on and finally dropped behind decisively with nine minutes remaining.
In the first half prop Scott Law took an early chance to score a good close-range try before Oldham had to work very hard to keep Haven at bay.
There was, however, very little in it and Roughyeds managed to hold on until half-time when they just about deserved to be in the lead by six points.
At the start of the second half Oldham's failure to defuse a high Whitehaven bomb gave the home side an easy six points, the ball bouncing up into the hands of Dave Thompson, who had an easy run to the line.
Connor Holliday converted his first goal and soon afterwards added a penalty to put Haven in front for the first time at 8-6.
Roughyeds then enjoyed three sets in a row on the home line and reaped the reward when Zack McComb scored out wide to give the visitors a 10-8 advantage .
Oldham retained their lead as the game edged into its last 11 minutes when Jordan Burns, taking over as marksman for the injured Holliday, put a penalty attempt wide.
But two minutes later the full-back made amends when he broke through to score a crucial try and then added the goal.
Haven then led 14-10 and in the dying minutes Burns added another penalty to take Haven home; keep them at the top of the table; and establish them as firm favourites for the title.
Oldham scorers: goal, Hewitt; tries, Law, McComb.
Team: Hawkyard; Aaronson, McComb, Leeming, Holmes; Brook, Hewitt; Joy, Owen, Law, Bridge, Langtree, Bent. Subs: Spencer, Whittel, Wilkinson, Greenwood.
Roughyeds have dropped to third, three points behind Haven and one behind Newcastle Thunder, but with six games to play and the five that finish behind the leaders going into a play-off there's still heaps to play for, starting with this Sunday's home clash with in-form North Wales Crusaders.
The team finishing second has enormous play-off advantages, but Roughyeds have not given up on their title ambitions although a play-off spot is now looking the most likely finish.
By Roger Halstead