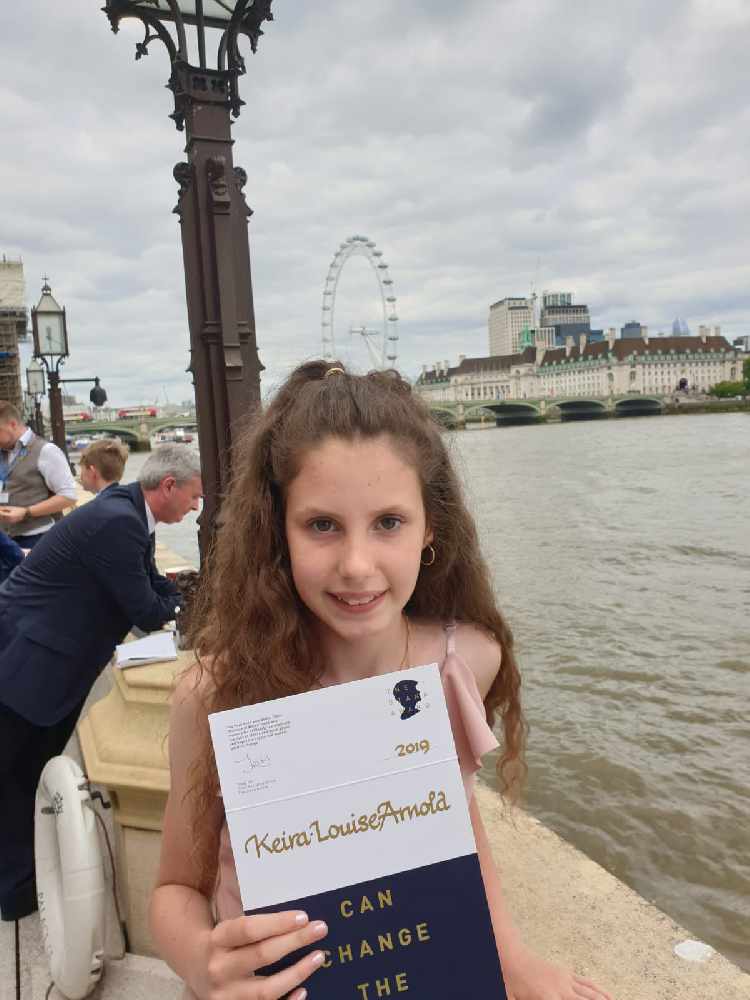 Keira-Louise with her award after the ceremony in London.
Dr Kershaw's Hospice fundraiser, 11-year-old Keira-Louise Arnold, has received a prestigious award after raising over £14,000 in just three years.
Keira-Louise, aged 11, has been recognised with the highest accolade a young person can achieve for social action or humanitarian efforts – The Diana Award. She went to the House of Lords to receive the accolade.
This year The Diana Award celebrates its 20th anniversary year. Established in memory of Diana, Princess of Wales, the Award is given out by the charity of the same name and has the support of both her sons, The Duke of Cambridge and The Duke of Sussex.
Keira lost her father to cancer at the age of four, and so for the last three years has been fundraising for Dr Kershaw's Hospice. She set up 'Keira's Wishes', a fund to help pay for the last wishes of patients at this hospice, recently honouring one patient's wish for one last trip to the seaside to dip her toes in the water.
Keira engages with the local community and uses Facebook to help promote her cause. So far, Keira has raised over £14,000 by taking part in sponsored events and designing goods for sale, including dream-catchers and poem bookmarks.
Vernon Cressey, Chair of Trustees at Dr Kershaw's Hospice, said: "Keira set up her special fund, "Keira's Wishes", to pay for the last wishes of patients, and is determined to help and find time for others.
Keira is unassuming, never asks for recognition, a real asset to her school, our town and certainly our hospice. We are so very grateful to Keira for her constant efforts and support which she so willing gives, supported by her loving family and friends. Well done Keira – you really are a STAR and we are so proud and delighted that you have received the Diana Award."
Tessy Ojo, CEO of The Diana Award, says: "We congratulate all our new Diana Award Holders from North West who are changemakers for their generation. We know by receiving this honour they will inspire more young people to get involved in their communities and begin their own journey as active citizens. For over twenty years The Diana Award has valued and invested in young people encouraging them to continue to make positive change in their communities and lives of others."
Award Holders have been put forward by adults who know the young people in a professional capacity and recognised their efforts as a positive contribution to society. Through a rigorous nomination process, these nominators had to demonstrate the nominee's impact in five key areas: Vision, Social Impact, Inspiring Others, Youth Leadership, and Service Journey.
There are 13 Diana Award Judging Panels representing each UK region or nation and a further two panels representing countries outside of the UK. Each panel consist of four judges; Two Diana Award Holders, an education or youth work professional, and a business or government representative.
The panels have an important main purpose-to determine which nominations from each UK region/nation will receive The Diana Award. Nominations are judged using the Criteria Guide and Scoring Guide which have been created to measure quality of youth social action.