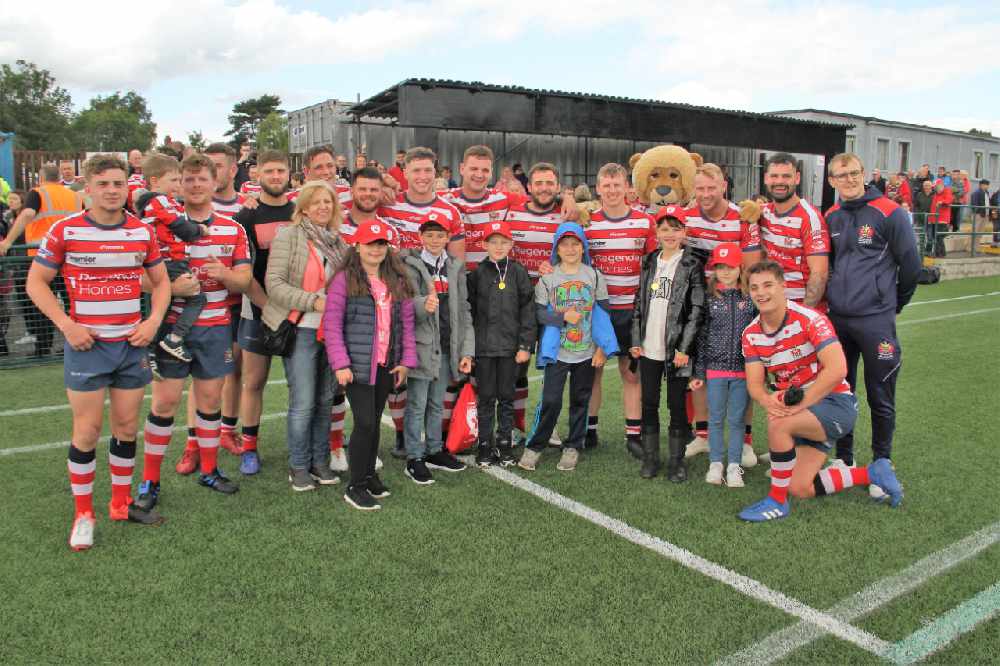 Betfred League One London Skolars 14-15 Oldham
New boys Ed Smith and on-loan Jimmy Beckett were thrown in at the deep end and showed they could live comfortably in these waters by playing significant roles in Oldham's narrow win.
Oldham have set a target of five wins from the last five games in the regular season -- and if they achieve their goal they will be guaranteed at least a second-place finish.
This was the first of those five. So far mission is on target -- by a whisker !
For that, Roughyeds can thank a good, all-round team display, topped by several outstanding individual performances headed by scrum-half Dave Hewitt.
With 11 of his side's 15 points from a try, three goals and a drop goal in the second half that ultimately saw Roughyeds home Hewitt had a blinder.
Left centre Cameron Leeming, who scored the other Oldham try, also stood out, as did Hewitt's half-back partner Adam Brook and left-side second-rower Danny Bridge.
Pre-match, things couldn't have gone any worse in the build-up to kick-off, given that a coach breakdown caused the team to leave Oldham an hour behind schedule.
They arrived at the North London venue only half an hour before the 3pm kick-off. Referee Liam Staveley agreed to delay kick-off until 3.15pm, but that still didn't allow enough time for normal pre-game preparation.
Coach Scott Naylor feared a slow start, but in fact Roughyeds got off to a flier and roared into an early 12-0 lead before imploding somewhat and struggling to command the basics in the second half.
Both teams were high on defensive commitment but low on attacking strategy. That prevented it being a classic, but it was a thriller nevertheless because the scores were so close for most of the game and both teams went at it hammer and tongues.
Oldham suffered a setback with the loss of key forward Jack Spencer with a hip injury in the first half.
He never returned, thus putting extra pressure and workload on the subs, two of whom were the new boys, Beckett and Smith.
They both rose to the challenge in the front row, Smith in his first game for two years and two major operations on his left knee.
On loan Beckett, from Featherstone, also did extremely well for a 20-year-old operating up front where the battle is at its most fierce.
Roughyeds led 14-6 at half-time, but they seemed to run out of steam in the second half when their execution with ball in hand was poor; they failed to turn pressure into points; and they were guilty of numerous handling errors.
A penalty goal reduced the visitors lead to 14-8 whereupon Hewitt took matters into his own hands and dropped the goal for one point and the cushion of a seven-point lead.
It remained like that for nearly half an hour before Skolars got to within one point thanks to a long-range breakaway try that was converted from out wide.
Thankfully for Oldham it was too little too late. Two tackles later the hooter went and Scott Naylor's men were home and dry.
Oldham scorers: tries, Leeming, Hewitt; drop goal, Hewitt; goals, Hewitt 3/3.
Team: Hawkyard, Aaronson, McComb, Leeming, Kershaw; Brook, Hewitt; Joy, Owen, Spencer, Bridge, Langtree, Bent. Subs: Law, Wilkinson, Beckett, Smith.
RefereeL Liam Stavely; Att: 355.
by Roger Halstead