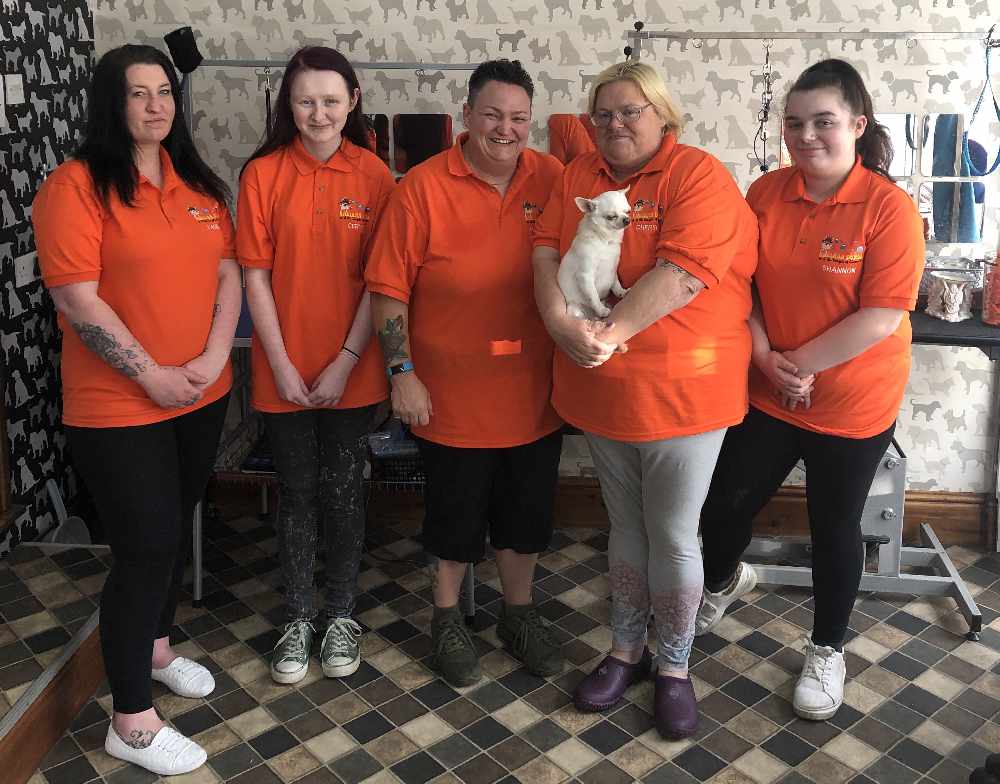 The team at Indiana Bones and the Temple of Groom.
​​​​​​​A sponsored dog walk, taking place in June, is raising money for Pennine Pen Animal Rescue and the Better Days charity.
The team at Oldham dog groomers, Indiana Bones and the Temple of Groom, are inviting people to join them on a walk from the groomers, on Ripponden Road, to Ashton Market.
Owners, Cheryl Brooks and wife Margaret Brooks, are organising the event.
Cheryl said: "You don't have to have a dog to come along, everyone is welcome. Even if you are only able to come along for a bit of the walk, we would love to see you. It is for two great charities. We chose Better Days because we know that cancer effects everyone and Pennine Pen because a lot our customers have adopted their dogs from there."
Better Days, part of the Tropical Palms group, are one of the official providers of wigs to people who are battling cancer in the UK. Cheryl's daughter is a stylist at Tropical Palms in Droyslden where the charity was created.
Cheryl said: "People can go along to the salon to get their wig and have it styled there and it provides a less clinical environment than if they picked it up in a hospital environment. They are raising money so all wigs are free and our friend, Suzanne, who was diagnosed with breast cancer became the first model for one of the wigs. She will be joining us for part of the walk."
Pennine Pen Animal Rescue was founded in 2001 by Michael Waugh. The charity started out in a small terrace in Hathershaw housing a small number of animals with a charity shop at the front.
In 2009 the charity had outgrown the terrace and purchased its own property in Oldham turning it into the Rescue Centre which has gradually been modernised to ensure that the animals benefit from the best facilities.
Cheryl said: "We went to visit Pennine Pen recently and it is wonderful. Everything is run on donations and everyone there really cares."
The walk takes place on Sunday June 9 at 12pm. Participants will meet at Indiana Bones and the Temple of Groom. Sponsorship forms are available now at the groomers and the Tropical Palms or people can get in touch with Cheryl or Margaret via the groomer's Facebook page for downloadable forms.
There will be collection buckets on the walk and people are welcome to just turn up on the day.
Cheryl added: "We just want as many people as possible to come along for what will be a fun event for some really good causes."
For more information on Pennine Pen visit penninepen.co.uk/about-pennine-pen and for more information on Better Days visit tropical-palms.com/better-days