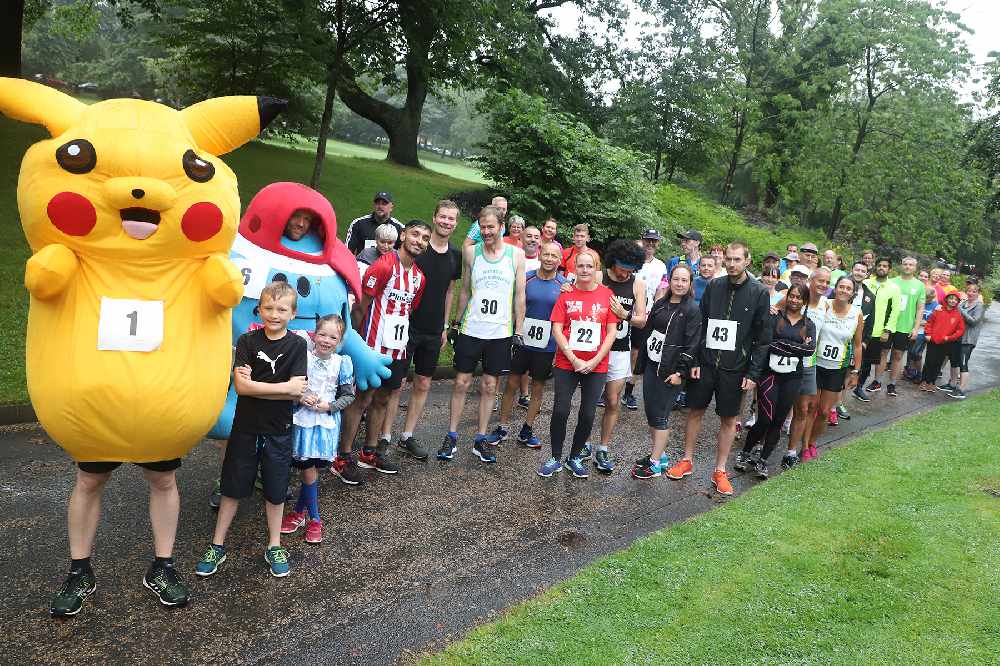 Summer Bimble in the Park 2019. Photo by Nigel Wood.
Summer Bimble in the Park was a hit, with the community turning out to take part despite the rain.
Created by Royton resident, James Wright, the Bimble in the Park events were inspired by his love of fun running.
James said: "I am a runner and I take part in lots of different events, but I have a real love of fun runs. I tend to wear costumes to raise awareness and money for charity. The big thing behind getting a local event going was giving people a fun experience for their money and encouraging people to participate in activity whilst raising money and awareness for good causes.
"Exercise and activity is really important to overall health, it is good for you mentally as well as physically and it would be great to promote that to people too."
The event was held at Alexandra Park, the Adults Bimble was 5 miles and the kids 1 mile. It raised around £700 for Children with Cancer UK and the Alzheimer's Society. There was also a collection onsite for the Oldham Foodbank where people could donate much-needed items.
James said: "It was a bit wet, but the rain held off for the race itself and people really enjoyed themselves, they really made the day what it was."
Sponsors for the event were Amin Haque Solicitors, Up and Running Oldham, Chadderton Tesco, M People Recruitment, Royton Road Runners, Broken Pencil and Frontrunners Lincoln. There was also support from Oldham Hour, the local parkruns and Andy Powell who set up the website.
Favourite costumes included Mr Bump, Pikachu, a Manchester bee and Craig Keatley who completed the race in flippers.
Everyone that took part received a medal and there were some individuals that took part virtually. This involved signing up for the race but doing it in their own time wherever they were in the world. This included Turkey and Benidorm as well as across the UK.
Naomi and Gavin Wood took part with 25-year-old Joe Lisle who has cerebral palsy, pushing him around the course in his wheelchair.
Naomi said: "We jogged and walked and took turns and Joe absolutely loved it, he had a smile on his face all the way through. He is chuffed to bits with his medal and it has actually made us decide to continue and join in Chadderton parkrun.
"We had a great time and I'd encourage people to give the next one a go. It was so inclusive and brilliant for people of all abilities."
Brian Lawton, co-owner of Up and Running and Chairman of the Royton Road Runners, said: "It was a great, friendly event raising money for good causes. It is a fun event for people of all abilities. I came first, but I have to admit it was because three runners went the wrong way when I was in fourth position!"
First in the women's race was Charlotte Cordwell.
Niparun Nessa, said: "The run was tough for me because I haven't run in a while, but everyone was so encouraging and supportive on the route, it helped keep me going even in the rain."
James welcomes people who want to raise money for their own favourite charities through the Bimble in the Park events and is more than happy for people to wear their charity t-shirts.
Nicola Mills, who completed the run in her Mummy's Star shirt, said: "A friend and I are running the Loch Ness marathon in October to raise money for Mummy's Star and we used this as training. We ran to the park, took part in the Bimble and then ran home again, about 18 miles in all. It was really well done and it was brilliant to see lots of people raising money for different charities. I've been friends with James for five years and he is always trying to find ways to raise funds and awareness for charity."
James is now getting ready for the Winter Bimble happening on December 8 and is thinking about creating a Spring Bimble in March.
He said: "I want to give a big thankyou to all of our volunteers, sponsors and everyone who took part on the day. Everyone did a great job. The Winter Bimble will be even bigger and better, but we are still looking for support to help with these events both through corporate sponsorship and volunteering.
"We just want people to find the fun in being active and encourage people to join in whatever their level and know they are also supporting some really great causes."
For more information visit www.bimbleinthepark.co.uk