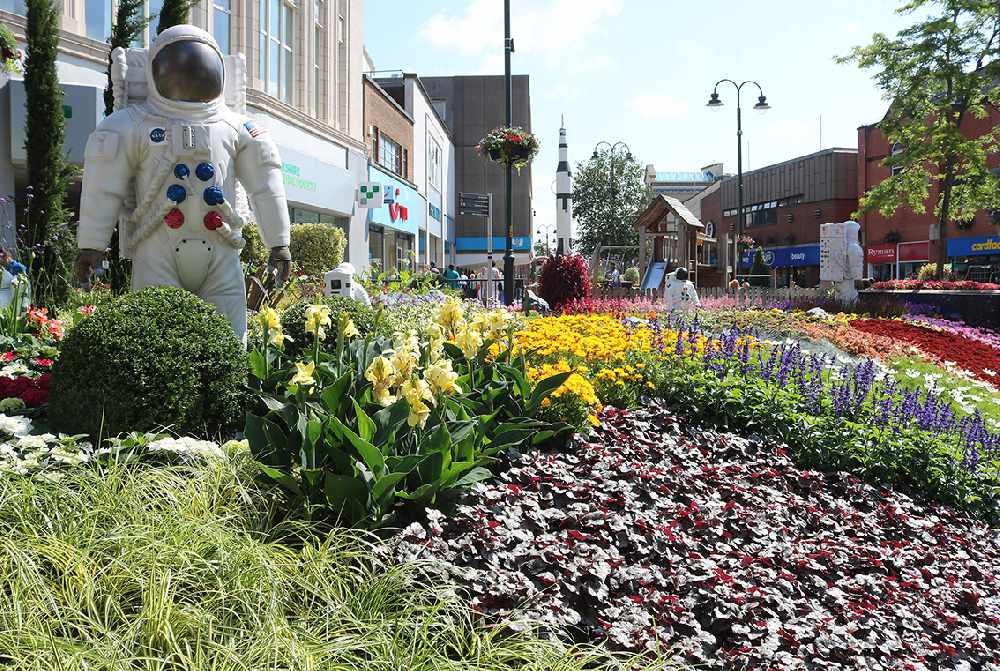 Oldham Council "launched" this year's Bloom and Grow WOW Bed and they are shooting for the moon.
As they enter the tenth year of 'Bloom and Grow' – the campaign in which they submit Oldham into the Royal Horticultural Society's North West and Britain in Bloom competitions – they are hoping, once again, for a glowing result.
Oldham are eager to retain their Best City in North West in Bloom title for the tenth year in a row. As well as repeat their national successes in the Britain in Bloom competition, after winning Best City in 2012 and 2014.
As usual entries into the competitions are about showcasing the best the borough has to offer.
The running RHS' theme is 'Greening Grey Britain' and this year Oldham has incorporated the theme of transport, specifically focusing on outer space.
It is fitting that the town centre WOW Bed's theme and unveiling coincides with the 50th anniversary of the first moon landing.
To create the alien landscape, Oldham Council's Environmental Services team have used meadows of red grass (Imperata 'red baron'), trees growing in low gravity (Juniper 'Sky Rocket') and a running rapid (Festuca and Cineraria).
Councillor Ateeque Ur Rehman, Cabinet Member for Neighbourhoods Services, said: "As ever, we are delighted with this year's WOW Bed.
"It is wonderful to watch residents gather around it, taking photographs and generally marvelling in the launch of our annual town centre masterpiece.
"Bloom and Grow is a campaign which focuses on community. It is always a collective effort – with the council, residents, schools, businesses and community groups all working together throughout the year to demonstrate civic pride.
"We just hope that we have all done enough this year to impress the judges."
The judging route, which takes place towards the end of July and beginning of August, will focus primarily on Chadderton, starting at Chadderton Hall Park before heading towards the town centre.