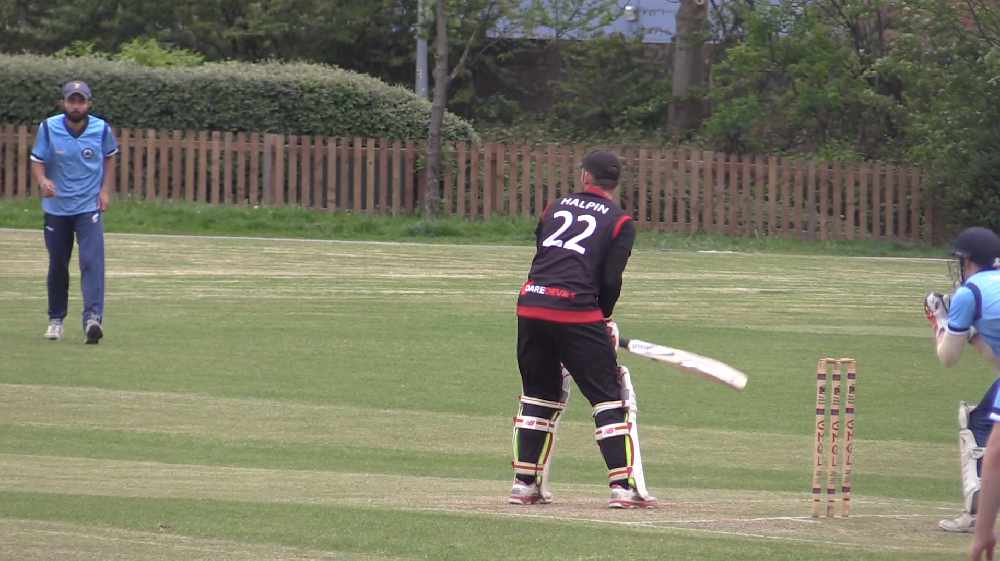 Not a ball was bowled throughout the League on Saturday, and that coming after the country basked in 30+ temperatures only 48 hours previously.
In a season which is 15 games old this was the 4th time that the elements have had a conclusive say and could well be the most rain disrupted campaign for a few years. There are now 7 weekends left and the various promotion and relegation issues are opening up. A few weeks ago Reporter Sport outlined the changes to the hierarchy from 2020 with a move to a linear league system so the remaining games are crucial to the destiny of a significant number of Clubs. What is not yet known is where the Clubs coming into the GMCL will be placed. It seems likely that Bradshaw, (from the Bolton League), and maybe Milnrow, (coming from the Lancashire League) will have a reasonably high placing in the structure, but equally there could be a place created if the Members meeting at Heywood in early August votes to move the Crimble club to the Lancashire League.
Premier Division
Denton St Lawrence look the favourites for the title having led from the first day, and, having suffered only a single defeat, now stand 21 points ahead of Greenfield and Woodbank with Roe Green and current champions Flixton one more point adrift. With a maximum of 6 points for a win it now means that DSL will capture the silverware with 4 wins from their remaining games. They of course have the chance of a "double" when they face Royton in the Derek Kay Cup Final which will be at Roe Green next Sunday, (4th August). Down at the bottom, 4 clubs will be relegated to the newly formed Championship and it will take a miracle for Royton to escape the drop as they are now 22 points from safety. Second bottom Stand may well be joining them but the nature of this League with 4 relegation places means that no club up to Egerton, (currently in 6th spot), can really regard themselves as safe at the moment. At this time last year Woodhouses looked to be on course to be relegated, but a run of wins in the last 4 weeks or so saw them finish 4th. The structure of the division certainly means that there will be no meaningless "mid-table" games between now and September 14th.
Division 1
A level lower it's a more than interesting situation as the 12 teams in each of Div 1A and 1B will be spread over the top 4 tiers next year. The top 2 in each will go into the Premier Division. In Div 1A there is a really tight contest at the top as 6 teams are separated by only 7 points, with Moorside leading the way closely followed by Glodwick; Denton West; Glossop; Flowery Field and Heywood. In Div 1B Astley & Tyldesley and Walshaw have opened a gap to 3rd placed Edgworth who are closely followed by Greenmount; Heyside and Whalley Range.
The Clubs in positions 3-6 will be in the Championship, (Tier 2) with those in positions 7-10 going into Division 1, (Tier 3). It is down at the other end that finishing as high as possible is crucial. The bottom two will be relegated into next years Division 2, (the 4th tier) and at the moment in Div 1A it is Austerlands and Unsworth and in Div 1B Droylsden and Thornham.
Division 2
A similar process occurs at this level. The top two in each of Div 2A and 2B will be promoted into Division1 in 2020. At the moment Shaw; Elton; Friarmere and Edenfield hold these places with
Winton, (in Div 2A), just 3 points adrift also having a keen interest. The Clubs in positions 3-6 will be placed in Division 2, (Tier 4), with those in places 7-10 in Division 3, (Tier 5). At the other end of the table the bottom two in each division will be relegated into what will be a regionalised Division 4, (Tier 6). At present it looks as though Greenfield 2nd XI, (2B) and Elton Vale, (2A), will suffer this fate. There will be a keen battle to avoid the other places in the next 7 weeks. In Div 2A there are 8 clubs separated by only 9 points and a bad run from any one would see them take the place currently occupied by Werneth. In Div 2B it looks to be a straight fight between Ashton and Tottington and the game at Tottington on Sept 7th could well be the decider.
Division 3
The top 2 in each of the regionalised Divisions will go into Division and at present both Clifton 2nd XI and Saddleworth will have to lose form dramatically to miss out. Springhead look to be favourites for the other place from Div 3E, whilst there is a 4 way battle between Irlam; Worsley; Hindley St Peters and Radcliffe for the remaining promotion spot from Div 3W with them separated by 8 points.
Putting all this together IF the season ended now the make up of the next years Divisions would be:
Premier Division (Tier 1) 2020
Denton SL; Woodbank; Greenfield; Roe Green; Flixton; Prestwich; Woodhouses; Egerton; Moorside (P); Glodwick (P); Astley & Tyldesley (P) and Walshaw (P)
Championship (Tier 2) 2020
Monton (R); Clifton (R); Stand (R); Royton (R); Denton West; Glossop; Flowery Field; Heywood; Edgworth; Greenmount; Heyside and Whalley Range
Division 1 (Tier 3) 2020
Brooksbottom; Uppermill; Denton; Swinton Moorside; Bury; Westleigh; Stayley; Dukinfield; Shaw (P); Elton (P); Friarmere (P) and Edenfield (P)
Division 2 (Tier 4) 2020
Austerlands (R); Unsworth (R); Droylsden (R); Thornham (R); Winton; Littleborough Lakeside; Micklehurst; Roe Green 2nd XI; SW Manchester; Stretford; Oldham; Whalley Range 2nd XI
Division 3 (Tier 5) 2020
Glossop 2nd XI; Prestwich 2nd XI; Bury 2nd XI; East Lancs PM; Deane & Derby; Denton West 2nd XI; Wythenshawe; Ashton; Clifton 2nd XI (P); Irlam (P); Saddleworth (P) and Springhead (P)
Division 4 (Tier 6) 2020
This is to comprise 2 leagues, split geographically, East and West. There is no information at the moment about how promotion from the current Divisions 4W and 4E would operate but on the assumption that it is the top two from those divisions together with relegation for the bottom two from the current Divisions 3W and 3E then the 24 clubs can be identified. A potential geographical split would be:
Div 4W – Worsley; Hindley St Peters; Radcliffe; Walshaw 2nd XI; Bamford Fieldhouse; Elton 2nd XI; Woodbank 2nd XI; Astley & Tyldesley 2nd XI; Greenmount 2nd XI (P); Deane & Derby 2nd XI (P); Elton Vale (R) and Tottington St Johns (R)
Div 4E – Denton St Lawrence 2nd XI; Werneth 2nd XI; Glodwick 2nd XI; Stand 2nd XI; Flowery Field 2nd XI; Oldham 2nd XI; Denton 2nd XI; Dukinfield 2nd XI; Friarmere 2nd XI (P); United Stars (P); Werneth (R) and Greenfield 2nd XI (R). If this is the eventual outcome then it would leave the GMCL with the issue of where to place Werneth 2nd XI as league rules preclude two teams from one Club in the same division.
So there's certainly lots to play for in the remaining weeks when hopefully the elements will be kinder.
By Martin Frost