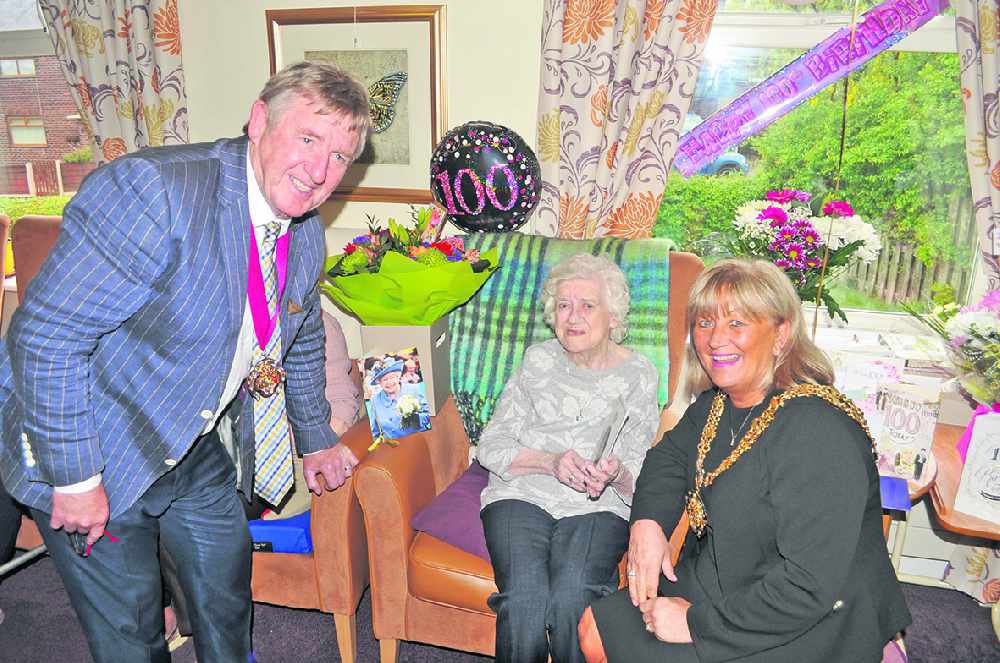 There was a fantastic atmosphere at Beeches Care Home on Friday as one resident celebrated her 100th birthday.
Centenarian Mary Thompson marked the occasion with a party put on by the home, surrounded by her loving family and friends.
She was overwhelmed with the amount of cards, balloons, flowers and well-wishes she received on the day, as guests enjoyed food, drinks, a singer and a huge birthday cake.
The Civic Mayor of Tameside, Cllr Denise Ward, and her consort Cllr David McNally, also popped into to wish Mary a Happy Birthday.
The daughter of Jimmy and Alice, Mary was born on April 26 1919. She attended St Mark's school before moving on to Lakes Road.
Mary went on to work at Norths, Ferrants and Bosstocks, and it was at work that she met the love of her life, Harry Thompson.
The pair were married at St Mark's Church on Valentine's Day 1942 and lived in Dukinfield throughout their life, on Underwood Street, Adamson Street and Dewsnap Lane.
Together they have one son, Alan, daughter-in-law Marie, grandsons Jonathan and Peter and great-grandson Lewis.
Mary loved her family trips to Bournemouth and enjoyed travelling abroad, visiting Italy, Spain, Switzerland and Yugoslavia.
Mary liked a dance, particularly at the Jubilee Hall in Dukinfield, as well as gardening, reading, knitting, listening to a variety of music and watching soaps and dancing programmes on the box.
Mary and Harry enjoyed a wonderful 55 years of married life, before Harry sadly passed away in October 1994.
Mary has been a resident at Beeches Care Home for over two years, where she's formed a firm friendship with her fellow resident Margaret. Now, Mary spends her time chatting with others and joining in with events and activities at the home, particularly the quizzes and bingo.