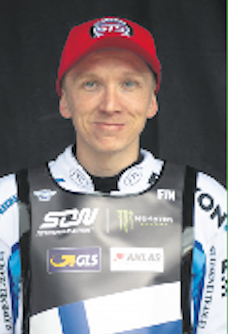 Belle Vue have snapped up flying Finn Tero Aarnio for their Premiership side after parting ways with Ricky Wells.
Wells has been struggling for form since the start of the season and the last few weeks have been particularly challenging for the USA international, who now makes way for the Finnish-born rider.
Aarnio has a rich history within British Speedway, starting his career with Berwick in 2008 and has been associated with a string of clubs, including Wolverhampton for whom he rode in 2011.
Having made a strong start to the year with Birmingham, and after an impressive appearance in the Speedway of Nations, Director of Speedway Mark Lemon felt he deserved a shot at the top flight.
He said: "We wish to place on record our thanks to Ricky Wells for all of his contributions to the Belle Vue Aces this year, and we wish him all the very best for the rest of the season with Edinburgh.
"As a club, we pride ourselves on our loyalty to our teams and it was a tough decision to make. But it was done in the best interests of all parties, and we are looking forward to having Tero in our side. He is a very capable individual. He's got plenty of experience and is a gutsy rider."
by Hayley Bromley