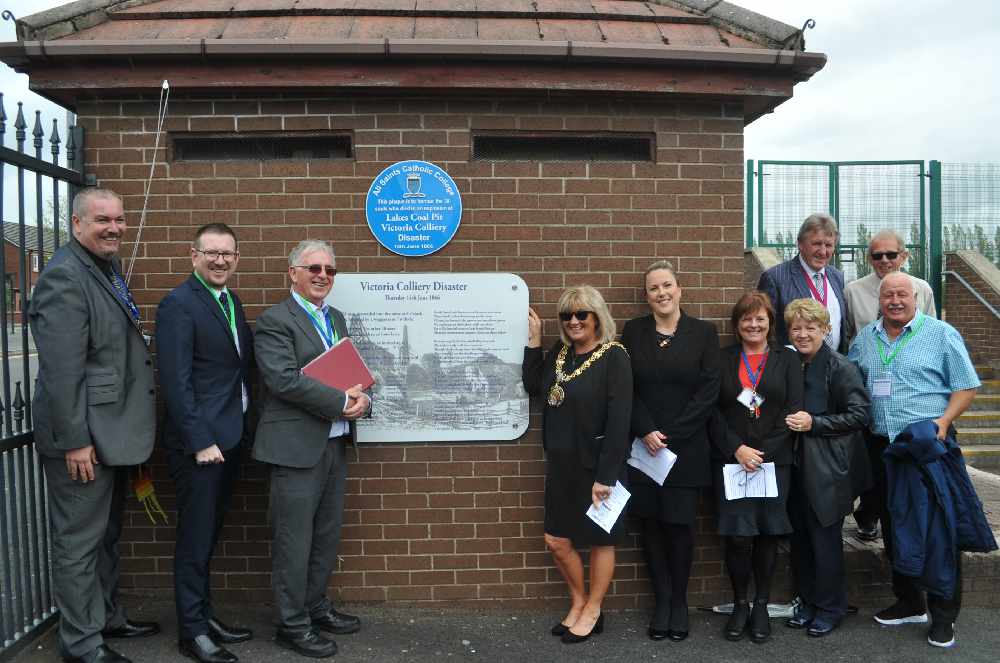 The victims of Dukinfield's lesser-known coal pit disaster have finally been given a permanent memorial in the town.
Thirty-eight men and boys lost their lives on June 14 1866 after an explosion at the Lakes Coal Pit. The youngest, John Thomas Buckley, was just ten years old.
On Friday, a blue heritage plaque and an information board containing the 38 names was unveiled at All Saints Catholic College, close to where to explosion happened.
The Civic Mayor of Tameside, Cllr Denise Ward, unveiled the plaque alongside Andrew Gwynne MP, local councillors and special guests.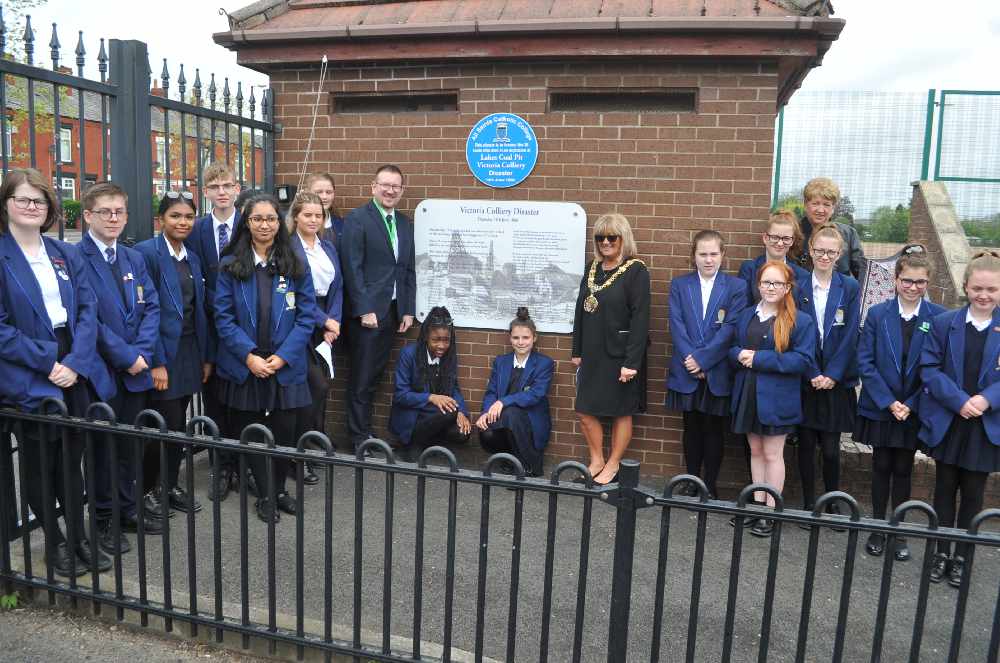 Speaking after the event, Andrew Gwynne said: "The fact that 38 mainly young people were killed in that disaster must have devastated what was then a very small community for a considerable time. I think it's really great that All Saints have commemorated that event, not least because so many of those people killed in the tragedy would be of school age today."
The plaque made in-house at All Saints by Bob Campbell and was made possible through the work of Dukinfield resident Charles Cooper and All Saints' Andrea Coleman, whose researched details of the disaster and the names of the victims.
Charles said he was "over the moon" to finally honour the memories of the 38 victims. "I've been interested in this story for about eight years, when I first noted that there had been another pit disaster in Dukinfield and that nobody had ever really recognised it," he said.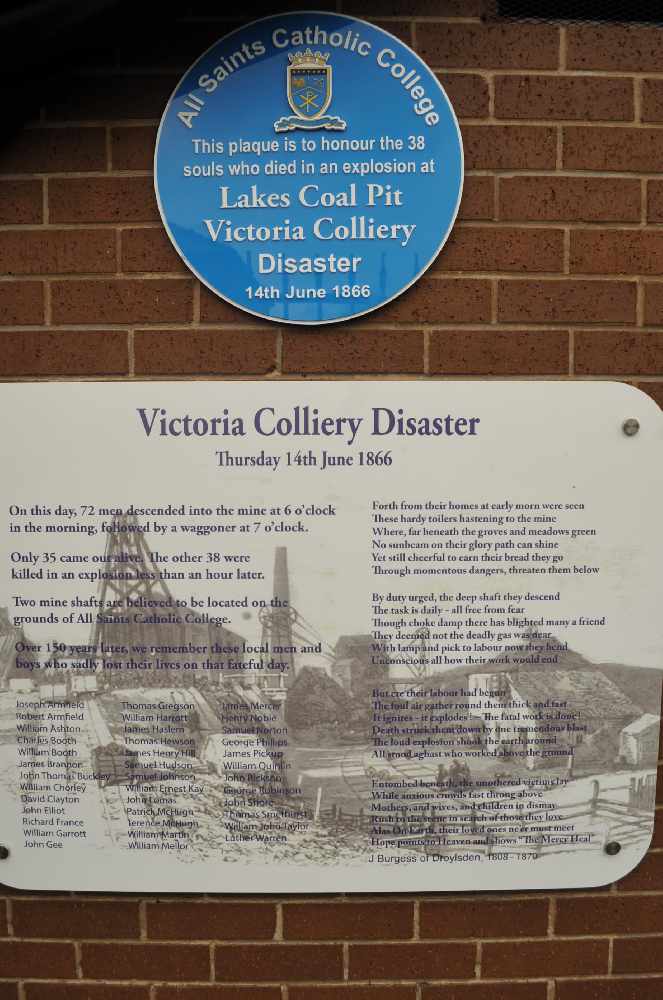 "I always felt a blue plaque was needed. I worked very hard gathering as much information as I could get. When I heard about Andrea doing similar work, I came to the school and gave her all the information I had. She carried on and did a fantastic job."
Andrea added: "I'm so proud; we couldn't have asked for a better turnout. It's so worth it for the men and boys who died that day.
"I've lived in Dukinfield all my life and there have always been little whispers but I decided that I wanted to look into it properly so that the men and boys were honoured properly, and not overshadowed by the Astley deep pit disaster.
We've been doing it since September so it's been a long time coming. I think it looks absolutely amazing- better than I ever thought."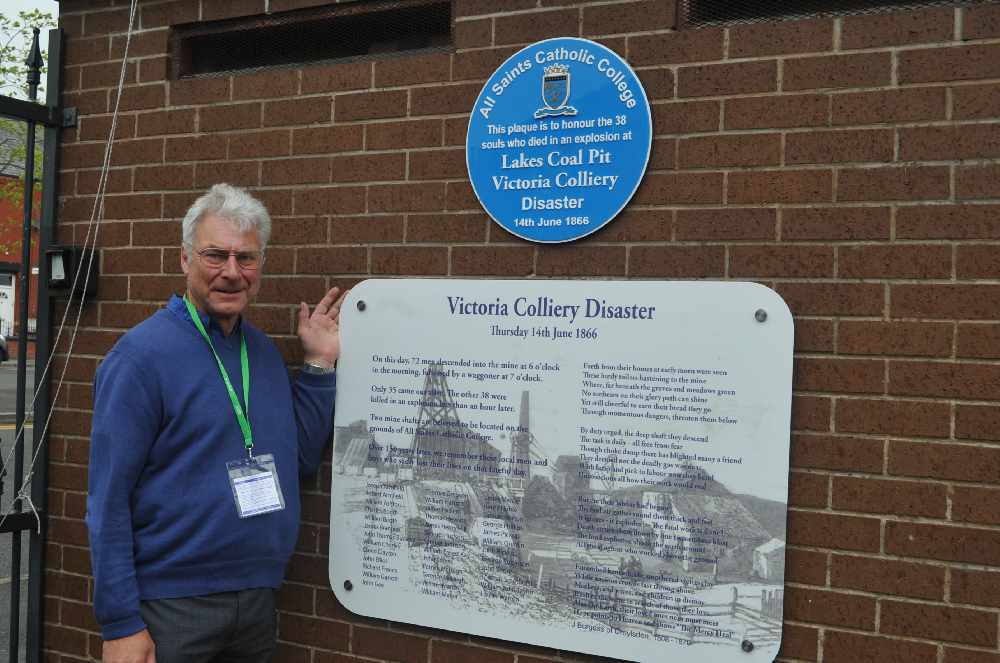 The plaque has been placed close to the entrance of the school, so that staff, pupils and passers-by can learn about the disaster and remember the victims.
All Saints Headteacher Linda Emmett said: "It's been an absolutely wonderful morning. It's been great to commemorate the events of over 150 years ago on our school fields. It's really important to us as a school because we've developed ourselves as a heart at the centre of our Dukinfield community, so it's important to us to commemorate what happened.
"It looks absolutely wonderful and you can imagine it sitting there for many years to come, so people can continue to learn."