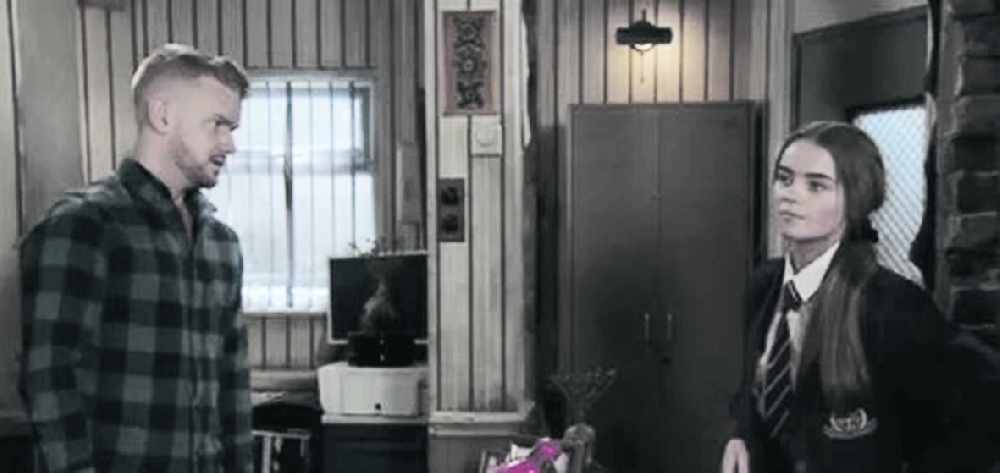 Teenage actor Millie Gibson has stepped out onto the cobbles to make her debut in Coronation Street.
The Oldham school girl from Broadbottom made her first appearance on the soap as the character of Kelly, the daughter of loan shark Rick Neelan, played by Greg Wood.
Millie, 15, and a pupil at Blue Coat School in Oldham, has been praised by Corrie star Mikey North at a recent press conference for her acting skills and she's set to appear over five episodes in the dramatic storyline over the coming weeks.
On her role Millie said: "Coronation Street was a great honour and an amazing experience that will stay with me forever. Everyone was so welcoming.
"On my first day on set, they all made me feel part of the family with their warming jokes and loveable per-
sonalities.
"Mikey North was especially fantastic to work with and I hope to again soon, I have learnt a lot from our scenes together in which he helped me through too and I am forever grateful for his kindness."
Millie was snapped up by Manchester Media City
talent agency Scream
Management after they spotted her in a drama class at Oldham Theatre Workshop three years ago.
It wasn't long after that before she secured her first role as Indira on CBBC show Jamie Johnson.
The youngster has had a whirlwind three years and has since appeared as Mia in the 2017 BBC series, 'Love, Lies, Records' and in ITV drama 'Butterfly' alongside Anna Friel and Emmett J Scanlan.
Jess Bell, Head of Talent at Scream Management said: "Millie is just such an
all round natural performer with a fantastic screen
presence. We can't wait to watch her continued performance in Corrie."
Millie will be returning to the cobbles during episodes in July and August.