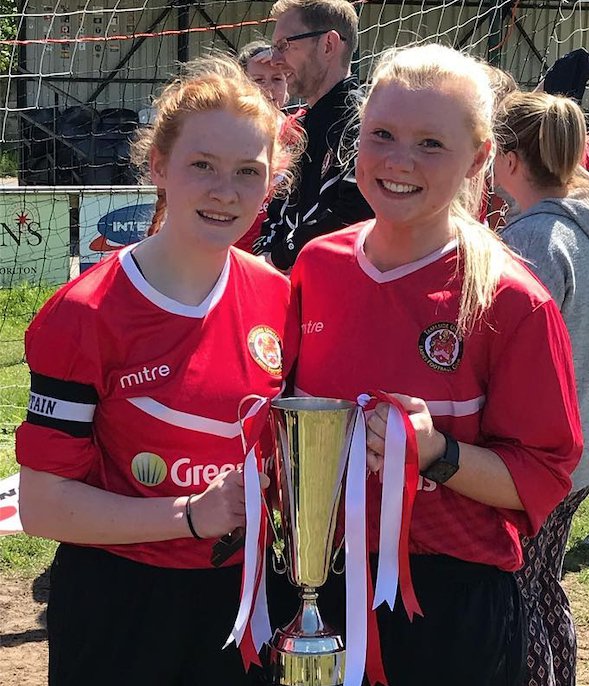 Tameside United Ladies returned to pre-season training at Ewen Fields last week.
In a bid to return to match fitness ahead of the new season, players were put through their paces in a number of drills by head coach James Caldwell.
Ladies captain Bryony Harper has recently been appointed as the Under 18s manager and will balance her time between playing and giving instructions from the sidelines.
It's been a memorable few years for Bryony, who progressed through the ranks at Denton Girls FC before joining Tameside United Ladiesas part of a merger between the two clubs.
She has since enrolled on a number of coaching courses and is now excited to put months of hard work into practice.
Speaking to Reporter Sport, Bryony said: "I started playing in primary school alongside the boys football teams, and I slowly worked my way up.
"I didn't play for a proper team until I was 15 when I joined Denton. I played with them ever since until the club became part of Tameside United. I was at the Academy for two years, took a year out of university to do my coaching, and then returned to university upon completion. Now I'm with the Ladies Team and it's great."
Bryony, who also coaches the Under 8s', is set to ehnance her skills further by undertaking another course at Derby University.
And she is hoping to turn her passion into a profession in the not too distant future. "The FD course at Derby University, which is linked in with the Academy. It's basically a follow up to get an extra degree, which focuses on coaching and is very hands on.
"When coaching was first advertised I thought it wasn't for me. I took a year out and helped out with my brother's football team, and that's how I got into it. I'm loving it at the moment, so I'm definitely considering going down that route at the moment."
As part of her new found managing role, Bryony will be looking to draw experience and tips from the vastly experienced James, who previously headed-up Denton Girls FC before taking on the new role at Ewen Fields.
James also spent last season managing Manchester Stringers - something Bryony was impressed by. She added: "He's a good coach and knows what he's doing. He's very experienced, especially considering he was the Manchester Stringers manager last season. He's stern and knows what he's doing, so I think it will be good to have him coaching us again."
Although the new season is a couple of months away, Bryony has already outlined a number of aims and objectives she hopes to achieve on a team and person level. "For the Ladies Team, I think the aims and objectives are to secure our spot in the league that we're going into" she said.
"It's going to be a lot tougher, so I think it's just about keeping our position and then hopefully recruiting more women in the hope of working our way up the table.
"There's a big difference in quality from league to league in women's football. It's going to be a bit tougher this year as there are more experienced girls playing."
Bryony heaped praise on the top-class faciltities at Ewen Fields and believes the players need to make the stadium a fortress next season. She said: "The facilities are brilliant here. We never have any games called off, but it's a different story when you play away. When teams play us on our full size pitch, we have an upper hand because we're used to it. We're expected to win our home games because of these factors, so we have to use it to our advantage and tire the opposition out."
Those wishing to join the club can find more information on the following link: http://www.tamesideunitedgirlsfc.co.uk/contact