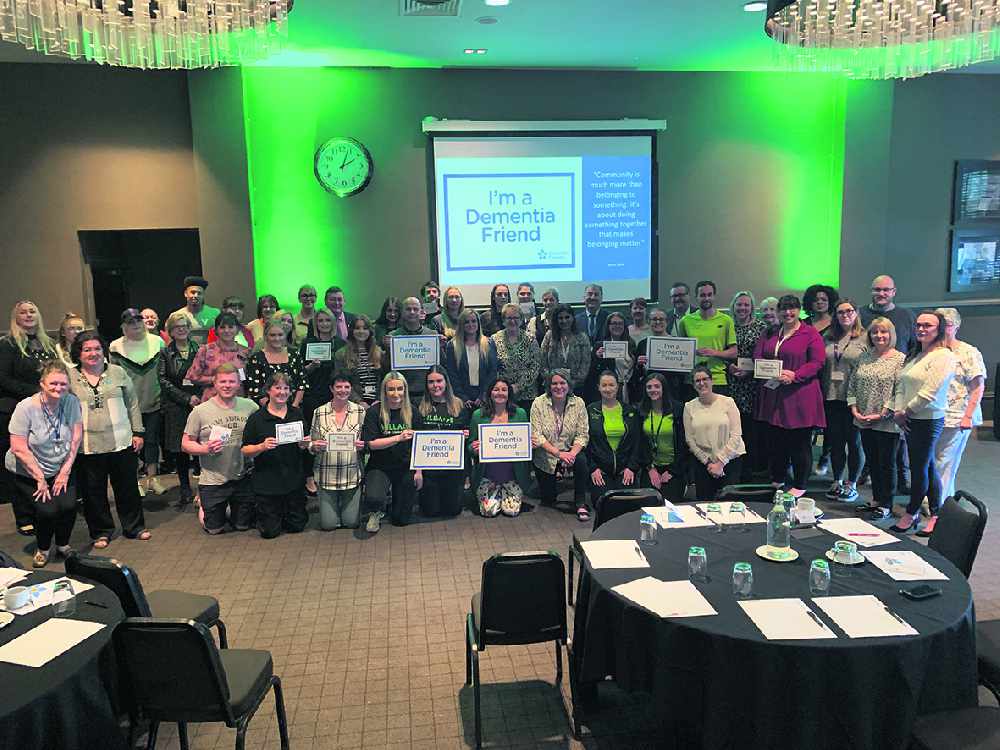 Business and community leaders from across Tameside took part in a dementia friends session at the Village Hotel in Ashton.
The session coincided with Dementia Action Week and 'Village Green' initiative, which aims to get Village Hotel staff out into the community gaining more of an understanding about what goes on in and around the area.
Dementia Champions Marion Coleman and Sandra Jackson delivered the session, which were also taking place at Village Hotels in Hyde, Bury and Cheadle, with the company aiming to get 150 people signed up to become dementia friends.
They sent attendees away with five key messages about dementia:
• Dementia is not a natural part of ageing
• Dementia is caused by diseases of the brain
• Dementia is not just about losing your memory
• It is possible to live well with dementia
• There is more to a person than the dementia.
Explaining what a Dementia Champion does, Marion said: "A Dementia Champion is someone who delivers these sessions. You don't have to be a formal trainer or a professional. We've got people who do it from the WI, scout leaders and business leaders. They speak to the Rotary, business forums, neighbourhood watch teams, churches and all sorts of people.
"The training is provided free by the Alzheimer's Society and you get all your resources free too. I've done sessions for two to three people, 80 people and up to 100 people. You don't have to be a formal presenter."
Sandra added: "From a personal point of view, I'm really passionate about being a dementia champion and I think the more dementia-friendly communities we can create in Tameside, Greater Manchester and across the country, the better.
"If somewhere is dementia-friendly, it's friendly for everybody. It's about spreading the word, getting as many people talking about dementia, getting as many people trained up as champions and doing as many dementia friends sessions as we can. It will help the whole community."
Village Hotel's Regional Director of Sales, Lizzie Harwood, organised the dementia friends session after attending one herself. It's a cause that's close to her, as her partner's grandma lives with dementia.
"I want people to take away the same thing I did," she said. "If you see somebody within our business that could possibly be struggling, those simple words 'Are you OK?' make a big difference. If we can nail that from today and if we can grow on that, it'd be great.
"We've had some great businesses here today and what I will continue to do is fight the fight and engage with them on a regular basis to see if they've taken it out into their businesses."
Dementia friends sessions took place across the borough as part of Dementia Action Week, from May 21-27. For more information, visit www.dementiafriends.org.uk.