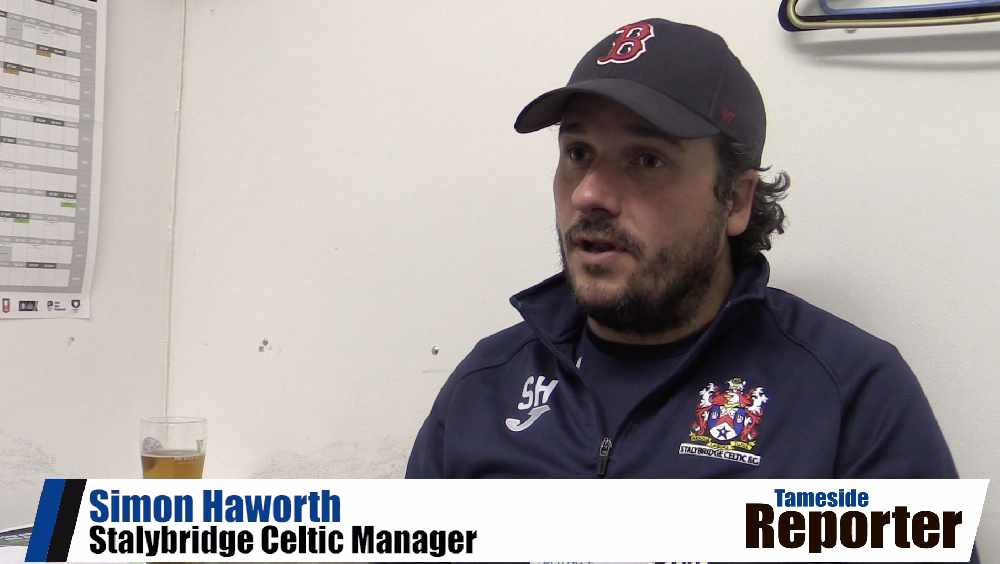 Stalybridge Celtic manager Simon Haworth has expressed his relief after the club avoided relegation on the last day of the season with a nail-biting 1-0 victory over Grantham Town.
Haworth's side had lost their previous six games ahead of the clash, which left the club just one point above the relegation zone in the Evo-Stik Premier Division.
Andy Scott's effort on the stroke of half-time was enough to seal the three points and subsequently confirmed Celtic's status as a step seven club for another season.
As relieved as Haworth was following the game, Celtic's escape has only served to highlight the issues behind the scenes which have plagued the club for five years.
Celtic were relegated from the National League North in 2017 and battled with the prospect of another relegation last season. Ultimately, due to a major restructure of the pyramid, the club survived the drop and lived to fight another day.
Former manager Steve Burr left his position and was replaced by Clitheroe boss Haworth. The 42 year old's appointment was meant to herald a new beginning for the club, and despite a promising start to the season, in which the squad embarked on a four-game unbeaten run, the club reverted to old ways and spiralled down the league.
Haworth, who was tasked with assembling a squad despite facing huge budget cuts, believes his side's final league position belies his players' quality. Speaking to Reporter Sport, he said: "It's relief rather than celebration; I'm glad the lads were able to get over the line.
"We needed the win, especially the way the results turned out. There's no point in saying we didn't deserve to be down there, because we were and the points tell you that, but they are better than that and I think we're a good striker away from being a mid-table side.
"We have a lot of young lads and I think we hit a bad run at the wrong time. Once the transfer window passed we couldn't change it and we had what we had. There were a lot of young boys in there who have learnt an awful lot, but they were struggling confidence wise to get out of it once we'd lost three or four on the bounce.
"We beat Scarborough away which was a real turning point, but with North Ferriby being out of the league we didn't have the chance to go and back that up with back-to-back wins. We played well at Hednesford and we played well at Hyde, but we've missed a goal scorer all season and that's dragged us into a situation we shouldn't have been in."
As results on the pitch began to worsen, so did relations behind the scenes.
Within a matter of weeks, a number of long-serving officials had resigned their positions with immediate effect.
The club appeared to be in turmoil – and Haworth, in a post match interview, alluded to that fact, describing the club as 'toxic'.
Questioned on his remark, he said: "I've put everything on the line and I've risked getting the sack myself, but I felt that things needed to be said and I've showed my passion for turning this club around.
"I could sit here, take a wage and then disappear to another club quite easily, but I spoke out because I think this club deserves change and it's got to the bottom of the barrel time where change needs to happen.
"Celtic's demise has been going on for four or five seasons and everyone that's been involved in that group over that period of time need to have a look at themselves. It's a fantastic football club but it does have to change."
Although the season has only just ended, Haworth is currently in the process of planning for August.
However, he anticipates further budget cuts and is therefore unsure as to what kind of squad he'll be able to assemble. "Our budget isn't great, and the initial conversations about next season will be less again" he said.
"That makes it even more difficult. I think if you had the right, off the field infrastructure, that would allow us to be together on a low budget.
"Bamber Bridge have done great things with a low budget as a group, but it will be tough again if we do have another budget cut.
"I don't know everything about the finances off the field, but I know they're not good. I know that they could be managed better.
"I was involved at Tranmere Rovers, a club close to my heart, and they're an example of a team who have done similar things to Celtic within the league. It's taken lots of different things to change to hit the bottom and then bounce back. I think we're at that stage now. My thoughts have been made to Rob (Gorski) and other people, and hopefully everyone can come together in the summer and make positive changes for the club. Some of them will have to be hard, honest decisions."
Haworth adopted the role as Celtic's Head of Academy in January and believes some of the youngsters will feature for the first team if the cuts do materialse. He said: "We'll have a long chat about who we're going to bring back, because there's a lot of young boys in there but there are some good ones as well. Neil Kengni has 13 goals from about 20 starts, so whilst he's still very raw there's a very good player in there. We'd need to speak to the powers that be and discuss the budget, because if we do cut it, and it looks like we will, we'll end up with a completely different player. There could well be boys in the Academy that get a chance next year. We could end up replying on those lads if we don't get the investment. "