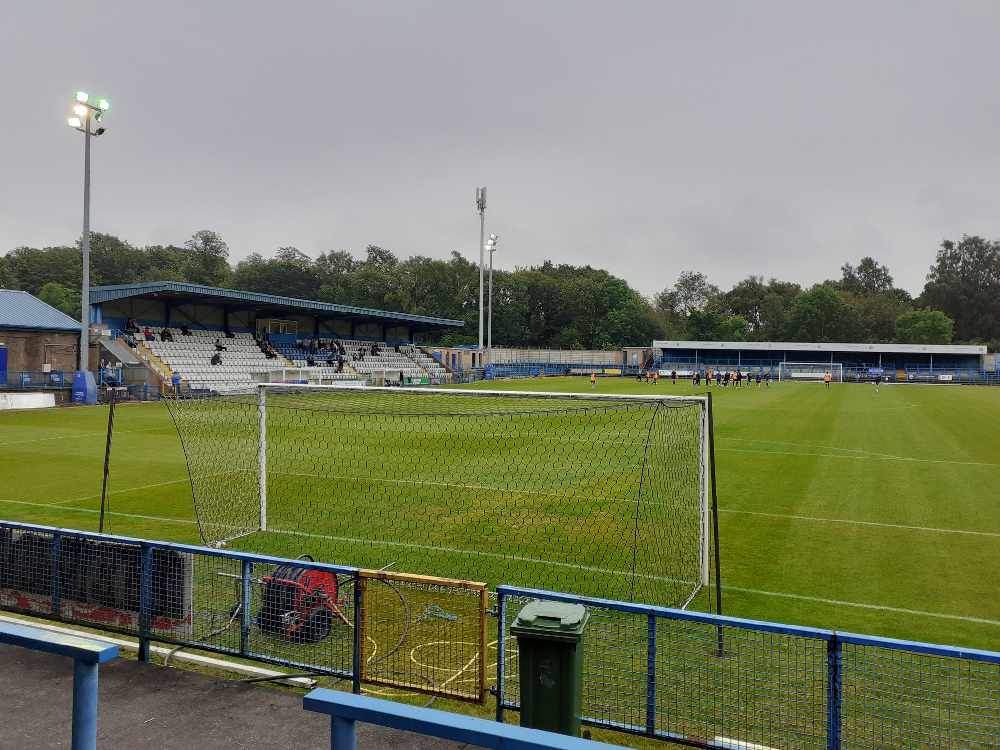 Stalybridge Celtic manager Simon Haworth is relishing the chance to right the wrongs of last season.
Despite a promising start to the campaign, in which they lost just three of their opening 11 games, Celtic began to fall away and were dragged into a relegation fight which came to a dramatic conclusion on the final day. Thankfully, Celtic beat Grantham Town 1-0 to secure their status as a step seven club and give fans a reason to smile over summer.
With a view of avoiding the same scenario as last season, Simon has rebuilt his squad and now has a group of players who he believes can hold their own in a 'very tough' division.
There were serious concerns around the possiblity of the playing budget being cut over summer, but after promising discussions with chairman Rob Gorski, Simon has revelaed that his budget will remain the same for the forthcoming campaign.
Familiar faces including Scott Bakkor, regarded as one of the best strikers in the league, and last season's top scorer, Neil Kengni, have both committed for another season, while defender-midfielder Mark Lees has returned to the club on a permanent basis following a successful loan spell from Ashton United towards the end of last season.
Ross Dent and Ross Killock have both re-joined the club, although the latter is set to be out on the sidelines for a consdierable period after sustaining a serious injury in the pre-season defeat to Curzon Ashton at the beginning of July.
Craig Hobson, an experienced striker with Stockport County, Alfreton Town and Chester amongst others, is set to lead the front line and be utilised as a holding player. Hobson is no stranger to the Bower Fold faithful, having previously played for the club from 2009-2012.
Ahead of the club's opening game at Mickleover Sports in the BetVictor Premier Division on Saturday, August 17, Simon spoke to Reporter Sport and said he's excited to see what his new group of players are capable of.
"I'm pleased with the squad I have; we've done a lot of business early on and brought in some experienced players. Even the younger players we've looked at are the right characters and they play in the way we want them to and they've had some good experience, even though they're only 24 or 25. We still need to fill a few positions and we've currently got eight or nine trialists that have been with us through pre-season and they've got a few minutes under their belts against Burnley, so I think it's only fair that we look at them. In honesty we will only take two or three out of that number."
"We're looking to kick on from last year. I think until early February we'd had a good season and were punching above our weight. For large parts of it we did well and probably over achieved a little bit, but then we lost a few lads and brought quite a few in that didn't work, so we've been conscious this year of bringing in more senior players and more experienced players that can probably see us through those bad patches. We probably had too many youngsters last year.
"We dont start until August 17, so it's a very long pre-season and we've tried to take mini breaks" said Simon.
"We went to Chester Races and had a bonding day, which was fun. It's a tight group of lads and they're enjoying themselves, although we've put the work in as well. You need that togetherness, and I felt that was lacking last season, not down to anyone being a bad character but just because there were a lot of young boys knocking about. There were also too many loan players, so you can't really build a bond. Like I've said before, for any club to be successful at any level you need the whole club pulling in the right direction."
Despite working with a lower budget compared to the big-hitters in the league, Simon is confident of building a squad that will be competitive and bring smiles to supporters' faces. "It at least gives us a chance to work on what we got wrong last year" said Simon of the budget.
"Me and Gaz (Roberts) have looked at what we did right and wrong, and so we'll try to improve on that and get things right. We won't be throwing silly money at it as it's still the same project. Hopefully we've learnt a little bit from last season and we can improve".
In a bid to have his players in the best condition for the season opener at Mickleover in just over three weeks' time, Simon has arranged seven friendlies against opponents of varied ability.
The first, and arguably biggest, took place at Bower Fold against Championship outfit Barnsley at the beginning of July. The clash attracted a healthy contingent and boosted the club's coffers in the process.
Simon said such fixtures are important to the club - especially when preparing to compete in a league which has become saturated with money. "South Shields have recently signed Jason Gilchrist from Southport, and I think they're now training four mornings a week, which is pretty unheard of in our league" he said.
"I think you'll have all of last season's teams having a go again. The likes of Buxton, Warrington Town and Scarborough Athletic - even Ashton United are having a go.
"I know some of the lads who have signed for them, such as Luca Haven, and they're really good players. Matlock Town also have money, so you can rattle off ten teams straight away that have good finances and are up and running.
"It will be difficult and the challenege in this league is that it's hard from top to bottom. There are no teams you can beat if you're not at it. You have to be at it every week, and it was the same last season, whether you were playing Workington or South Shields. There was very little between all the teams and I think the finance and strength of the squads is what comes through in the end."
Although finances are limited at the club, Simon is confident of building the squad thanks in no small part to the burgeoning Academy set-up.
Simon, who took up the role as head of academy in January, is hoping to produce a nucleus of future stars. "It's going well and we're busy recruiting players" he said.
"Last year's crop have finished now for summer and we've lost the second years and we've only got a small pool of numbers.
"We're having to work really hard on bringing in next year's school leavers. "We've got some trials coming up, which take place on Sunday, July 28 at 10.30am, here at Bower Fold.
"We've also got another on Friday, August 9 at 6pm. Anybody that's just left school and is looking to pursue football or BTec sport, get in touch with us.
"Hopefully they can see that we've had a couple of boys training with us through pre-season, and there is a pathway to the first team.
"The Under 21s team has come to us through the Under 18 manager, Craig. He's taken those boys from the ages of eight and nine, right through to their current age. "They're not in the Academy due to other educational commitments and jobs, but they're a good group and there's some talented boys.
"We've sat around a table and said 'why lose them?'. It made sense for a lot of reasons, although we had to make sure that it worked financially, which Craig has done a great job of making sure of. For anybody that wants to join, there's now an option of an Under 21s squad."