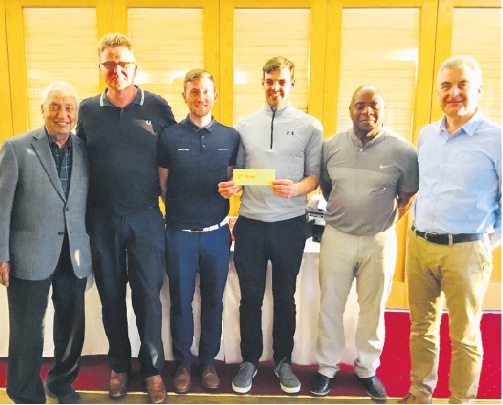 Former Denton President Garry Singh was delighted with another great golf day supporting the Samaritans at his beloved club.
Garry said: "There was a terrific entry of 38 teams playing in the Texas Scramble with a 1/8 combined handicap.
"The clear winners with 54.9 were 'Rowan's Select' fab four of Matt Smith, Alan Gayle, Gary Burn and Ali Holloway with 'Kendo All Stars' on 57.5 and 'No Joking', team led by Denton star Joel King were third.
"The amount raised was £2,746 which included entry fees, raffles and sale of my wife Pat's home-made biscuits which brought in £120.
"I would like to thank Denton Golf Club for again giving us the course and providing excellent help both on and off the course and the volunteers who put in a great effort in a very busy and successful day," he added.
l Round four of the Wednesday Bowl at Denton was won by Gulam Ahmed with a stunning 62 from Casey Holland-Dean 65 and Francesca Bougen 67.
The Alby Manion Trophy at Denton was won by Milo Murphy with 67 from Connor Sutton and Jake Page, both 68.
Jack Suttie led in a Sunday medal at Denton with 67 from Robert Ashelby 70 and Connor Sutton 71.
Denton ladies played for the Norah Thorley Rose Bowl and it was won by Linda Leung with 74, three less than Francesca Bougen.
Denton's Dunham Forest Trophy team pulled off a great 5.5-1.5 win at Hazel Grove to march into the last 16.
l A Seniors Open at Saddleworth was won by David Houghton and Richard Hirst (Whittaker Golf Club) with 49 points from home stars Carl Davidson and Joe Ridley 47 and Gerry Hobbs and Dave Baker 46 with the best visitors being John Waterhouse and Gordon Howard (Oldham) 45.
The Captain's Invitation at Saddleworth was won by Ben Simpson and Barry Lewis with 42 points from Sean Mooney and John Sheridan 41 and Ben Pullen and Mike Collinge 38.
A singles Stableford at Saddleworth was led in by Simon Halliwell with 40 points, one more than Dave Ashton, Alastair Wright and Anthony Schofield.
l Ashton's men played for the Tuesday Cup and in division one David Harrison won a cpo on 68 from Martin O'Keeffe.
It was tighter in division two with Sean Gregg winning a cpo on 68 points from Dave Hufton, Michael Tobin, Paul Radcliffe and Paul Walsh while in division three, Amin Kiami won a cpo on 70 from Steve Waterworth.
A singles Stableford at Ashton had the three divisions led in by Callum O'Neill after a cpo on 40 points with Adrian Reece, Alan Newell 41 and John Hipkin 42.
There was some massive scoring in a junior Stableford at Ashton led by Nick Gaunt 54 points from Rory Penning 53.
Ashton ladies played the first round of the Kenworthy Cup and former junior star Louisa Brunt, on a break from her golf scholarship in the USA, won a cpo on 76 from Rachel Cuthbert.
l Brookdale's men played for Vice Captain Gazza Smith's prize and it was won by Ronnie Leighton after a cpo on 66 from Matthew Hampson, one less than Mike Cassidy.
Stableford action for Brookdale ladies had Adele Keate on top with 37 points from Stella Cain 35.
l A Two Man Texas Scramble at Dukinfield Golf Club was won by M Scullion and P Dalton with 58.6 from Ray Massey and Steve McDermott 62.6 and I Crompton and A Davidson 63.
The second round of the Centenary Shield for Duki ladies was won by Annita Kenworthy with 36 points, one more than Helen Slattery.
l New Mills men were in medal mode and in division one Keane Hyde was out on his own with 63, five less than Alan Forbes, Simon Belt and Dan Thomas.
It was closer in division two with Michael Leddy on top with 64 from Gavin Shields 65 and Duncan Moore 66.
New Mills ladies were also in medal action with Joyce Hadfield a convincing winner with 69 from Elizabeth Milne 73 and Marie-Anne McGibbon and Helen Harrison, both 76.
l Fairfield's men played over two rounds for the Centenary Salver and club legend John Bell set the pace with 43 points in round one ahead of Steve McDonough 42.
In round two, Michael Coulburn was top of the shop with 41 from
Andrew Coogan 39.
The Salver was won by Gerald Stelfox with 77 points from Joseph Pownell and David Booth, both on 76.
l Fairfield ladies played a Frances Smith qualifier and Sarah Pownell led in with 72 from Caitlin Power-
Tarbatt 73.
l Stamford's one-handicap star Andrew Bent showed his class in the 'major' for the Centenary Vase winning a cpo on 68 from Andy Yeardley, David Brownhill and Tony Smith.
Stamford ladies played a singles Stableford and Judith Whitehead was first past the post with 31 points from Jo Akers 29 and Marjorie Harrop 28.
l Ringway Golf Club were superb hosts both on and off the course as they hosted the Cheshire Matchplay championships over three busy days with three top county trophies at stake.
The Ringway course was in excellent condition and it inspired some top class golf and a number of terrific and tense matches.
This was typified in the County Championship final with leading qualifier Jack Brooks (Mere Golf Club) eventually claiming the title for the first time with a one-hole victory over Delamere Forest's young star Oscar Doran.
Oscar had demonstrated his cool nerves in a close semi-final where he beat Rob Cull (Bromborough) on the 19th with Jack beating Crewe's Harry Bevan in the other semi-final with a run of five birdies helping his cause!
In the Seniors competition Martyn Grimley used his local knowledge to good effect as the Ringway hockey legend won his semi-final against leading qualifier John Williams (Prestatyn) with a cool putt on the 19th and then beat Euan Dunbar (Vale Royal Abbey by 3/1 in the final after Euan had won his semi-final round against Steve Blakeway (Heyrose).
The competition for the Handicap Plate saw Matt Birch (Wilmslow) and James Voce (Wychwood Park) contest the final after respective semi-final wins over Lewis McNicholas (Crewe) and Tim Whitehead (Ringway) and Matt emerged with a 3/1 victory.
Cheshire President Andrew Henshall, of Wilmslow Golf Club, saw off all of the players on the first tee and was delighted to present the trophies and a county plaque to Ringway Golf Club in appreciation of their impeccable organisation skills and also thanked the Cheshire Union of Golf Club officials in helping to make this an excellent county championship in all aspects.
l There was plenty of action in the Oldham Rabbits League in cup and league matches and Houldsworth are still flying high at the top the main league and Group B in the Cup.
Latest results - League Ashton 8 Oldham 0, Stamford 7 Dukinfield 1, Cup - Stamford 13 Brookdale 3, Dukinfield 12 , Houldsworth 4, Brookdale 11, Oldham 5, Houldsworth 14 Ashton 2.
League placings - 1 Houldsworth 26, 2 Stamford 24, 3 Ashton 21, 4 Dukinfield 20, 5 Brookdale 19, 6 Oldham 18. Cup Group A 1 Stamford 25, 2 Brookdale 24, 3 Oldham 15, Group B 1 Houldsworth 26, 2 Dukinfield 20, 3 Ashton 2.
by Geoff Garnett