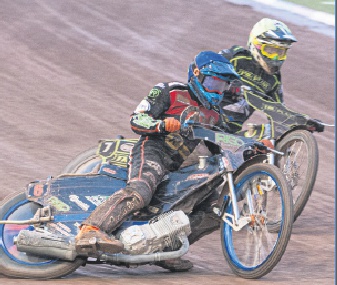 Belle Vue's Max Fricke rounded off a brilliant weekend as he romped to a 15-point maximum to lead the Aces to a 49-41 win over Ipswich on Monday night.
The Aces' skipper went into the meeting on the back of his greatest ever individual result after he reached the Grand Final of the Swedish Grand Prix in Hallstavik on Saturday night, finishing fourth.
With world champion Tai Woffinden on the injured list, Fricke again got the GP call-up to join the world's top stars, and opened his night with two third places.
A win in his third ride, with series leader Leon Madsen trailing at the back, moved the Aces' number one on to five points, but he was unable to add anything next time out.
However a win in his final ride, passing and repassing Freddie Lindgren, took Fricke to eight points and a place in the semi-final races.
The Belle Vue star produced the race of the night in the semi, coming through from third place to take the win, and book himself a place in his first ever GP Grand Final.
Emil Sayfutdinov won the final to move into the joint lead in the world championship series, whilst Martin Vaculik and Maciej Janowski took second and third, with Fricke just missing out on the podium.
Fricke brought his GP form with him on Monday, as he made light of the falling drizzle at the National Speedway Stadium to power through from the back to take a stunning victory in heat one of the Aces' match with Ipswich.
The visitors were quick from the gate to take an early lead thanks to a 5-1 from reserve pairing Kennett and Allen in the second race.
But wins for Dimitri Bergé and Dan Bewley brought the scores back level by heat 5.
Fricke and Jaimon Lidsey put the Aces ahead for the first time with a maximum win in the sixth, before Bergé rode a superb heat eight to leave Belle Vue leading 27-21.
Maximum 5-1 wins through Bewley and Steve Worrall and then Fricke and Lidsey again, looked to have put the meeting beyond the Witches' reach at 37-23, but they bravely fought back with a 5-1 from Richard Lawson and Chris Harris, and a 4-2 won by Danny King, to close the gap to just eight points.
However the Aces' win was confirmed when Fricke and Kenneth Bjerre comfortably took heat 13.
Ipswich still weren't finished though. A 5-1 in heat 14 again closed the deficit to eight points, meaning they could still take a consolation league point. But Fricke was in no mood to surrender his unbeaten record, and he duly won the nominated race, to send the Witches home pointless and fire the Aces back to joint top of the Premiership
Aces scorers: Max Fricke 15, Dan Bewley 8+2, Dimitri Bergé 8, Kenneth Bjerre 7+1, Steve Worrall 6, Jaimon Lidsey 5+2, Tero Aarnio 0.
l World Championship Speedway comes to the National Speedway Stadium tomorrow (Friday) 7.30pm, when Belle Vue stage the World U21 Team Final. Host nation Great Britain take on Denmark, Australia and Poland in the four-team event.
Britain's 21-year-old GP star Robert Lambert heads up the Young Lions' side, and there is a strong Belle Vue contingent with the Aces' Dan Bewley joined by Belle Vue Colts pairing 17-year-old Kyle Bickley and 16-year-old Leon Flint.
Belle Vue team manager Mark Lemon takes control of his Australian side, which is captained by Aces star Jaimon Lidsey.
l The Belle Vue Colts travel to Stoke on Saturday for the National League Fours (6.30pm).
Their four man team of Kyle Bickley, Jordan Palin, Danny Phillips and Connor Bailey with reserve Ben Rathbone, will take on similar four man teams from the other seven NL clubs in the country.
The Colts have been drawn in Group B with Plymouth, Kent and Mildenhall, Whilst Cradley, Leicester, Stoke and Isle of Wight compete in group A.
by Graham Goodwin
Pictures by Ian Charles