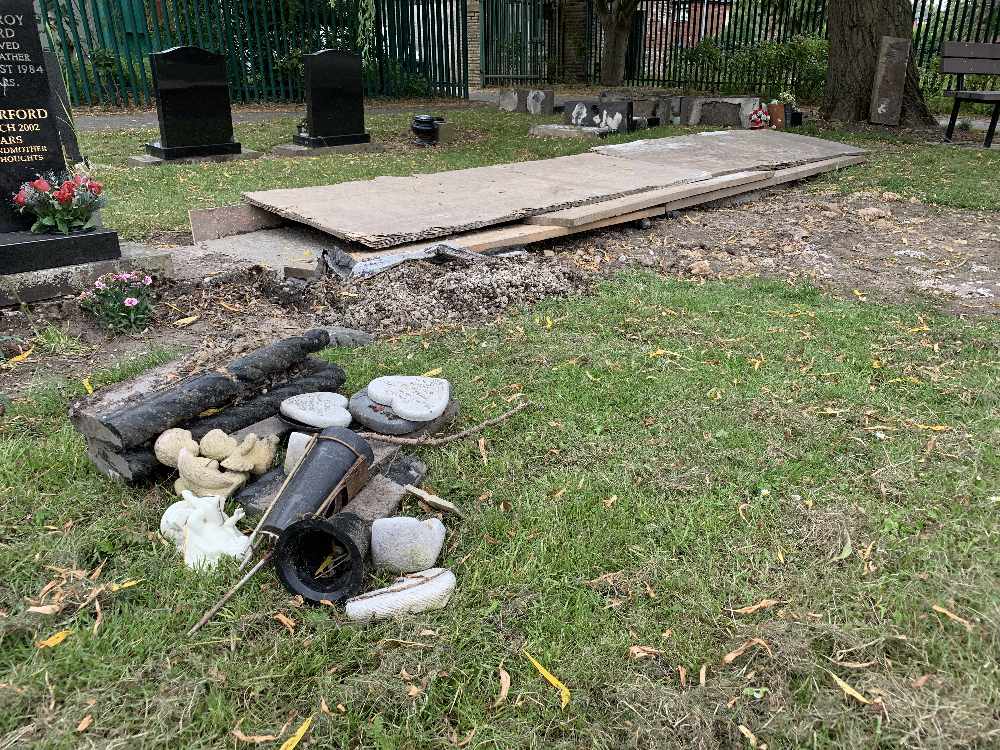 An elderly widower says he has been unable to lay his wife to rest with the respect she deserves after a lengthy delay to have her headstone engraved.
Alan Cotton blames council hold-ups after waiting more than five months for the engraving of the headstone - and turned to the Reporter for help.
Alan's wife Iris was buried in Droylsden Cemetery in January this year.
But ever since he says he has faced an endless battle with various council and cemetery departments to complete the work on the headstone, causing him and his family considerable distress.
At the cemetery a new concrete base for the headstone to be placed on had just been laid this week.
However, Alan, 79, says that doesn't explain why it has taken such a long time or the silence from the council.
He said: "It's taken from January when Iris was buried to get to this stage now and this is still nowhere near complete. They've only just put the foundation in, so there's still quite a bit of work to do, so it's probably going to be another couple of weeks before it's anything like finished. I don't think it's good enough."
Alan has been quick to praise the cemetery's grounds crew however, who quickly put the grave right when he approached them.
"I can't blame the guys there. Each time I've spoken to one of the workmen they've done what they've said they would and they keep saying it's people at the office who are delaying things.
"When I came and it was all the rough soil he said we'll come and level it all off and get rid of all that stuff and do it with topsoil. I came back the next day and they'd done it, true to their word."
But Alan says he has been left upset at the length of time it's taking to get his wife's grave into something that is respectful of her memory.
"It's like I've let her down. Every time I come here I feel like I've let her down because there's nothing there to show that she's here and it's just not good enough," he said.
Both Alan and his daughter-in-law say they have tried countless times to get in touch with the council to speed up the process, but to no avail.
"The people in authority seem to be the ones dragging their tails. I phoned a lady up who's supposed to be in charge of the parks and she said really there's not much they could do as it was supposed to be the registrar who's in charge of that. She said I'll get him to phone you back, but he never did.
"It's just gone on too long, it's ridiculous. I'd just like to know when it's going to be right, but I don't know when it'll be finished. I don't know when I'll be able to come and get it looking like it should."
The Reporter contacted Tameside Council before the new foundations had gone in and a spokesperson said: "This has been a complex and sensitive matter where a new foundation was needed for the grave but, before we could carry out this work, we needed to liaise with a number of families.
"Following discussions with the relevant parties, the engraving of the stone can now take place and this grave can be reinstated."