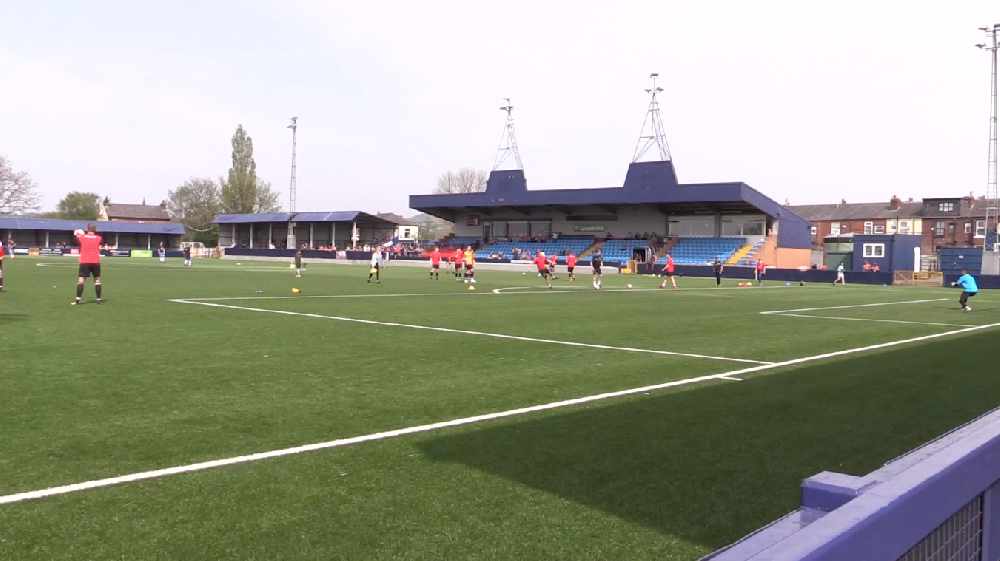 Hyde United manager Dave McGurk is relishing the opportunity to make his mark in the dugout next season.
Following a major reshuffle behind the scenes in May, Dave took the managerial hot seat while former boss Darren Kelly has taken up the sporting director role.
John McCombe has become assistant manager, and Gaz Prendergast will combine his role in the academy with coaching first team players.
Although he's optimistic about the Tigers' chances during their second season in the Evo-Stik Premier Division, Dave has moved to reassure supporters that his aims and objectives will be based on stability and long-term thinking. Despite all the changes behind the scenes with staff members and players, the 36-year-old is confident that supporters can look forward to next season with a renewed sense of rigour. Speaking to Reporter Sport before the club's first pre-season training session at Ewen Fields on Thursday, Dave said: "It's good to be finally be able to get back on the pitch, as it's been three or four weeks of busy work that's taken my breath away.
"Part of the role is building the club off the pitch as well. We've had to work from scratch to build the club back up again to where it can be, and then hopefully we can produce a team on the pitch that will match that.
"Long term, I think the club can compete in the league above, but it's going to take a bit of time to get there and build a structure where we're not just going to fall back down the pyramid like has happened before. Our job at the moment is to put that structure in place. Next season we could throw loads of money at it and go up, but the chances are that the season after we would come back down, so we need to build a club that is ready for promotion and one that can stay there. That might not be next season or the season after, but you can guarantee that we'll be putting the plans in place to build that structure."
Following the untimely and sudden death of former chief Executive Mark Worthington in April, the club have been forced to make some major changes in terms of planning and structure.
Mark, who died of a suspected heart attack aged 52, became a major figure at the club and coordinated matters within the first team, Academy and girls' section.
His death has left a huge hole at the club – both emotionally and financially. Dave said: "We're going to have to take a couple of steps backwards to move forward. Mark was a big figure at this football club, and with his passing there are a lot of things that need to be filled off the pitch, which we'll be sorting out amongst ourselves.
"Darren's role consists of pretty much everything; he'll be overseeing every aspect of the football club to make sure it's running smoothly. It's also creating different strands for us in terms of revenue, so he's currently working with International Academy and is looking at how we can fill the pitch hire with other football opportunities. He will also help Gaz (Prendergast) on the academy side of things, and with myself on players, agents and scouting – even setting up games that we'll be competing in during pre-season. It's not one definitive responsibility; he'll be spreading himself over the whole football department."
Dave will be assisted in the dugout by long-term friend and business partner, John McCombe.
John joined the club in a playing capacity last season but has since been retained to help on the managing side of things. Dave said he trust's John implicitly and is optimistic that their newly formed relationship will bring some good times to Ewen Fields. "Me and John have been in business together for five years, so part of him coming last year was because I was here" said Dave.
"He's someone that I trust implicitly and he's very good at what he does, plus he's a good coach. He will also register as a player, but ideally we won't need to use him, but it's a good option if we do."
Since being appointed as first team manager, Dave has been forced to assemble a new-look side after 13 players departed the club. It could be argued that the biggest loss was goalkeeper Peter Crook, who established himself as a permanent figure between the sticks and was even voted into the Evo-Stik Premier Team of the Year last season.
In a bid to fill the hole, Dave acted swiftly and re-signed James Hodges, who spent a period of time with Tadcaster Albion last season, making 10 appearances in total.
The shot stopper will be covered by a defensive unit including Jordan Fagbola, who has opted to stay for another season, while midfielder Liam Tongue has joined from rivals Stalybridge Celtic, and former Ashton United striker Jack Dyche has also put pen to paper.
Fan favourite Tom Pratt is also staying at Ewen Fields, having scored 28 times in 87 appearances during his two seasons with the club.
Of his new recruits, Dave said: "We've had to be busy because we lost 13 players, some of them through choice and some of them we didn't want to leave.
"We're probably still five or six players away form where we want to be. Some of the players that we've retained are key in what we want to achieve. Liam Tongue has come in from Stalybridge Celtic, along with Louis White, who is a young lad from Rochdale, that we have high hopes for. We also have good options in the forward positions with Joel Logan and Jack Dyche, who will give us creativity and goals.
"Ultimately, they're all players that will fit the model that we're looking for. They're young, hungry and want to improve. For us now, the next four or five signings are important in terms of introducing that bit of experience down the spine of the team.
"Three players from the academy have signed forms with us. Without doubt we'll be dipping into the academy throughout the season, as there are some very good players coming through."
Although Dave will balance his time between managing the first team and searching for new players, he will also continue his community work that sees him visit schools across the town.
As part of his role, Dave has been coaching pupils and encouraging them to attend games next season. He says he's been impressed with the reaction so far and is hoping to convert a few of the youngsters into fully fledged Tigers fans. "If we can get four or five kids down to the stadium every week, it's a start. The aim is to get around as many schools as possible, bringing them to the stadium and getting them to play on the pitch more often. From 3-5pm, the pitch is available for school use. It was nice to go into a school the other day and see four or five Hyde shirts. I was surprised by it, but the idea is to go back in a year's time and see even more."