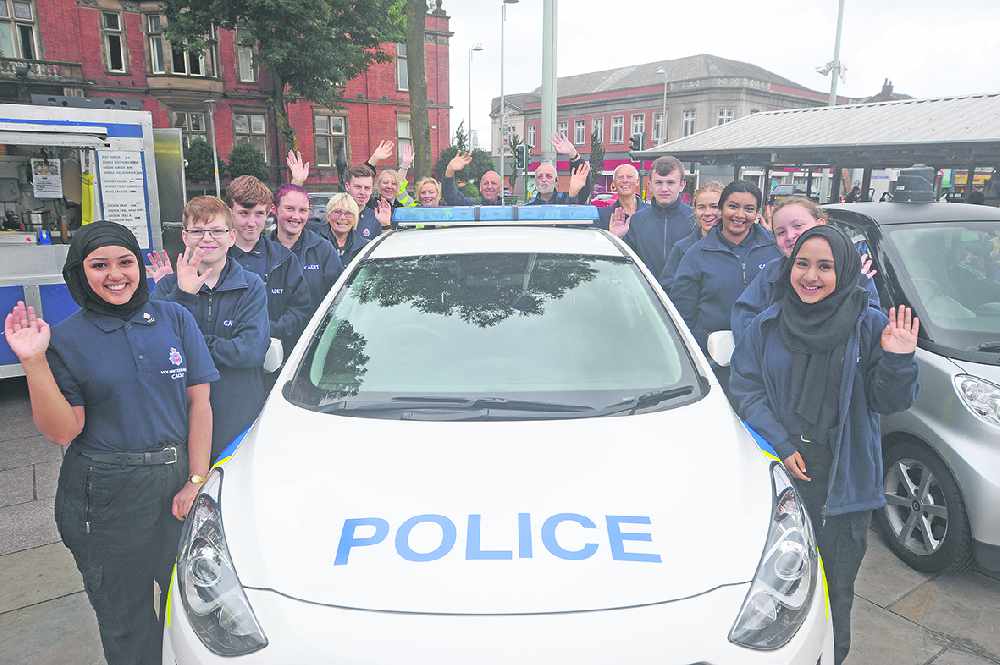 Hyde Civic Square will come alive to the 'sound of sirens' tomorrow when the town holds its fourth Blue Light Day.
The Hyde Town Team event will see representatives from all of the emergency services descending on the town, alongside other health and wellbeing exhibitors.
Greater Manchester Police, Hyde Police Cadets, GMFRS, Blood Bikes Manchester plus NHS North West Ambulance - First Responders will all be there.
Be Well Tameside; health & Safety in the working environment training company Mediskills and members of The Royal Navy Lifeboat Institution will also be attending, all demonstrating their skills and outlining their services to shoppers and visitors at the annual event.
Activities go on from 10am until 3pm with the event free to attend and intended to give town centre shoppers, visitors and the local Hyde community the opportunity to meet the men and women from the frontline.
Following on from the huge success of last year's event, Julia Harrison, Chair of Hyde Town Team, said the team were really pleased to be hosting the town's fourth 'Blue Light Day', designed to be a fun, yet a serious way for the communities of Hyde to meet face to face with members of the local emergency services.
Highlights of the day will include various demonstrations from the emergency services including CPR and defibrillator use, as well as free basic health surveillance tests.
"This year we have arranged for the RNLI to exhibit and there'll also be an actual NHS ambulance for the kids to explore and even a few 'paramedic outfits' that they can dress up in to really become part of the day!" said Julia.
NHS personnel from 'Be Well Tameside' will also be on hand carrying out free blood pressure and cholesterol tests.
It is also hoped that Police dogs and the GMFRS Fire Service dog will also be there too!
GMP have arranged for a mobile Police Station, where Neighbourhood Watch & PCSO's will be explaining the benefits of community involvement, whilst GMFRS will be demonstrating the impact of driving while under the influence drink or drugs in a specially adapted VW van.
Training officers from Hyde's Price's Trust Team will be talking about their community involvement programmes as well as regular Firefighters who will be advising on domestic fire prevention schemes including the booking of free fire alarm installations.
There will be demonstrations throughout the day by NHS Ambulance Service - first responders and paramedics, who deal daily with critical live-saving situations and the Blood Bikes Manchester; the volunteer bikers who save lives by transporting essential medical items, including blood, plasma, platelets, biological samples, x-rays and medical notes between hospitals and healthcare institutions daily.
Officially opening the event will be Chief Superintendent Neil Evans;
Territorial Commander for Oldham, Rochdale and Tameside along with Phil Nelson, Group Manager for Stockport & Tameside GMFRS.
There will be face painting for the kids, a fun competition to win a Morrisons' Family Hamper and the Town Team's Grand Raffle will be drawn. And all this will be covered throughout the day by Tameside Radio's Outside Broadcast team.
Chief Superintendent Evans said: "This promises to be a fantastic event and is a great opportunity for members of the public to meet their local emergency services and our partner agencies.
"It gives us an opportunity to talk about safety with people from all
areas of our local communities including children from the local schools, disabled, the elderly and members from all Hyde's community groups. It's also an ideal occasion where local issues can be shared and discussed with the emergency services in a relaxed environment."
Phil Nelson added: "The Blue Light Day in Hyde is a great opportunity for residents to see the important work that all of the emergency services do in and around the region.
"I'm really pleased to be joining them for what is set to be a fantastic event with lots of entertainment and a serious message about how the police, fire, ambulance and the other emergency services work in a genuine and close partnership to keep our communities, workers and visitors safe."