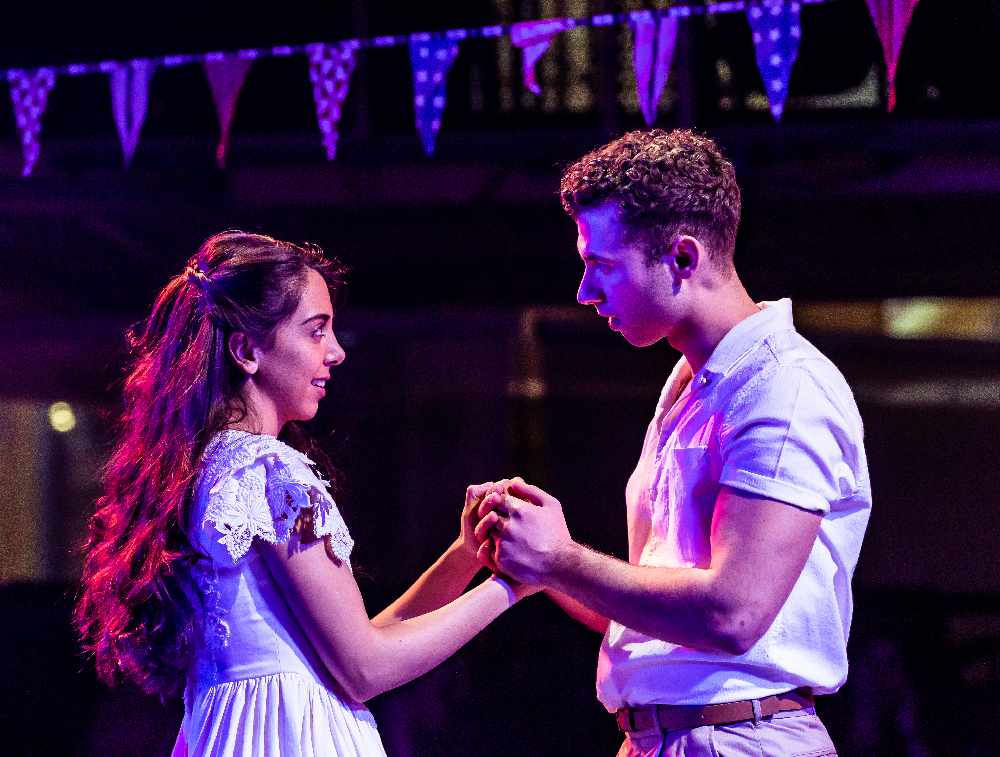 Gabriela Garcia (Maria) & Andy Coxon (Tony) in West Side Story.
Gabriela Garcia (Maria) & Andy Coxon (Tony) in West Side Story
Review by Denise Evans
West Side Story is playing at the Royal Exchange Theatre until 25th May.
From the book by Arthur Laurents, based on a conception of Jerome Robbins, music by Leonard Bernstein, lyrics by Stephen Sondheim and directed by Sarah Frankcom, this West Side has been playing to sell out audiences.
The Broadway musical is sensational from start to finish and will leave you in tears with the 1950's translation of Shakespeare's Romeo and Juliet in Manhattan.
Two rival gangs – the Jets and the Sharks occupy the streets of New York and two star-crossed lovers are caught up in the conflict and feud of the gangs. The synergy of superb choreography by Aletta Collins, musical direction from Mark Aspinall, Jason Carr and the ensemble cast make this production pure gold.
This legendary musical also has contemporary relevance in that it reflects the streets of today with gang culture and knife crime. The fight choreography by Kevin McCurdy is also very powerful.
Designer Anna Fleischle constructs a set that is sparse, but contemporary with scaffolding and road markings that defines the enemy territories of an urban playground.
The high rise frames also create the historical balcony scenes that Maria (Gabriela Garcia) and Tony (Andy Coxon) conjoin their love for each other.
Their voices are angelic, coupled with their acting strengths to convey the greatest love story that was ever told. The tragedy of their relationship at the end of the production is deeply emotional and moving.
This momentous production of Musical Theatre is as strong and brilliantly acted as any classical play and deserves tremendous praise.
Anita (Jocasta Almgill) is outstanding and also Riff (Michael Duke), Bernardo (Fernando Mariano), in fact all the actors are incredible. The musical numbers were mesmerising including the stunning sounds of Maria, America, Somewhere and Tonight.
There are only a few remaining tickets because it has been a sell-out. This has got to be one of the most amazing and dazzling productions at the Royal Exchange and there have been many great shows at this wonderful theatre.
https://www.royalexchange.co.uk/whats-on-and-tickets/west-side-story
Box Office: 0161 833 9833
Picture by Richard Davenport of The Other Richard