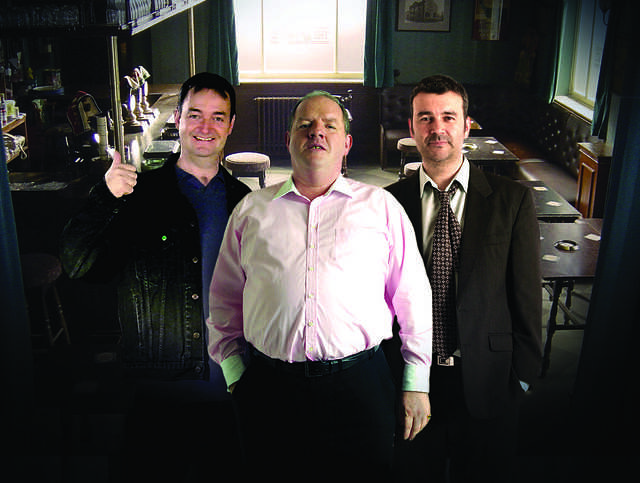 Cheers to the regiment! Join Joe, Ken and Duffy for another episode of Early Doors.
Don't miss all your favourites back at The Grapes.
This week is your last chance to catch Early Doors which shows at The Lowry Theatre until Saturday, August 3.
This critically acclaimed award winning comedy and winner of the Best Theatre Show of City Life Awards returns to The Lowry after a sold-out run in 2018.
Written by Craig Cash and Phil Mealey and directed by Caroline Jay Ranger, the stage version follows the hugely popular TV series when it was commissioned by leading West End producer Philip McIntyre to adapt the comedy series.
Craig Cash and Phil Mealey wrote a new story featuring the same hilarious characters.
Now you can join them all again at The Grapes Pub as it reopens its doors and welcomes in the fun and frolics in a fantastic evening of northern humour.
The brilliantly funny John Henshaw returns as Ken the Landord as he relentlessly tries to win the hand of barmaid Tanya (Susan Cookson).
Ken falls rather short in the romance department though - you can forget Paris - Ken comes up with the kitchenette as the best place to propose. Needless to say it doesn't go down too well.
Craig Cash (Joe) and sidekick friend Duffy (Phil Mealey) prove their salt in comedic talents of superb writing and character creations including the miserable, moaning Tommy (Nick Birkinshaw) complete with his IBS (Irritable Bugger's Syndrome).
The double act cops Phil (James Quinn) and Nige (Peter Wight) are just hilarious as they frequent Ken's kitchenette, dropping in for a medicinal dose as they dodge the crime before heading back on the beat because "crime can't crack itself".
The wisecracks come thick and fast between Ken's Mum Jean (Judith Barker) and cleaner Winnie (Melissa Sinden) as they gossip about Ken's intentions in the upstairs flat over the pub, Jean fearing she will be forced to move out if Ken marries Tanya.
Neil Hurst (Freddie) and Vicky Binns (June) add to the humour of the show and are great characters and also Debbie (Lisa Millett). Mel (Laura Woodward) is Ken's down to earth daughter who is happy for Tanya to tie the knot with Ken.
Audiences have just loved this adult-humour show, joining in with the banter with the cast often breaking the Fourth Wall to share satirical jokes with their followers - and it deserved its standing ovation on the night I went to see it.
Make sure you have your lock-in and last orders at The Grapes! Cheers to the regiment!
To check on ticket availability contact the ticket office on 0343 208 6000 or visit https://thelowry.com/whats-on/early-doors-july/
Review by Denise Evans