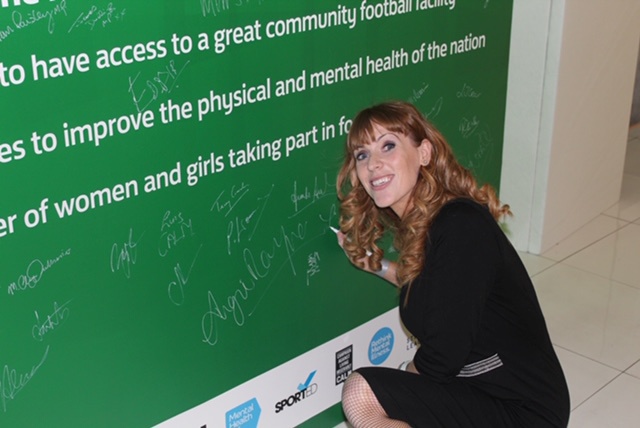 Angela Rayner, MP for Ashton, Droylsden and Failsworth, has shown her support for The FA's vision to transform the grassroots football landscape in England by signing up to three pledges at a Westminster Reception. 
These pledges include ensuring every adult and child to have access to a great community football facility, using football to improve the physical and mental health of the nation, and doubling the number of women and girls taking part in football.
At the same event, The FA published a new report that explores the social and economic value of adult grassroots football in England.
The report found that regular grassroots football in England has a social wellbeing value of £8.7bn, with players reporting significantly higher levels of general health, confidence, motivation and trust compared with those who play other sports. Lower income groups in particular were found to experience greater quality-of-life benefits from football compared with higher income groups, specifically in their health and confidence levels.
In addition to social benefits, the direct economic value of grassroots football was found to be £2.1bn each year, while the report also found that the health benefits of playing regular grassroots football produces a cost saving of £43.5m per year to the NHS through reduced GP visits alone.
Angela said: "I support The FA's vision to transform grassroots football and have signed up to their pledge to ensure everyone has access to a great community facility, to use football to improve physical and mental health, and to double female participation. Football is for all. Grassroots football is worth £10bn to the economy and the benefits to people's health, confidence and mental wellbeing cannot be underestimated."
Mark Bullingham, The FA's Chief Commercial and Football Development Officer, added: "This new research demonstrates the significant impact that grassroots football has across the country. We have always known that football improves people's health; this report quantifies exactly by how much, and also demonstrates football's social contribution to players and society as a whole.
This significant programme of work will not only benefit the grassroots football community, but help The FA and our partners further promote the game and its undeniable benefits to even wider audiences."