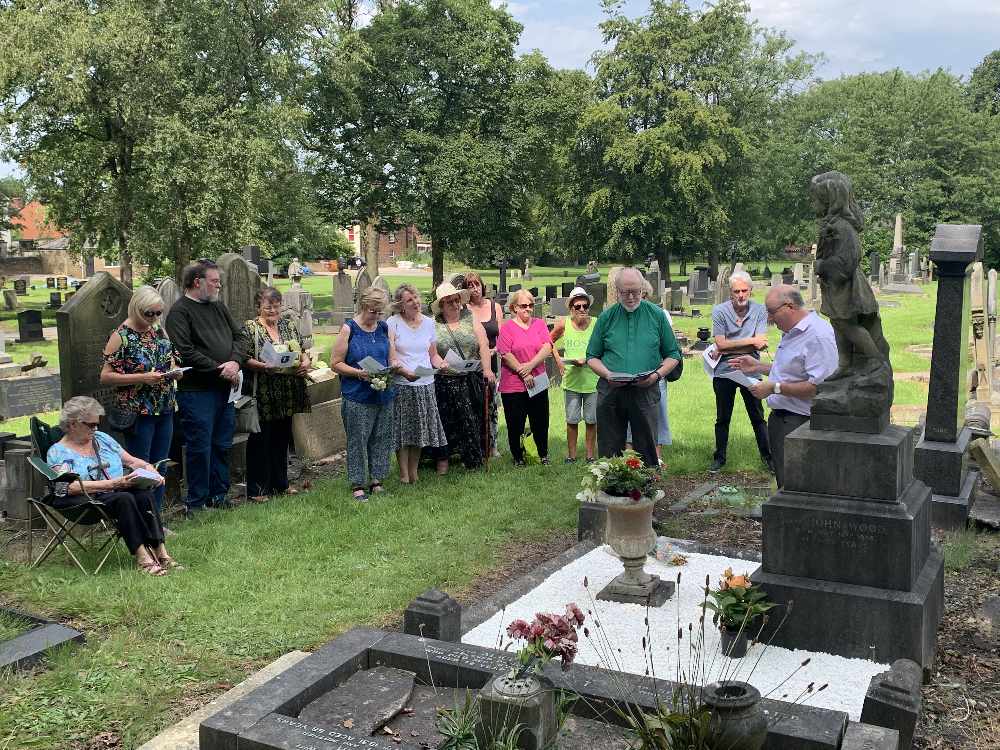 A moving memorial service was held at Hyde Cemetery today, one hundred years on from the brutal murder of 12-year-old Ivy Lydia Wood.
Ivy was raped and killed by Arthur Beard at Ashton Bros, Carrfield Mill, on July 25 1919. The horrific crime shocked the whole area and thousands of people lined the streets for her funeral procession through the town a few days later.
One hundred years on, some of Ivy's descendants joined local residents at her grave in Hyde Cemetery, to honour her memory.
The event was organised by Graham Hesketh, who only found out about Ivy and her story less than a week ago, via a Facebook post on the Hyde Memories page.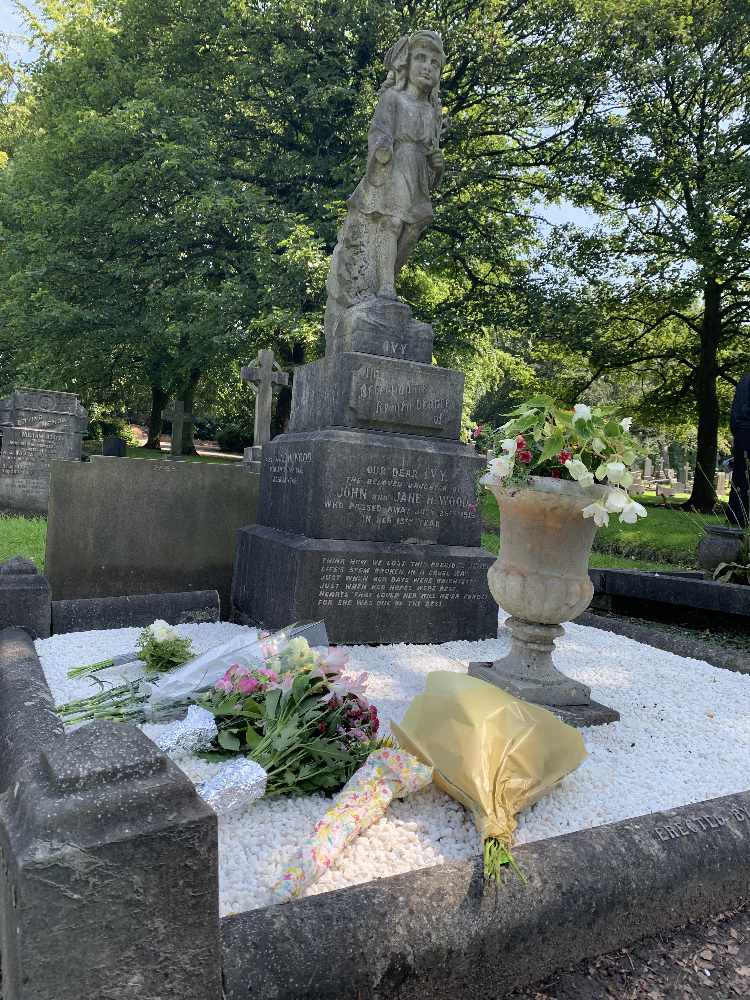 "One or two people put some links on and I realised that the 100th anniversary was coming up on 25th July," Graham explained.
"I spent most of Saturday and Sunday tidying up Ivy's grave as it was in a bit of a state. Then I decided it would be the right thing to do to have a little commemoration here.
"I had no idea what to expect but I'm happy that people turned up. The whole thing has touched my heart, it really has."
After the service opened with popular music from 1919, Graham read a moving soliloquy to Ivy, before Rev. Eric Breeze of Flowery Field Church read from the Bible and led the Lord's Prayer.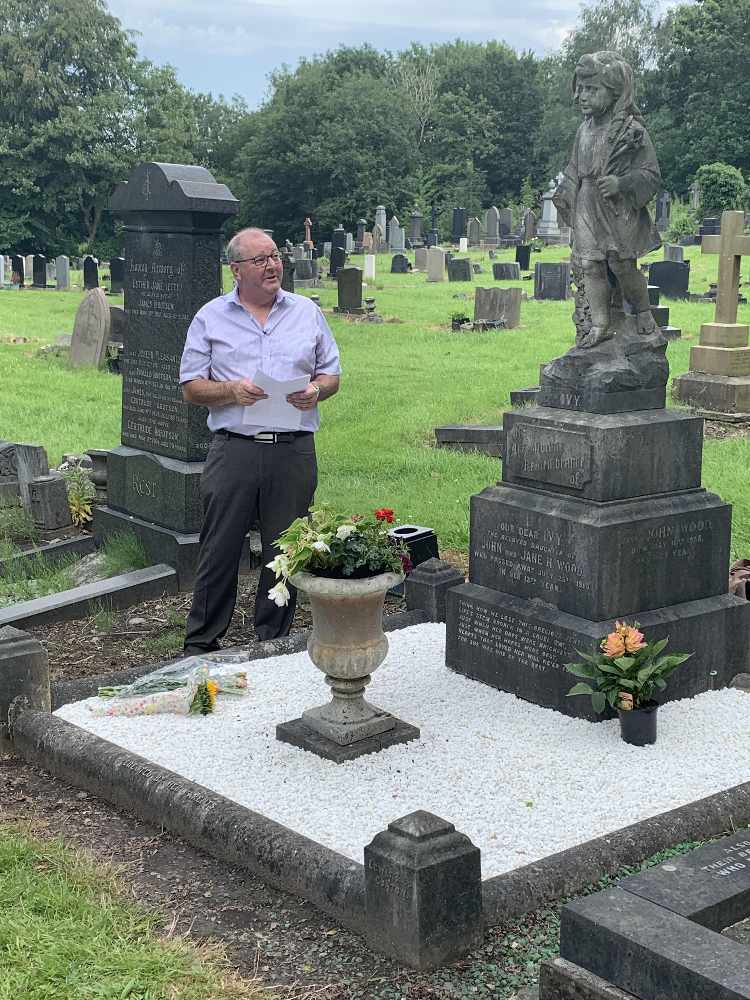 Among those in attendance was Linda Tittle, a second cousin of Ivy through their fathers, who'd travelled from Halifax for the service. She was planning on visiting the grave today anyway before coming into contact with Graham.
She said: "About two years ago, I was looking through my father's relatives on ancestry.com and I came across the fact that Ivy had died when she was 12. I sent for a copy of the death certificate and lo and behold, it actually says 'suffocation caused by one Arthur Beard. Murder.'
"I enquired more and more and found a photograph of the actual memorial. I found where the grave was and came and visited it. Two years hence, with it being the 100th anniversary, I decided I would come and tidy the grave up and put some flowers on it. By sheer coincidence, on Sunday, I found out about Graham and realised he had already done it. It's absolutely wonderful that people care that much. I'm overwhelmed by it all."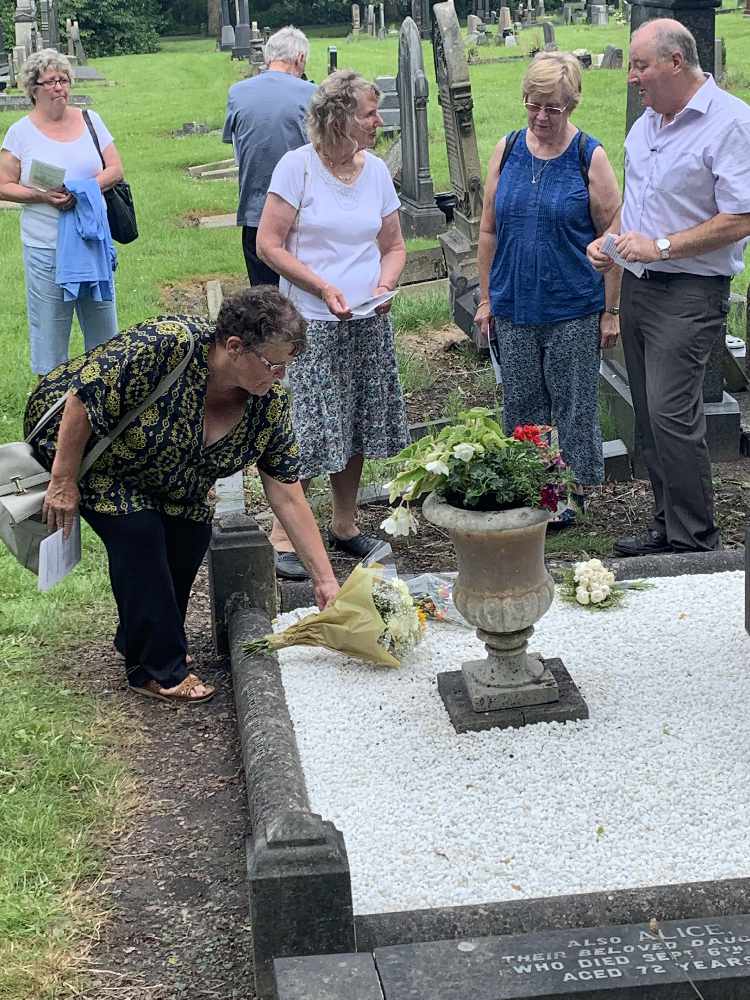 Shortly after the service had finished, second cousins from Ivy's mother's side turned up, completely unaware of what was going on.
Desmond Turner and his cousin Janet Shaw visit Ivy's grave every year on July 25 but were stunned to see the efforts made for her today.
"I've known about Ivy for a long time," Desmond said. "My auntie told me about it but not in depth, because they didn't talk about it much. It's only through doing family history that I found out what happened.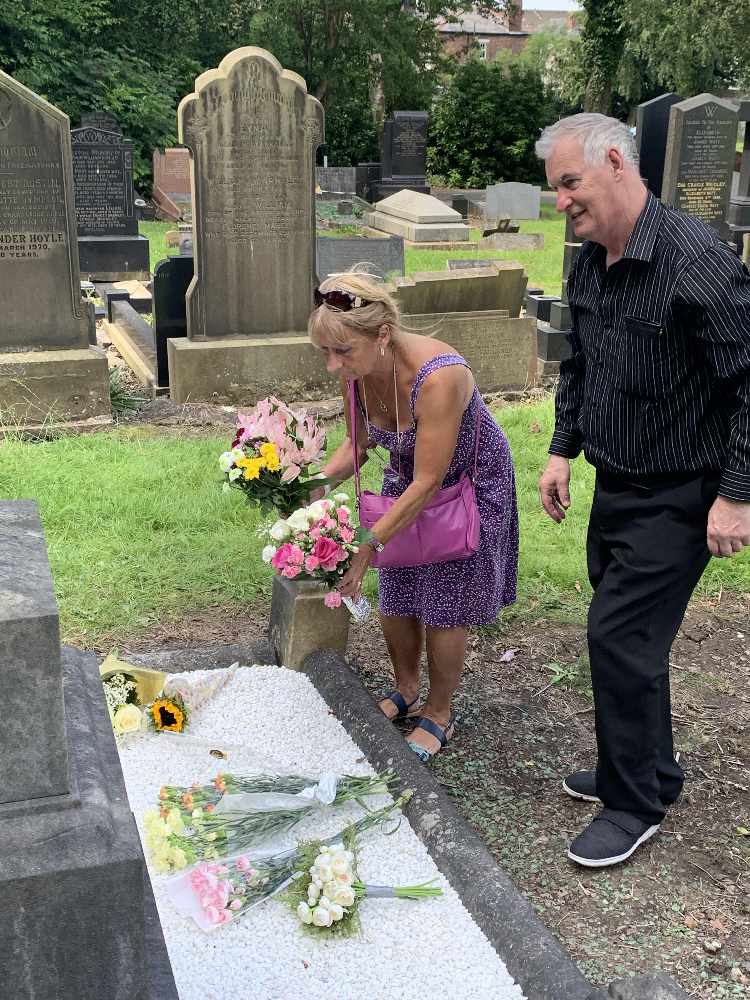 "We come down every year to lay flowers and we were just planning to do the same this year. When I turned up today, I was overwhelmed. It's fantastic.
"To see pictures of thousands of people turn out for her procession funeral was very moving. It was so poignant and today, you can feel that same sense of community."
The tragic story of Ivy Lydia Wood
On July 25 1919, Ivy Wood of Flowery Field, Hyde, was raped and murdered by 33-year-old Arthur Beard within the grounds of Ashton Brothers Carrfield Mill, where he was employed as a nightwatchman.
When first interviewed, Beard lied to the police, saying he had found Ivy's body near the perimeter fence, had picked her up and taken her to the pump room. Police were not convinced of his story and after challenging him, he confessed to having spotted Ivy in the early evening and offered to show her around the mill. He took her to the pump room where he "got her down and she seemed to get unconscious".
Beard was charged with murder, of which the jury took just seven minutes to find him guilty. Beard was sentenced to death, but appealed on the grounds of his 'drunkeness'. The appeal process went all the way to the House of Lords in a complex and unprecedented case, where the death penalty was eventually reduced to 'penal servitude for life', though the only way this could legally be done was to give Beard 'a conditional pardon'.
Taken from the Ashton Reporter, August 2 1919:
"The whole district has been inexpressibly shocked by the brutal murder of young girl Ivy Lydia Wood at Hyde. The girl, who was scarcely 13, had been choked and violated.
"The story of the tragedy is one of the saddest and at the same time reveals one of the most cruel of crimes. Ivy Wood was a bright, intelligent daughter of Mr John Wood, a hairdresser. Deep and genuine sympathy is felt with the parents of the girl.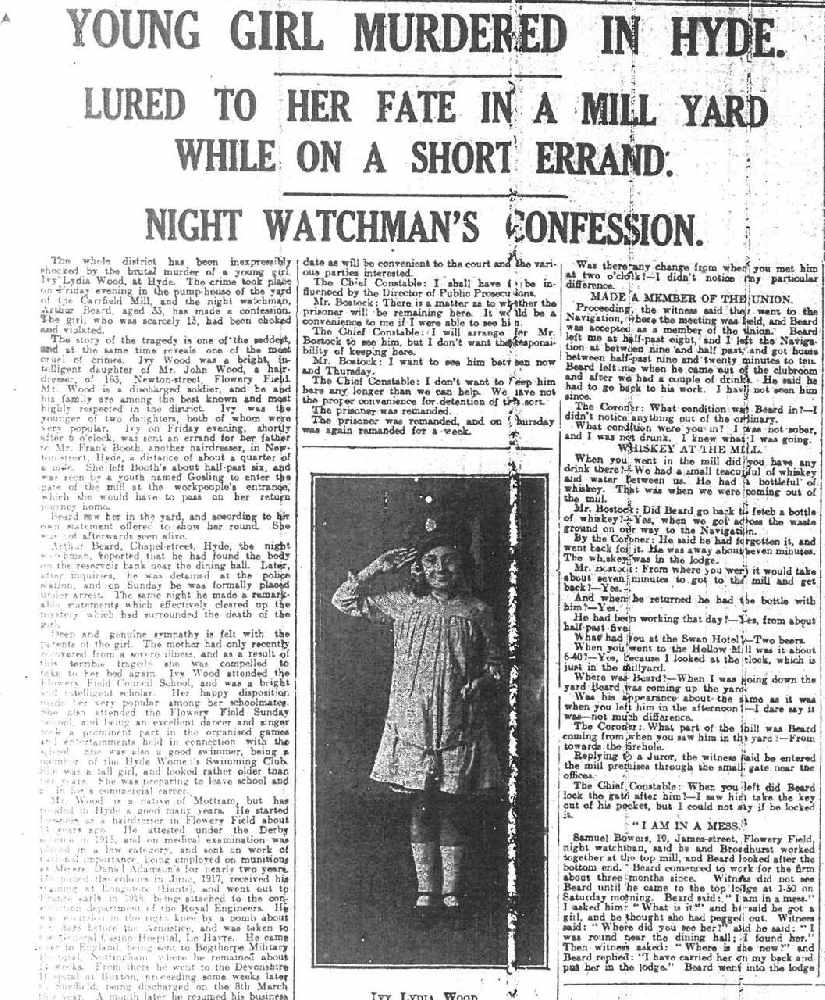 "Ivy Wood attended Flowery Field Council School and was a bright and intelligent scholar. Her happy disposition made her very popular among her schoolmates. She also attended Flowery Field Sunday School, and being an excellent dancer and singer took a prominent part in the organised games and entertainments held in connection with the school.
"During the week, flags have been hoisted half-mast at the Flowery Field Church and at other places out of respect to the memory of the deceased."
"Public interest in the funeral of pretty Ivy Wood was reflected by the enormous crowds of people who lined the route. All the way from home to the church and from the church to the cemetery, there were two long lines of men, women and children, and never surely has there been such widespread sympathy as in the tragic death of this bright and promising girl."