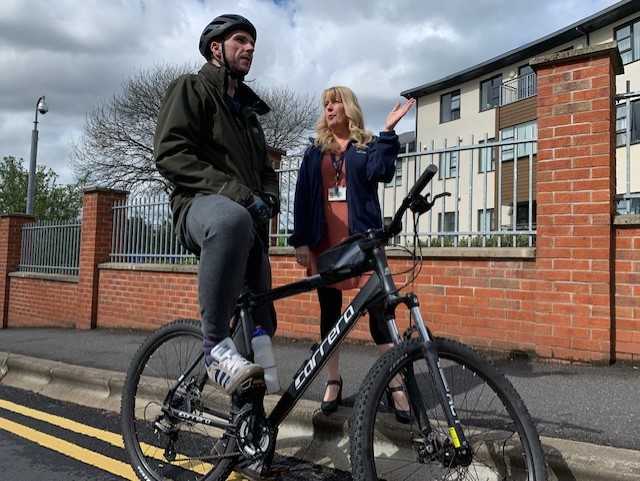 A surge in weight-loss success stories at a local NHS service is helping tip the scales towards a healthier Tameside.
Be Well Tameside, part of Pennine Care NHS Foundation Trust, is challenging local people to change their lifestyle by supporting them to embrace healthy living.
To mark this year's Mental Health Awareness Week theme of body image, the team is celebrating the success of local residents, who are reaping the physical and mental health benefits of shedding the pounds and improving their health.
This is David McInnes story…
Self-confessed "big guy" David, 38, from Stalybridge, first came to Be Well Tameside as a 21-and-a-half-stone man looking for some support.
Fast forward 18 months, David has shed a whopping six stone in weight and his enthusiasm to share his story is truly inspirational.
"Asking for help was the hardest part of the weight-loss," said David.
"Once I got past that, I never looked back and I just fully committed myself."
After working nights for a long period, David was often eating at strange times and struggling to find time for an exercise routine.
"I was eating things that I thought were healthy, but Margaret helped me understand more about different foods and how I can balance my diet." added David.
He is now an avid bike rider and is always looking for new ways to build exercise into his working life – including taking the stairs rather than the lift.
At just over 15 stone, David is getting very close to a weight he feels comfortable at, but his ambition to maintain his fitness is just as high as ever. His next goal is to get involved in a step challenge.
David added: "I've never considered myself as someone with mental health issues, but looking back on where I was 18 months ago, I feel more confident than before."
"The hardest part is asking for help. If you can get over the mental barrier of admitting you need help, you can achieve so much if you commit yourself to making changes."
Health and wellbeing advisor, Margaret, is delighted at the progress Denise and David have made. She said: "Their motivation and commitment is truly inspirational and I'm really pleased to be sharing their success as part of Mental Health Awareness Week.
"For many people, taking steps towards a healthier way of life can also have a positive effect on their mental wellbeing too.
"The key to weight loss is to start with really small steps. It's about making those small lifestyle changes that can have big benefits to your health and wellbeing.
"People don't need to do it alone – my team and I are here to help every step of the way towards a healthier, happier life."
The Be Well Tameside team also provides help and support around stopping smoking, getting a good night's sleep and more, through regular one to one appointments and healthy living workshops. People can find out more at www.penninecare.nhs.uk/bewelltameside, by following the team on Facebook or Twitter @BeWellTameside or phoning 0161 716 2000.