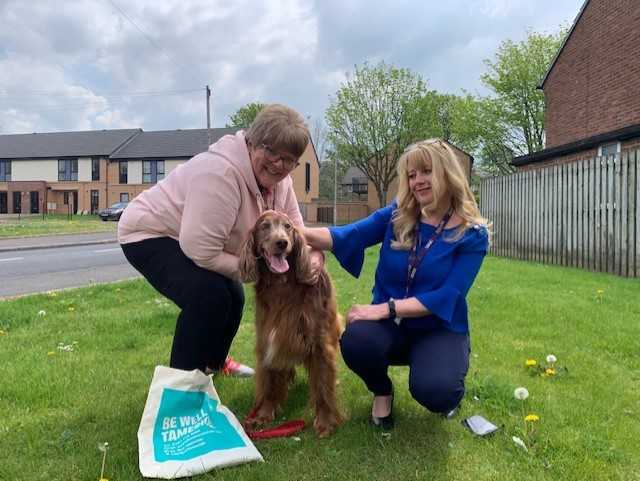 A surge in weight-loss success stories at a local NHS service is helping tip the scales towards a healthier Tameside.
Be Well Tameside, part of Pennine Care NHS Foundation Trust, is challenging local people to change their lifestyle by supporting them to embrace healthy living.
To mark this year's Mental Health Awareness Week theme of body image, the team is celebrating the success of local residents, who are reaping the physical and mental health benefits of shedding the pounds and improving their health.
This is Denise Compton's story…
Shortly after retiring at the end of 2017, Denise, 62, from Dukinfield felt that she "had put a load of weight on." Ready for a new challenge, she booked an appointment with Margaret Fitzgerald, a health and wellbeing advisor for Be Well Tameside.
Denise said: "When I came to see Margaret for the first time, I was feeling really low, and I was ready for a change."
"Margaret helped me make some small changes to my routine and I felt my confidence come rushing back. The support came at the right time in my life."
With the help of smaller portions, checking labels and regular walks with her lovely Irish setter, Sasha, a motivated Denise lost just under two stone over nine months.
Determined to truly live her live again, Denise visited America, raised money for a local charity and took on a couple of part-time jobs.
After her holiday, Denise noticed her weight creeping back up, so she came back to see Margaret for some more support.
A worrying health scare followed in February this year, which dented Denise's confidence further. Fortunately, it turned out to be a false alarm, and a relieved Denise felt a renewed determination to get back on track with her weight loss journey.
"When I put weight on, I didn't have my sparkle and my motivation just went," said Denise.
"Speaking to Margaret was a big boost when I felt so low, and she really encouraged me to get back walking the dog and enjoying life again.
"When I'm in control of my weight, I'm in control of my life. I feel more confident in how I look, but I feel more positive about everything in life, so losing weight has done loads more than change how I feel about my body."
"I'd say to anyone who is thinking about losing weight to find your happy place. When you feel happy doing something, it's much easier to keep it going."
The Be Well Tameside team also provides help and support around stopping smoking, getting a good night's sleep and more, through regular one to one appointments and healthy living workshops. People can find out more at www.penninecare.nhs.uk/bewelltameside, by following the team on Facebook or Twitter @BeWellTameside or phoning 0161 716 2000.