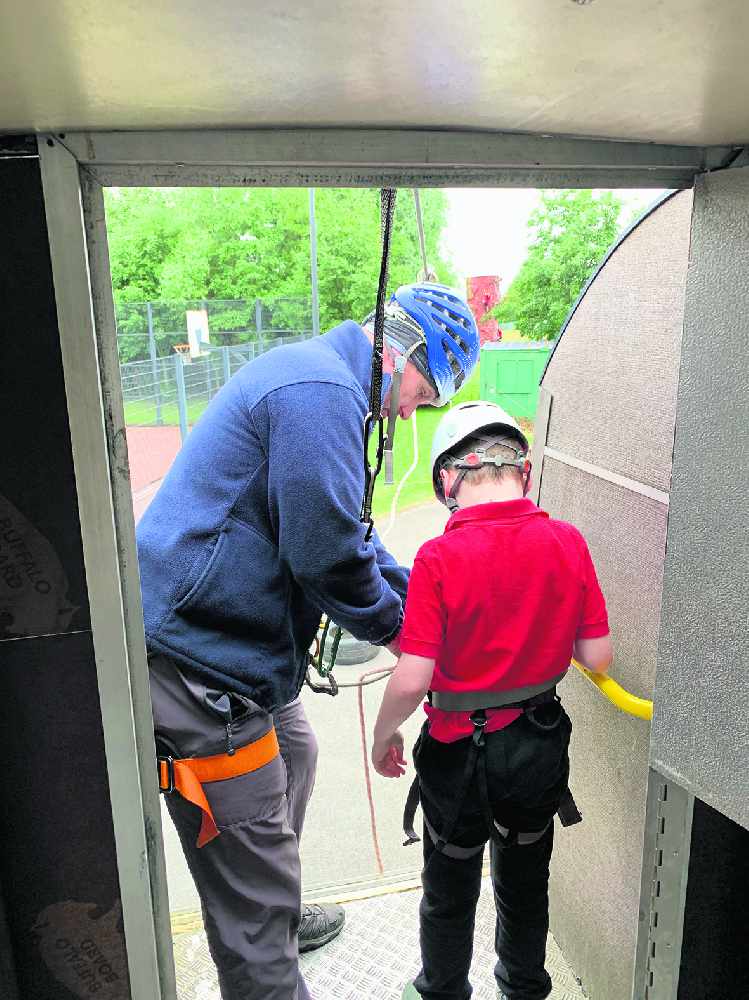 Lucky pupils at St John Fisher RC Primary School in Denton zipped into action last week when an adventure centre visited them.
The team from Challenge 4 Change dropped into the school to help children overcome their fears.
Thirteen pupils at the school have been taking part in a project with the Wigan-based adventure centre.
But as a treat for all the school pupils, the team brought the centre to them, including their portable climbing wall and zip wire.
An old bus has been converted to allow schoolchildren to take a step over the edge and experience the thrill of a zip-line down to the ground.
Class teacher Barbara Brerton explained that the activity helps the children develop their skills.
Chris Whiteley, who leads Challenge 4 Change, is a former prison officer and rugby league player who uses his experience on the wrong side of the law to prevent children ending up there.
"We try to get them to overcome fear," explained Chris, who is harnessed in to the zip wire at the top of the bus.
"People climb on the bus and they go to the back of the bus - which is the coolest place - but not many of them jump off the back of it. What we're trying to get them to do is take that one extra step. That one step can give them a sense of confidence and liberate them from the shackles of being scared. That is the major problem that most of us have for progression, advancement and doing better."
The courses are run by people who have real-world experience at overcoming adversity.
One of the leaders is a former marine, who 'died' twice while on the battlefield, but was saved by his comrades.
"We've already got the t-shirt so we can connect with the kids straight away. The actual hard skills and technical skills you can learn in a week," Chris added.
"I wanted to catch them (the children) early to try and create change so that they can lead a law abiding and useful life within communities."
Barbara added: "Chris and Aaron are absolutely fabulous with the kids.
"Even if the kids do get scared, the encouragement that they give gets them to come out of their comfort zone and builds their self esteem."