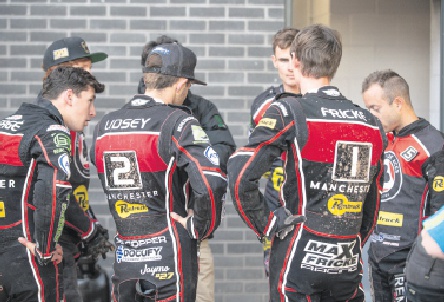 Belle Vue Aces 44-46 Poole Pirates

Belle Vue were left cursing their bad luck as they slipped to a 46-44 home defeat at the hands of Poole at the National Speedway Stadium on Monday night.
The Aces had moved to strengthen the side last week by signing Finnish star Tero Aarnio and releasing Ricky Wells, who has struggled to make an impact this term.
But disaster struck on the eve of Aarnio's debut as the flying Finn crashed in Poland on Sunday, picking up an arm injury which ruled him out of Monday's televised clash.
Normally teams are permitted to cover injury with a guest replacement, but a quirk of the speedway rules says that as Aarnio has not yet turned a wheel for the Aces, no facility was permitted.
Instead the Aces were forced to promote 17-year-old Kyle Bickley from the Belle Vue Colts National League side, and while the Cumbrian teenager battled bravely, and showed himself to be well on the pace, the jump up of two divisions was always going to be too big in terms of having an effect on the score.
In contrast Poole were able to track two guest replacements for the injured Nico Covatti and the ill Nicolaj Busk-Jacobsen, and their combined 7+3 scores played a key role.
The Aces got off to a good start with Max Fricke producing a forceful ride to pass fellow countryman Brady Kurtz for the win, and a third Aussie, Jaimon Lidsey, taking third place to give Belle Vue an opening heat 4-2.
Dimitri Bergé was an impressive winner of heat two, but there were ominous signs in the next heat, as visiting pairing Josh Grajczonek and Nicolai Klindt outpaced Dan Bewley and Steve Worrall for a 5-1, which swung things the Pirates' way at 10-8. Bewley and Worrall conceded another two points in heat five, and it was Grajczonek and Klindt doing the damage again two races later with a shock 5-1 win over Kenneth Bjerre and Bergé.
Lidsey rode a brilliant heat eight, but lost out to a very aggressive ride from Grajczonek, as Poole increased their lead to 10 points at the halfway stage.
In came Fricke as a tactical substitute, and although he won heat nine, the visitors were able to share the heat to maintain the advantage.
Three more shared heats followed, meaning the Aces needed 5-1 maximums from all of the remaining three heats to grab an unlikely win.
Bjerre chased hard in heat 13, but came just short of joining teammate Fricke at the front for the win. However the 4-2 meant Belle Vue could still snatch a draw in the last two heats. Bergé rode the race of the night to deny Grajczonek his maximum in the penultimate race, but with Worrall back in third, it was game over.
A 5-1 win for Fricke and Bjerre in the final race limited the defeat to the narrowest possible margin.
Aces scorers: Max Fricke 16, Kenneth Bjerre 9+1, Dimitri Bergé 8+2, Jaimon Lidsey 5+2, Dan Bewley 5, Steve Worrall 1, Kyle Bickley 0.
It was the Aces' second unlucky defeat of the week as they went down 37-35 at Poole last Thursday in a match cut short by the stadium curfew (see below).
The meeting was cut short by three heats after a delay due to medical staff needing to tend to an ankle injury to Poole's Richie Worrall. The abandonment came with the Aces in the ascendancy and looking favourites to go on to win had the match run its full course.
Belle Vue must regroup and get back to winning ways on Monday when they play host to current league leaders Ipswich in the Premiership at the National Speedway Stadium (7.30pm).
The Aces will be hoping to give a belated welcome to Tero Aarnio, while Ipswich arrive with two former British Champions, Chris Harris and Danny King. by Graham Goodwin