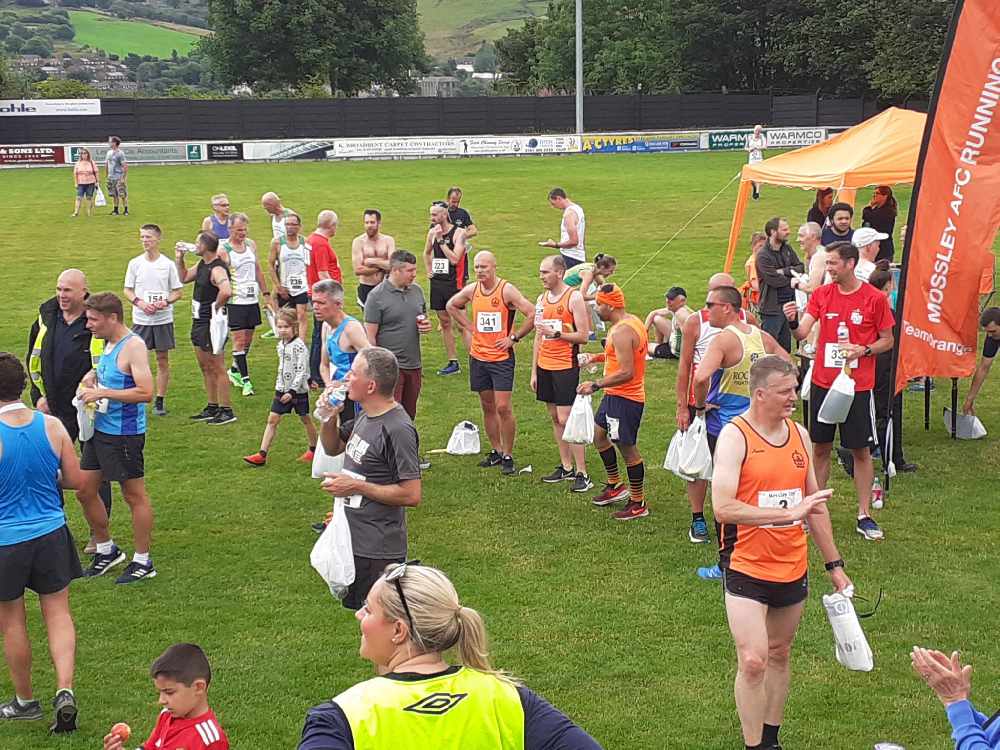 Runners took to the streets of Mossley on Sunday for the annual 10k.
Sponsored by O'Donnell Solicitors, the event was back for its sixth consecutive year and attracted a record-breaking 316 runners of all ages and abilities, which included a good mix of club-class competitors, social runners and charity fundraisers.
Mossley Running Club were heavily represented at the event, along with Hyde Village Striders, Rochdale Triathlon Club and East Cheshire Harriers.
Despite the humid conditions and tough course, the standard of competition was very high and there were some excellent results recorded in a variety of categories.
Paul Green took the plaudits after being the first to cross the finish line in 34.31, followed by Rob James in second (34.36), and Jarrod Gritt in third (34.35).
East Cheshire Harriers' Hayley Simpson was the first female to cross the finish line in 42.31, followed by Amy Shadbolt in second (43.13) and Janet Jobey in third (43.35).
Glennis Richardson, who is the mother of professional boxer and Commonwealth Champion Stacey Copeland, took the plaudits in the F50 category with a time of 46.25. Glennis recently made her England debut at the age of 59 and came fifth in the V55 category in a time of 44.16. She also completed the Ashbourne Half Marathon on Sunday, July 7 in a time of 1.49.58.
Race organiser Harry Hulmes said he was delighted with the turnout and even has ideas to expand the race next year. "We started off in 2014 with 160 runners, which we were pleased with at that time, and since then its grown and grown to the point where I've had to turn away loads of competitors" he told reporter Sport.
(Nathan Poulton, who represents the Running Bee Foundation, crossed the finish line in 44.20)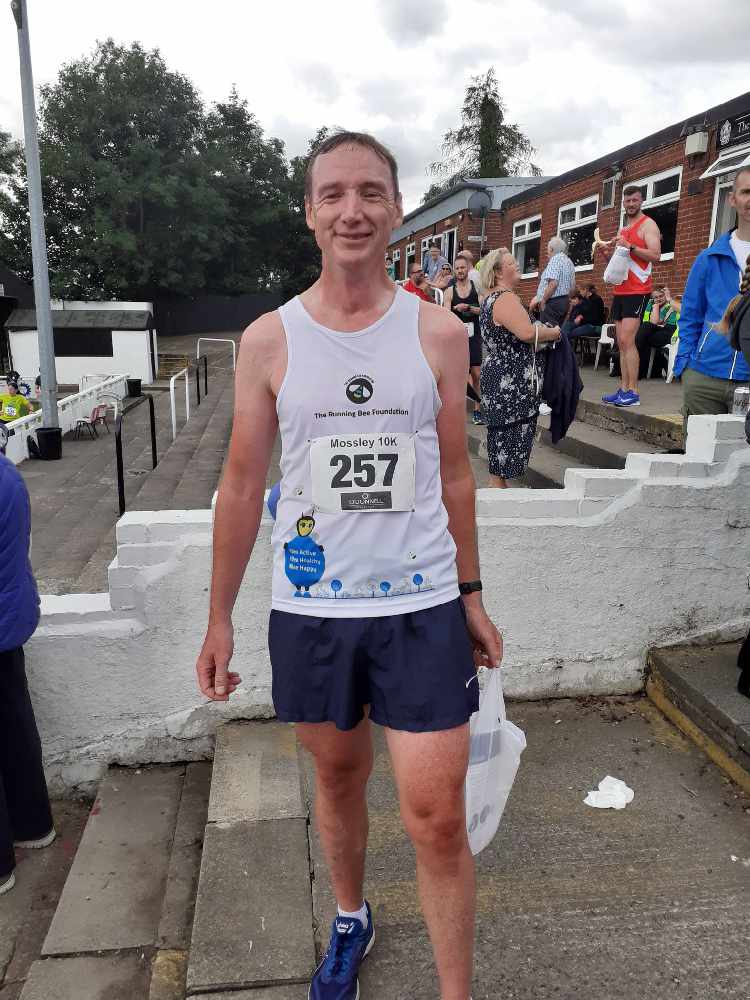 "Hopefully we'll push for a 400 capacity next year, but due to road safety and because it's completely staffed by volunteers, there has to be that limit, although you never know as we may grow with volunteers as well.
"Planning is a lot easier now as we're in the sixth year and I've established a format which I follow.
"It's months in the planning – not continual – but we launch the registration in January and then it's just a matter of booking everything in place for the day."
Money raised from the event will be used to renovate Mossley's Seel Park stadium amongst other things.
Harry, who has recently re-joined the club as a director for a second spell, said every penny will make a difference as the Lilywhites look to improve on and off the pitch. "It's effectively a fundraiser for the football club, which also raises the profile of what we do here at Seel Park" he said.
"We're trying to get people here who otherwise wouldn't come for a football match.
"The ground is under constant maintenance and the flat roof is in dire need of repair at the moment, as it does leak.
"I was a director for nine years and then I stopped two years ago because of other commitments. It became a little bit much with the other things I had going on, but I was approached by the board and have now been tasked with trying to develop the various teams, and basically bring the club together under one umbrella."
One of the ways in which the club has sought to broaden its appeal is by launching a women's team for the first time ever. In a bid to bring everyone under the same umbrella, the girls will wear the same kits as the men's team and will also play fixtures at Seel Park – the first of which will take place on Wednesday, August 14 against Ashton United in a pre-season friendly.
Harry said the club is excited about the formation of the women's team and is confident it will only grow and get better. "I've been told that there's real potential and as a result of that we're trying to support them over the next few years. We're also trying to recruit new players, so if anyone is interested in joining us then please contact us."
Dave Wild will manage the first team on a sole basis this season, following the departure of joint-manager Terry Hincks. Wild will, however, be assisted by Phil Carratt and John Flanagan. The latter re-joined the club for a second spell last week, having previously managed the Lilywhites years ago.
Flanagan joins the club with a wealth of experience, having guided Curzon Ashton to back-to-back promotions during his eight-year stay at the Tameside Stadium. Harry believes Flanagan will be a great addition to the backroom staff and can't wait for the season to begin. "I know John very well and he will be a great addition to the club. For me he's the signing of the summer, as his knowledge of football in this area is second to none. He will certainly be a great help to Dave."