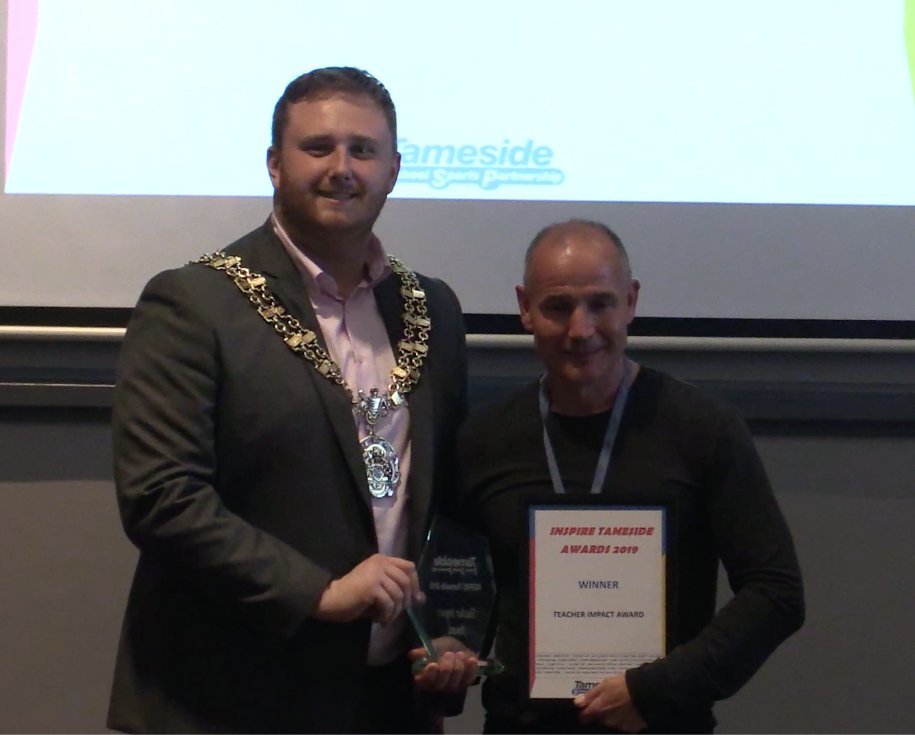 Teachers and pupils from primary and secondary schools assembled at the Village Hotel in Ashton on Monday afternoon for the Inspire Tameside Awards 2019.
The annual event, which is organised by Tameside School Sports Partnership, is held every year to celebrate and recognise the achievements of sporting excellence within schools.
Pupils from Inspire Academy, Ashton, started the event with a rendition of The Greatest Showman's "A Million Dreams', before Russell Scott headteacher Steve Marsland gave an inspirational speech on the themes of passion and dedication within sport.
There was also a question and answer session with special guest and Manchester United Ladies' number 7, Ella Toone, who reflected on her journey in the game.
The ceremony took place shortly after, with the awards being presented to recipients by Civic Mayor of Tameside, Cllr Leigh Drennan.
Emma Toone, Tameside School Sports Partnership Partnership development manager, said she was delighted with the reaction to the ceremony. "As it's an annual event, we start looking at the categories in April, so we look at what the schools have been doing all year round – we don't just look at the application coming in.
"We make the decisions and then have the awards, and I think it's great for schools to get recognised and rewarded for the work they've put in. They go over and above what they're expected to do, so to get that extra recognition, in front of the head teachers as well, is great.
"Ultimately, their hard work is repaid by winning a School Award."
While the event was regarded as a huge success, it was also tinged with a little sadness, as a number of long-serving teachers are moving to pastures new in the next few months. Emma said they're departures will leave a huge gap to fill, although she knows the work they've put in has left a massive legacy. "Some people are moving away but then coming back, but then we have people like Chris Rose from Audenshaw School and Jack Scholar from Denton Community College, along with Matt Donohue from Greswell Primary School, and Rob Kay from Millbrooke, who are leaving the borough and taking on different challenges.
"For us, those four people are absolutely amazing and they've been instrumental in driving PE and school sport in Tameside. Matt and Chris are the original PE coordinators in primary schools, and they've been excellent for their schools as well as for the borough. They've taken on extra roles, including swimming and rugby league development. Matt is involved with the Schools' FA, so we're devastated that they're going.
"We have high standards in Tameside, and you could see the emotion in the faces of those people who are leaving and taking up new adventures. I'm sure they'll be taking lots of what we do in Tameside with them."
In a bid to keep school sport thriving, Emma has outlined some aims and objectives to keep the ball rolling. "The big thing is making sure sport, PE, and physical activity are always on the agenda" she said.
"That in itself can be a battle, however when you look at how many schools were at the ceremony it demonstrates how big it is. We also need to continue to have links with yourself (the media) and to make sure we raise the profile even further. We organise three training sessions each year to ensure that standards are not only maintained, but increased.
"We're envied in the north west, and Greater Manchester in particular, because we do things differently and make sure we maintain high standards."
As part of her mission to keep pupils active, Emma has launched a few initiatives with great success in the first few months – one of which was connected to the Tour of Tameside. "We had 7,000 pupils from across the borough taking part in the Dr Ron 7 Mile Challenge. Pupils were tasked with walking seven miles in term five, and it was a resounding success.
"It's also linked to the things we're trying to encourage now, such as the daily mile. We're trying to get schools to think differently about physical activity and making sure that they go home and enjoy it with their family. Working with Sports Tours International was excellent, and for us moving forward, we'd love to have that as an annual event. I think it will get bigger, and if we could get every school in Tameside to sign up to that, it can only be a good thing going forward."