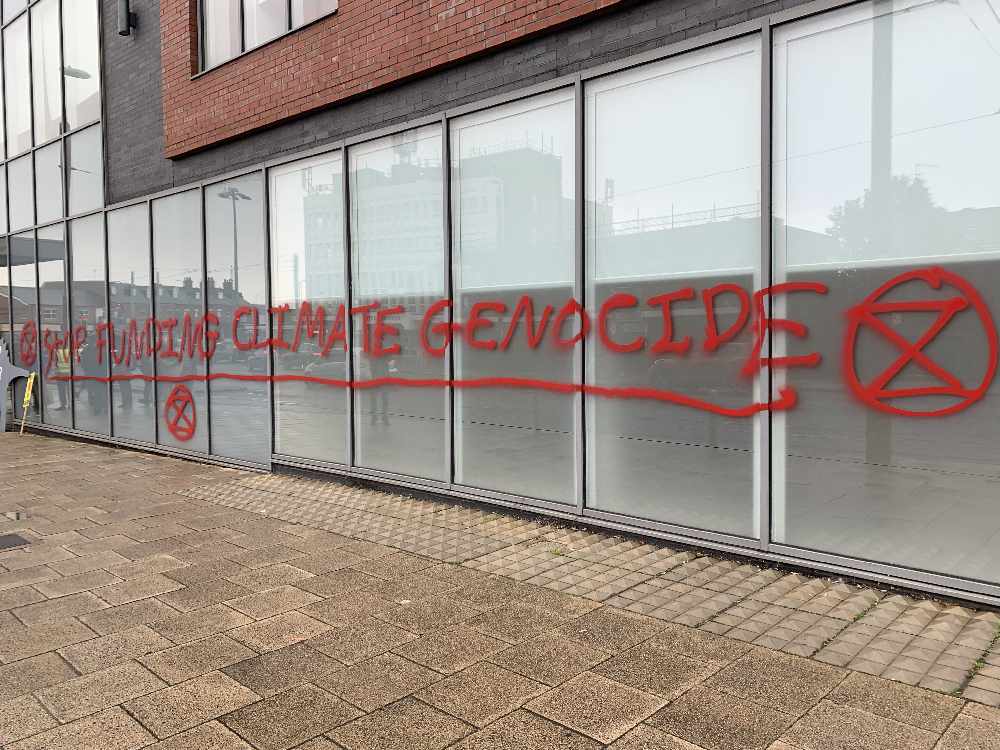 Tameside's only Green Party councillor has come under fire for attending an anti-fossil fuel protest, which saw a public building in Droylsden vandalised
The words "Stop Funding Climate Genocide" were spray painted onto Guardsman Tony Downes house during the demonstration on Friday.
Members of the Extinction Rebellion Lancashire group also attended the protest, with some chaining themselves to the building outside its entrance.
The building is named after the Droylsden man who was killed while serving in Afghanistan.
Ashton Waterloo councillor, Lee Huntbach, attended the protest alongside various climate change groups other members of the Tameside Green Party and came under fire at Tuesday's full council meeting for what went on.
Droylsden West councillor Ged Cooney told the meeting that pension fund staff felt "threatened" by the protest, and that the family of Tony Downes was "very, very upset".
"This is a public building and it's also a memorial to a young man who was killed while defending his country," Cllr Cooney said. "Yet, what you had here that day was a vandalism of the building. Yet you had a councillor here from Waterloo, who participated in that demonstration, therefore he's associated with the vandalism that took place on this building.
"There was a demonstration outside for genuine and honest reasons. I don't have a problem with that and I don't dispute the points being raised by protestors. I do think that want went on that day was too far and I know Cllr Huntbach was there. You are an elected member of this authority. You're also responsible, therefore, for how you act."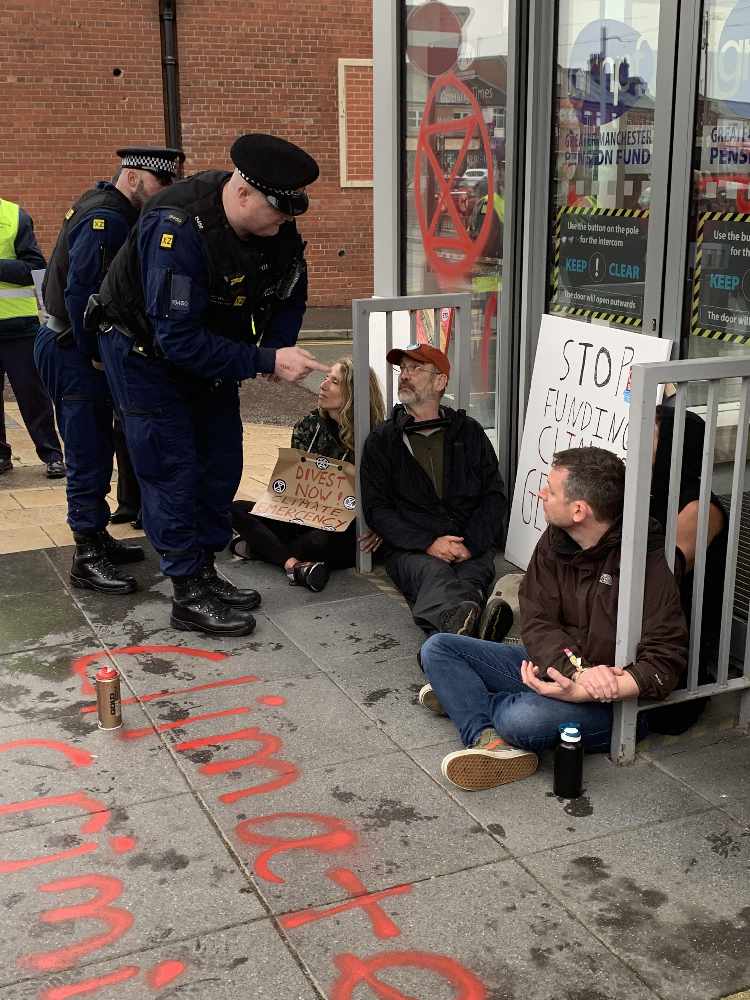 Cllr Huntbach wasn't given the chance to replay during the meeting, but speaking to the Tameside Reporter afterwards, he said he was "disgusted" with Cllr Cooney, as someone who is a long time union man and demonstrator, for making out "it was anything other than a peaceful protest, with one small group doing something that was regrettable and shouldn't have been done."
He said: "The demo has been organised by Fossil Free Manchester for the past seven or eight years.
"The small group that attached themselves to the railings, we saw them coming no problem. We left them to it and I went over the road to take a picture. That's when they spray-painted on the wall, which I thought looked bad.
"They also genuinely upset a local family. That's the most important thing. The graffiti was practically in view of the pub that he was brought up in, so that was unfortunate, deeply regrettable and wrong.
"What do you do? Do you leave the protest and allow it to be hijacked by a small group, or do you stay and make your peaceful point, which is what we did?
"The first thing I did on Monday morning was e-mail Cllr Warrington to explain that, yes, I was at the demo and make no apologies for that. She did reply to say there is no way I can disassociate myself with that action, which I thought was a pathetic answer; very arrogant and rude. If people want to find me guilty by association then that is up to them, but I certainly wasn't party to that."
Four people were arrested at the protest, all on suspicion of aggravated trespassing, with one having another offence of criminal damage. You can read the full story here.