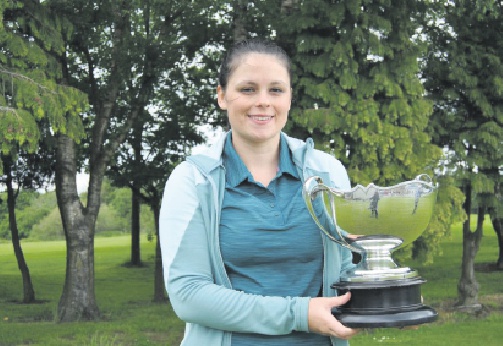 Saddleworth Golf Club gave a huge congratulation to Andy Thornton and his wife Janet who organised a charity event for The Christie at their club.
The event was massively successful despite the terrible weather conditions and reducing the event to nine holes.
It didn't stop everyone playing and raising a total of £7,000.
Andy and Janet would like to thank everyone for donating and taking part in the day which included a number of special fund-raising features and enjoyable activities.
l Saddleworth's men played round one of the Vice Captain's qualifier and it was won by T Lowe with 67, one less than Neil Bamford, Joe Ridley, Barrie Lees and Mark Orme.
A BB Stableford at Saddleworth was led in by Tom Williams and Stewart Muller with 47 points from John Fancy and Lee Melia 45 and Nick Marner and Phil Ramsker 44.
A Sunday H and H qualifier at Saddleworth was won by Phil Ramsker and Nick Kerin with 46 points, one more than Lee Tilley and Jon Barnes and Nick Marner and Andy Dunster.
l Wednesday action at Denton had D Murray on top with 67 from M Cole 68 and M Riding 69.
The Arthur Hobson Salver at Denton was won at a canter by Ash Jones with a great haul of 44 points taking him five clear of Garry Burke and Jordan Wood.
It was tight in a Sunday medal at Denton with a cpo on 68 going in favour of Mike Griffin from Paul Fox and Martin Proffitt.
There was a good win for Denton in the Daily Mail Foursomes for Lady Captain Edith Rooney and Francesca Bougen as they won 5-4 at Townley Golf Club to march into the next round.
l A Pro's Stableford at Brookdale had a convincing winner in Jon Bassey with 41 points from Paul Tunstall 36 and David Ellison 35.
Brookdale ladies played for the Elizabeth Cup and Stella Cain led in with 67 from Diane Punchard 69 and Kath Storey 72.
l A Sunday Stableford at Ashton was won by Bob Monte with 40 points from Steven Hart 37 and Derek Davey 36.
Ashton's men played over 36 holes in a 'major' for the Lady Aitken Cup and in round one Mike Barlow +3 and Colin Quinlan and Liam Pattison, both +2 set the early pace.
There was more good scoring in round two led by Amin Kiami +4, Steve Standring +3 and Ryan Pennington and John J Lewis, both +2.
l The first round of the Captain's competition for Crompton and Royton ladies was led in by Jennifer Kenworthy with 76 from Zoe Styles 78 and Edwina Owen 79.
A junior medal at C and R was led in by Alfie Yearsley with 75 from Emily Halstead 78.
It was close in the medals for the C and R Centenary Trophy with Jon Rigby winning a cpo on 66 from Luke Chadderton, one less than Richard Ollerton, Glyn Broady, Alan Hopkinson junior and Bradley Cannings.
l President's Day at Stamford saw one-handicap star Josh Ainscough as the proud winner after a cpo on 65 with Rob Irving, one less than Simon Reynolds.
Kim Mulvaney was a proud winner of the Lowe Trophy for ladies at Stamford winning with a fine round of 90-22-68.
l Annita Kenworthy is the in-form lady at Dukinfield and she kept up her current hot run of success by winning the President's Prize with 77 from Sally Lester 80.
Duki's men played their Daily Mail Foursomes qualifier and representing the club in 2020 will be I Surch and J Hartley with a convincing win as they posted 66.5 to finish well clear of M Turner and M Schofield 72.0.
l The latest Green Blazer Medal qualifier at Fairfield was won by Matthew Ross with 65 from Lewis Pownell 66 and Anthony Stocks 67.
A singles Stableford for Fairfield ladies was won by Wendy Ryan after a cpo on 32 points with Sandra Turnbull, two more than Julie Meek.
l Heaton Moor Golf Club will host the WGTB Mixed and Ladies Pairs competition on Friday, August 2 in support of the Golf Foundation.
The competition has been running for the past 20 years and has raised thousands of pounds for a very deserving charity - for more information or to enter contact Ken Wardle on 0161 474 1071.
l Chester Golf Club were excellent hosts for the fifth successive year as they staged the Junior Team Championships.
The Royal Liverpool Golf Club trio of Jack and Ben Derbyshire and Dan Edwards will proudly represent Cheshire in the national junior team finals at Woodhall Spa in August after posting the best nett total from their two best scores
Sandiway's Dan Gibson (Cheshire Junior Captain), Liam Gobin and Harry Kell had the best team gross score with Liam Gobin having the best individual gross score of 33 points.
Leading the way in the best nett score was Prestbury youngster Theo Wright with a fine haul of 43 points that left him four clear of Spencer Davies 39.
The Cheshire officials thanked Chester Golf Club for their fine hosting of the competition for the last five years and announced that Lymm Golf Club will host the competition in 2020.
by Geoff Garnett