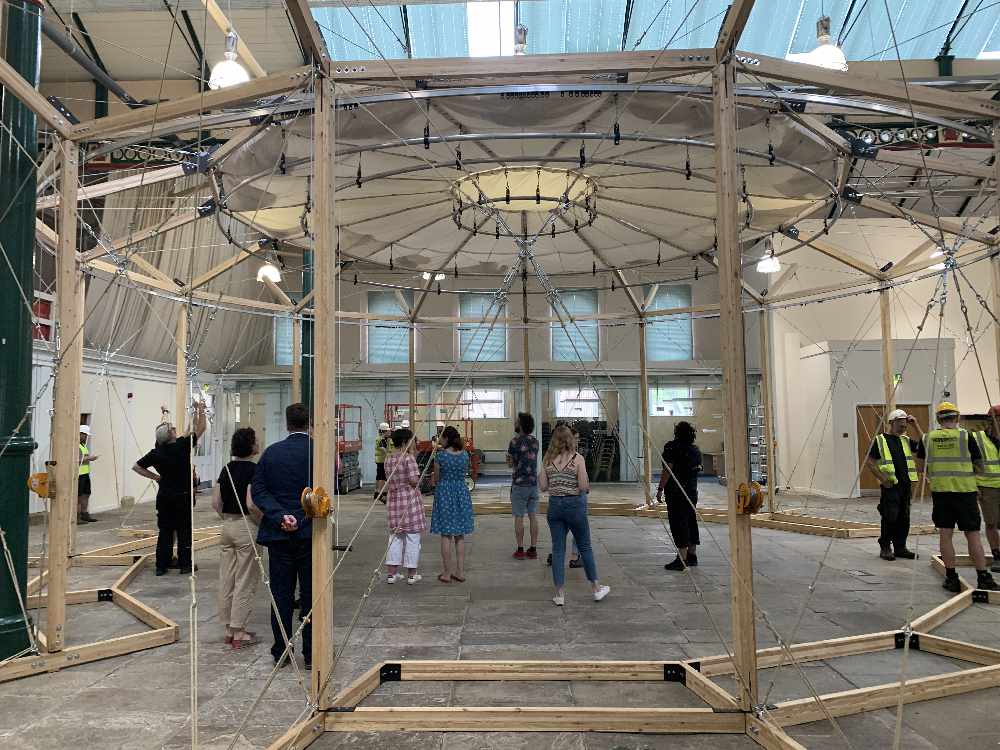 Excitement is building ahead of next month's festival of culture, brought to Stalybridge by the Royal Exchange Theatre. 
The company is constructing a pop-up theatre called 'The Den' in Stalybridge Civic Hall and there was a milestone moment on Friday as builders 'raised the roof' onto the theatre, which has been almost a year in the making.
Designed to create a communal experience, The Den will now be covered in canvas and three rows of seating added, for up to 120 people. The theatre has also been designed to be low-carbon, in line with Greater Manchester's zero carbon ambition.
Project Director Simon Curtis said: "I'm really excited. We've been talking about this project for a little while but we started working on it properly about one year ago.
"We're really pleased to be here in Stalybridge. Everyone has been so welcoming and helpful, and we're really looking forward to the communities of Tameside coming and enjoying the theatre because it's for them. It's going to be a brilliant festival."
We've raised the roof! This afternoon we raised the roof of THE DEN for the first time at Stalybridge Civic Hall. We can't wait to get an audience into this magical space! pic.twitter.com/yL9NLLkmqq

— Royal Exchange Theatre (@rxtheatre) July 26, 2019
The Den will host a two-week festival of theatre, community productions, workshops and family events from August 13-24 as part of the Royal Exchange's three-year partnership with Tameside.
The festival opens with 'A Tameside Story', which is the culmination of lots of different projects from across Tameside.
There will be three performances of 'There is a Light', the current production at the main Royal Exchange Theatre, which has been especially adapted for The Den.
Stalybridge Old Band will perform at The Den to mark the 200th anniversary of the Peterloo massacre, while there will also be two days of storytelling by famous faces from television, including local resident Julie Hesmondhalgh.
The award-winning Royal Exchange Theatre Young Company are holding four performances of their brand new show 'UTOPIA' and there will be a whole host of additional family events.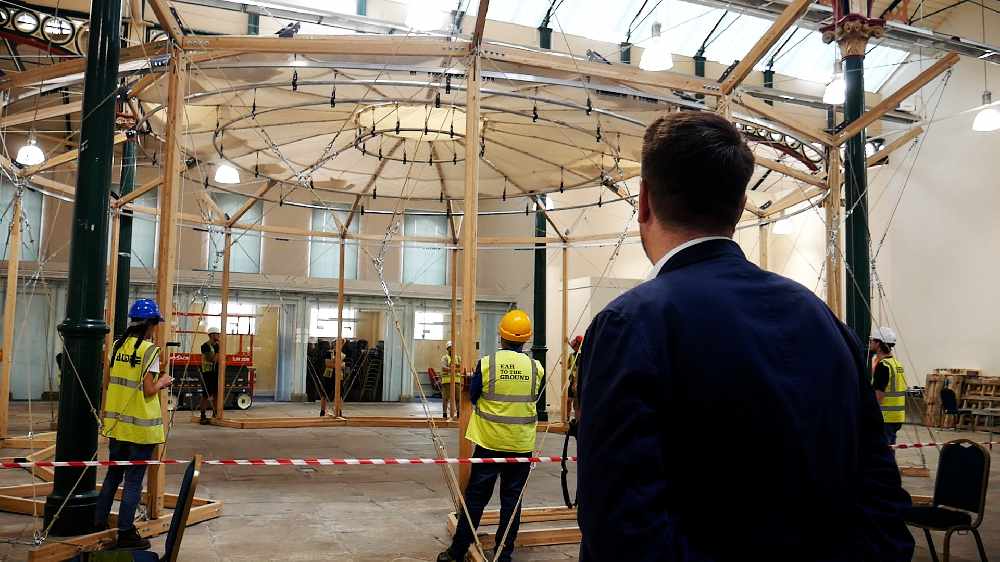 Inga Hirst, Director of Creative Learning and Engagement, said: I'm so excited for this to be open to the community. We've been working in Tameside for the past 18 months, working with different community groups and partners.
"This is a way to celebrate and bring a lot of the groups together. It's such a beautiful space so to bring people in use it in different ways is going to be fantastic."
There promises to be something for everyone over the two weeks. For a full programme, you can visit www.royalexchange.co.uk/the-den-at-stalybridge-civic-hall.
Tickets for all events can be bought at a mobile box office at Stalybridge Civic Hall from 11am-4pm on Monday, August 12.
Tickets will also be on sale from the Stalybridge Civic Hall box office on performance days and are 'Pay What You Decide', to make the festival accessible and affordable for all.
You can also buy tickets online with a promotional code, with these priced at a minimum £2.
For more information, visit bookings.royalexchange.co.uk/single/EventListing.aspx.