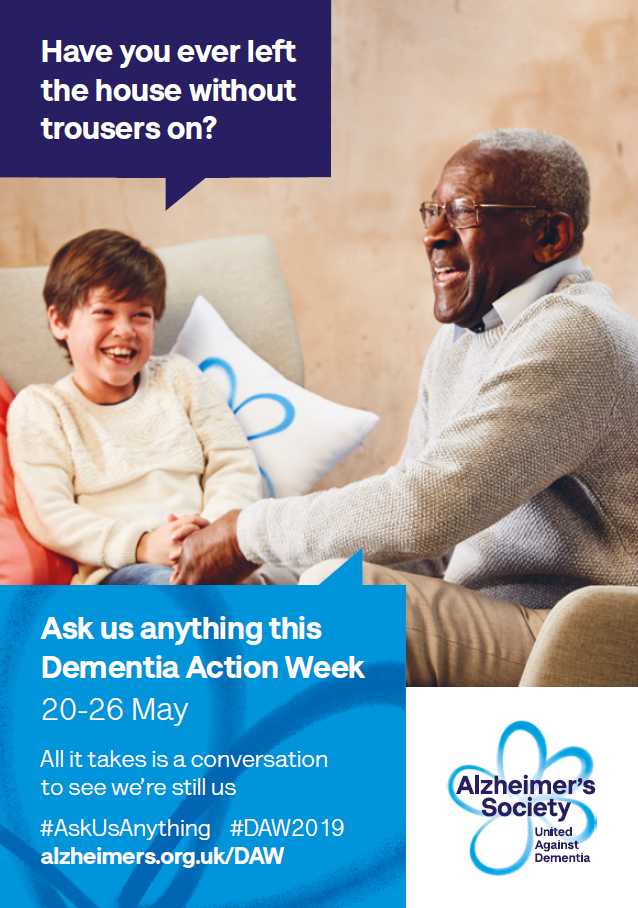 A host of events will take place across Tameside later this to support the Alzheimer Society's Dementia Action Week.
Many of us know someone who is affected by and living with dementia; more than 2,124 people were diagnosed in Tameside & Glossop in 2018. Across the UK, one person develops dementia every three minutes but according to statistics reported by the Alzheimer's Society, two-thirds of people living with dementia report feeling isolated and lonely.
Local events during Dementia Action Week, which takes place from May 20-26, will support residents to help improve the lives of people with dementia.
It's backed by Tameside Council and NHS Tameside & Glossop Clinical Commissioning Group, who are encouraging local people to take action and have conversations with loved ones, close friends or neighbours who are affected.
For tips on how to start a conversation, head to www.alzheimers.org.uk/DAW.
Dementia Awareness Week kicks off locally on Monday May 20 with an educational event for unpaid carers of someone with dementia. It's on from 9.30-4.30pm at Werneth House, part of Tameside Hospital, on Fountain Street. Anyone interested needs to register a place by calling 0161 922 4482, and any support needed for a loved one to attend can also be discussed.
That's followed the next day, Tuesday May 21, with an Information Coffee Morning at Wilshaw House Day Centre, on Wilshaw Lane in Ashton. From 9.30am-12.30pm, a number of agencies will be giving information and advice, including admiral nurses, Age UK, local social groups, the Alzheimer's Society and tele care. The number to call for anyone interested in attending is 0161 330 7065.
Finally, on Wednesday May 22, there'll be 'Living Well With Dementia' at St Martin's Church, Greenside Lane, Droylsden, from 1pm-3pm. This event will include information from the Alzheimer's Society, admiral nurses, Willow Wood Hospice and other agencies, as well as various dementia groups from across the borough.
Residents are also encouraged to become Dementia Friends, which involves putting into practice what they've learnt when they meet someone who might need their help. You can become a Dementia Friend by either watching a video, reading a booklet or attending a face-to-face information session. To find out more, visit www.dementiafriends.org.uk.
The Tameside Community Response Service can also make life easier, safer and more comfortable for people living with dementia and their carers. It offers support to enable people to live in their own home for longer, including a range of technology and equipment such as personal alarms and health monitoring devices. For more information, you can call 0161 342 5100 for an informal chat, or visit www.tameside.gov.uk/AdultServices/Tameside-Community-Response-Service.